Posted on
Tue, Nov 3, 2009 : 1:45 p.m.
Rich Rodriguez on turnovers, recruiting junior college players and quarterback injuries
By Dave Birkett
A day after asking fans to be patient with the building process, Michigan coach Rich Rodriguez said he doesn't get the sense anyone is panicking over his team's four-game Big Ten losing streak.
"I'm not walking around the streets and conducting a poll or anything like that," Rodriguez said. "We just come to work every day and do all we can to build this program to where everybody wants it.
"But the fans have been very supportive, our administration has been supportive. To have patience is a tough thing nowadays because everybody wants it right now. But the sense I get is everybody is disappointed like we are in the last couple weeks, but at the same time they know what we're trying to do and what we're trying to build here."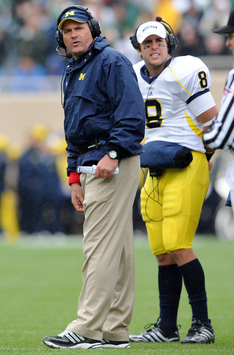 Lon Horwedel | AnnArbor.com
Michigan (5-4, 1-4) has dropped its last four games against Football Bowl Subdivision opponents, including a 38-13 loss to Illinois last week.
The Wolverines need to win one of their last three games - against Purdue this week, at Wisconsin or home against Ohio State - to qualify for a bowl after missing the postseason last year for the first time since 1974.
More notes from Tuesday's Big Ten teleconference
• Rodriguez said he'd like to sign "a junior-college guy or two at certain positions," but that isn't likely to happen because of Michigan's admission policies.
"There's not a lot of transferrable credits for junior-college guys to come in here," Rodriguez said. "Sometimes people look at that as a quicker fix. That's not going to really be an option for us just because of the academic differences."
• Rodriguez disputed the notion that his spread-option offense puts quarterbacks more in harm's way than other systems.
"I think when you're a younger guy and you're 180 pounds and you hadn't had a chance to get a couple years in the weight room and a couple years of maturity and growth, I think you're more likely to get banged around," Rodriguez said. "But other quarterbacks when we were in the system played entire years without missing a snap. So I don't think it's the system."
Michigan quarterback Tate Forcier, a true freshman, has battled a concussion and shoulder injury this year. Forcier and backup Denard Robinson have combined for 139 rushing attempts, more than all but two running backs in the Big Ten (Wisconsin's John Clay and Purdue's Ralph Bolden).
Northwestern's Mike Kafka (112), Illinois' Juice Williams (111) and Ohio State's Terrelle Pryor (101) are the other quarterbacks in conference with more than 100 carries.
• What's the one thing Michigan needs to do to get back on track?
"The thing that strikes out the most is simply the turnover situation," Rodriguez said. "Offensively we've had a few in the last couple games and defensively we haven't gotten any in three straight games. So that's the simplest thing to do that is one, take care of the football ourselves and somehow defensively try to create some turnovers or when those turnover opportunities are there make the most of them."
• Illinois coach Ron Zook said he didn't notice the incident between defensive tackle Corey Liuget and Michigan left tackle Mark Ortmann while watching coach's film Sunday, but he has seen replays since.
Zook did not answer directly when asked if he thought Ortmann punched Liuget.
"That's out of my hands," he said. "They'll do the things that they deem necessary to do."
• Purdue coach Danny Hope on Michigan: "They're like our team in some ways. They've had a few turnovers and had a few plays that have negated their chances to win in some big games. But I think they're a very good football team in every phase of the football team. They're very talented, they play hard and they've got a great scheme and a great package."
Dave Birkett covers University of Michigan football for AnnArbor.com. He can be reached by phone at 734-623-2552 or by e-mail at davidbirkett@annarbor.com. Follow him on Twitter @davebirkett.