Posted on
Thu, Feb 7, 2013 : 5:30 a.m.
Ron English says EMU signed 'the best cornerback at Cass Tech' and Michigan signed the other
By Kyle Austin
College football coaches are known for spending National Signing Day heaping loads of praise on their newest signees.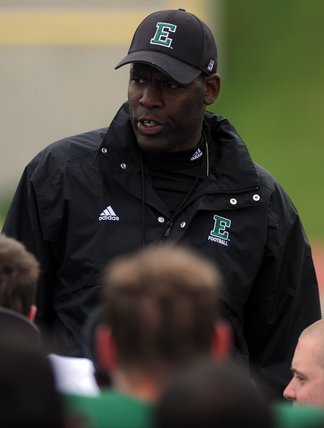 Melanie Maxwell | AnnArbor.com
Eastern Michigan head coach Ron English, though, may have gone so far as to say he got the better of his former employer, Michigan.
In discussing his 2013 signing class, English described cornerback recruit Daquan Pace as "the best cornerback at Cass Tech."
Cass Tech's other starting cornerback last season: Jourdan Lewis, signed with Michigan on Monday.
English didn't mention Lewis or Michigan by name, and expanded to say that Pace "wasn't the biggest and he wasn't the fastest," but reiterated that "we thought he played the best."
Talking specifically about the cornerback position, the two players' season stats support English. Pace had 17 unassisted tackles and four interceptions as a senior, while Lewis had one pick and six unassisted tackles. As a junior, Lewis had seven interceptions.
But both players also play offense, and there Lewis had 751 receiving yards and and six touchdowns, while Pace had 548 receiving yards and eight scores. Lewis also had 742 return yards.
Lewis is ranked the ninth-best cornerback in the country by Scout, and a four-star recruit. Pace is a two-star recruit and the 144th-best cornerback on Scout's list.
English was at Michigan from 2003-07, and became EMU's coach in 2009.