Posted on
Sat, Oct 1, 2011 : 4:51 p.m.
Running game helps Eastern Michigan football team dump Akron, 31-23
By AnnArbor.com Freelance Journalist
By Justin Souva
For AnnArbor.com
Clinging to an eight-point lead with 2:04 left in the fourth quarter, the Eastern Michigan football team needed to stop Akron one more time.
Akron was 44 yards from the end zone and in three plays later stood on the EMU 30. After an incomplete pass, senior Jabar Westerman sacked Akron quarterback Clayton Moore.
Two incomplete passes later, Eastern had a 31-23 victory in its Mid-American Conference opener.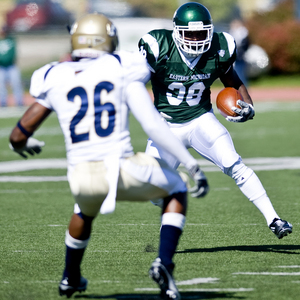 Joseph Tobianski | AnnArbor.com
And for the first time, Eastern coach
Ron English
had a victory at Rynearson Stadium against a MAC rival, ending a 0-for-8 skid. Eastern is 3-2 overall, its only losses coming against Big Ten teams Michigan and Penn State.
"We made some nice plays in there," English said of the final defensive stand. "I just think you have to deal with short fields like we dealt with today.
"I think any time you get a win, particularly in league play, is a beautiful thing."
Eastern relied heavily on its running game. Junior running back Dominique White -- the third-string running back at the start of the season -- had 164 rushing yards and three touchdowns.
White, who didn't start and entered the game with 57 rushing yards this season, had 28 of Eastern Michigan's 53 rushing attempts.
Both White and English praised the blocking of the offensive line and wide receivers.
Starting guards Corey Watman and Bridger Buche missed the game with injuries, but Campbell Allison and Scott MacLeod filled in for them and had success.
"Today we had a great day," White said. "It wasn't just me. The offensive line executed, we followed our foundation and we got what we wanted."
Javonti Greene started at halfback but wasn't as effective as White. He had six carries for 11 yards. Regular starter Dominique Sherrer has been out with injury since the second game.
Eastern quarterback Alex Gillett was 4-of-9 passing for 94 yards -- 48 of which came on one play with the wind at his back -- but also added 62 rushing and a score.
Eastern Michigan took a 14-0 lead 1:19 into the second quarter on a White touchdown run and never trailed.
Akron (1-4, 0-2) got its first touchdown on a 36-yard touchdown pass by Moore to Keith Sconiers. The score came on the first play after Gillett lost a fumble and made it 14-7.
T.J. Marchese added a 29-yard field goal 4:27 later to pull Akron within 14-10, the closest it was able to cut the deficit.
Jawon Chisholm had 25 carries for 122 yards and a touchdown for Akron.