Posted on
Tue, May 21, 2013 : 5:30 a.m.
Saline graduate Brad Guenther finishes college baseball career as GLIAC Player of the Year
By Kyle Austin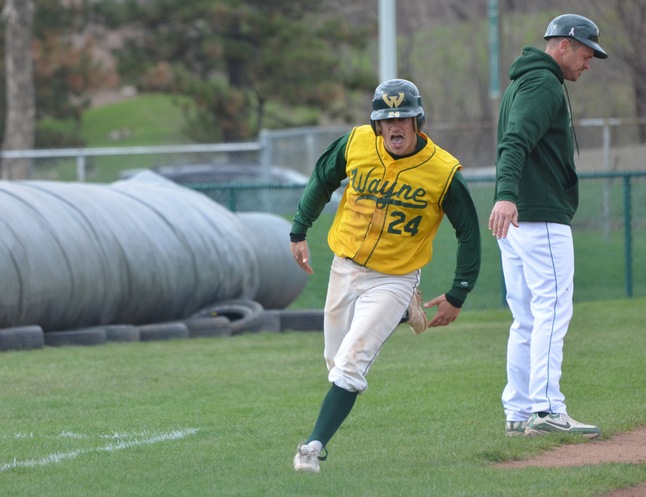 Courtesy of Wayne State
Brad Guenther doesn't deny it: he likes to talk.
So in the position of senior captain and starting catcher for Wayne State for the 2013 baseball season, he fit right in.
"I'm definitely vocal," Guenther said. "I was vocal before, I was vocal my sophomore year. I always had good leadership, captain potential I think."
Guenther, a 2009 Saline graduate, wrapped up his college baseball this spring behind the plate for the Warriors. And he did it with one of the best ever offensive seasons for a Wayne State player.
Guenther was named GLIAC Player of the Year after the conclusion of the regular season, becoming the first Warrior to win the award since 2005. He finished top three in the GLIAC in six offensive categories, including second in runs scored (44), slugging percentage (.589) and doubles (14).
"It put a lot of weight on my shoulders, I guess," Guenther said. "Sort of the same thing I did as a senior in high school. I just didn't want to lose in my last year of baseball potentially. I put in a lot of work, basically."
Now, Guenther will wait to see what's next in his baseball career. He's slated to have a pre-draft workout for the Detroit Tigers in early June, but other than that said he doesn't currently have other plans to play this summer.
If his baseball career is over, though, Guenther knows he went out with his best season yet. But a few days after the Warriors' elimination from the GLIAC tournament, Guenther was more focused on his team's performance than his numbers. After qualifying for the NCAA tournament for each of the last three years, WSU did not receive a bid this year.
"Overall it was good, but this year was sort of disappointing, not even making the regional," Guenther said. "I still sort of have a bad taste in my mouth."
As natural as catching became for him, Guenther said he didn't play the position until his sophomore year of high school. But once there, he blossomed, leading the Hornets to consecutive state title game appearances while setting the school's single-season marks for batting average (.564), runs (57) and doubles (21).
Guenther attributes much of that to baseball acumen, and to his father, Mike Guenther, who coached him from age 9-15.
"I know the game of baseball I think better than most people," Guenther said. "I see things happen quicker, I know where to go with the ball right away."
From Saline, Guenther spent two seasons as a back-up, before taking on the leading role. And now that it's over, he can't believe how quickly it went.
"I wish I would have worked harder earlier in my career, because it just flies by," Guenther said. "I'm pretty satisfied with where I'm at right now."
Kyle Austin covers sports for AnnArbor.com. He can be reached at kyleaustin@annarbor.com or 734-623-2535. Follow him on Twitter @KAustin_AA.