Posted on
Fri, Aug 23, 2013 : 10 a.m.
Saline's Peter Wood wins Ann Arbor Senior Amateur golf tournament and more community briefs
By Kyle Austin
After coming up a little short a month ago, Saline's Peter Wood took home a title in the city's final event of the year.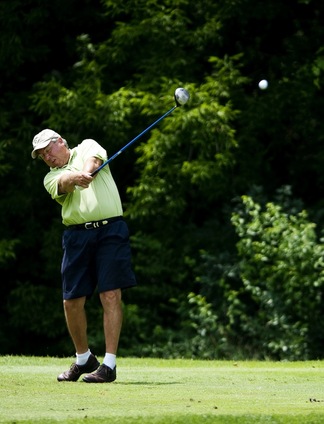 Daniel Brenner | AnnArbor.com file
Wood shot a 72-72-144 to win the 16-player championship flight by three strokes over Ron Naida of Milan last weekend. The performance came after Wood came in fourth place in the men's amateur tournament in July.
The senior tournament wraps up the 2013 Miles of Golf Championship Series. Here are the event winners:
Men's Champion: Caleb Wittig (Saline)
Senior Champion: Peter Wood (Saline)
Super Senior Champion: Don Larson (Ann Arbor)
Boys Junior Champion: Robert Kowalenko (Brighton)
Girls Junior Champion: Samantha Kellstrom (Saline)
Boys Mini Junior Champion: William Chung (Ann Arbor)
Girls Mini Junior Champion: Amaya Melendez (Ann Arbor)
Dexter hosting Touchdown Tastefest
The Dexter Touchdown Club will be hosting the inaugural Touchdown Taste Fest and Community Fun Night on Friday, Sept. 6 from 4-6 p.m. at Dexter's Al Ritt Stadium.
The event will feature food from 10 area restaurants, area merchants and children's activities. Tickets will cost 50 cents apiece, and activities and food items will cost between one and six tickets.
Dexter players will be on hand before their 7 p.m. home opener against Skyline.
A-Sqare Fight Club hosting James "Lights out" Toney boxing tournament
A-Square Fight Club will be hosting a boxing tournament Friday-Sunday at its Ypsilanti location, located at 2287 Ellsworth Road. Former middleweight, super middleweight, and cruiserweight world champion James Toney, an Ann Arbor native, will be on hand for the event. Daily admission is $10. For information call 734-585-8823 or visit A2FightClub.com.
Have a local sports brief to tell us about? Contact us at sports@annarbor.com.