Posted on
Fri, Oct 5, 2012 : 5:45 a.m.
Eastern Michigan looking for first win in homecoming date with Kent State as MAC play resumes
By Matt Durr
After starting the season 0-4, last week's bye could not have come at a better time for coach Ron English and the Eastern Michigan University football team. But the bye week didn't mean much time off as English and the team spent plenty of time trying to right the ship
The Eagles are hoping the time off will help lead them to their first victory of the season as they host the Mid-American Conference rival Kent State Golden Flashes Saturday at 1 p.m. at Rynearson Stadium. The game is also EMU's homecoming game.
"I think our attitude is getting better and better. We're starting to have the mentality that we want around here," English said in his weekly teleconference. "I think the guys are fired up and excited to be back in MAC play and excited for homecoming and excited to play Kent State."
English said the biggest change needs to come on offense, where the Eagles' have struggled all season EMU enters the contest with the fourth worst offense in college football, averaging 281.3 yards per game. Last season, the team averaged 218.5 yards a game rushing alone.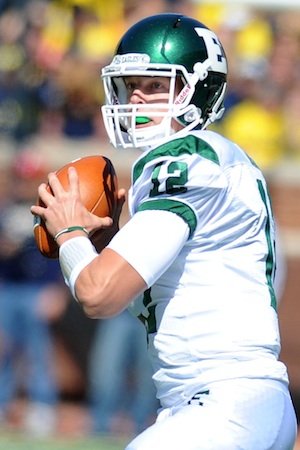 Angela J. Cesere | AnnArbor.com
In an attempt to jumpstart the offense, English replaced senior quarterback
Alex Gillett
before the
Michigan State game
on Sept. 22.
In came sophomore Tyler Benz
who didn't put up much in terms of statistics,(13-of-26, for 142 yards and one touchdown) but he didn't turnover the ball, a problem this season for Gillett.
"I thought Tyler really threw the ball well last week. He made good decisions, I thought there was one ball he'd rather have back," English said. "He is just poised, I think he understands coverages, I think he knows where to go with the ball and I think he can throw the football. We just thought Tyler gave us a better chance to win in that game."
Despite the change, English said that Gillett would still see time on the field for the Eagles.
"Obviously Alex Gillett has played a lot of football, he's done a lot of good things in our conference. He's going to have his chances to play also. I think he helps our team too in a lot of ways."
"I'm just really pleased with Benz and we'll see, can he get better this week and can he put together two decent weeks in a row?" English said.
KSU enters the game at 3-1 on the season and in first place in the 2-0 MAC East standings with a 2-0 record. English said his team, 0-1 in MAC West play, must be prepared for a battle on Saturday.
"Kent State the last couple three years has been really good on defense. They're playing really well on defense," English said. "A very well coached football team, a team that's playing well and a team that's playing sixty minutes."
English said his team was especially concerned about junior Dri Archer, who leads the MAC in touchdowns with eight and is seventh in the nation. The running back/wide receiver has contributed 331 yards and four touchdowns receiving and 173 yards and two touchdowns receiving this season.
But Archer is most dangerous returning kicks. He is averaging a 42.7 yards per return with two returns for touchdowns on the year, both tops in the nation.
"They have truly a weapon in (Archer). A guy who can really run. He really adds a lot to their return game. If you choose to kick it to him, eventually you're going to pay the price," English said. "At some point you're going to have to kick to him, but what a fun player to watch."
English said Archer reminds him of the type of player Heisman Trophy winner Reggie Bush was when we played at the University of Southern California. Archer can line up in the backfield to run the ball or split wide and become a receiver in any formation.
And while the Eagles have gotten to a less-than desirable start, KSU head coach Darrell Hazell isn't overlooking them.
"We were in that same situation last year where we were 0-3 and we needed to take a step back and reevaluate what we were doing. And I'm sure that's what they've done over the last 14 days or 10 days or whatever it's been," Hazell said. "I guarantee you we're going to get a great game from Eastern Michigan."
Saturday's matchup marks the 30th time the two schools will meet. Kent State leads the all-time series with a 16-13 record. The Golden Flashes won last year's game 28-22.
Matt Durr covers sports for AnnArbor.com.