Posted on
Thu, Apr 5, 2012 : 6:42 p.m.
Former Michigan goalie Shawn Hunwick to dress in NHL game vs. his brother, Matt Hunwick
By Pete Cunningham
There's unlikely to be a prouder person in the world on Thursday than Rich Hunwick.
His sons -- former Michigan hockey players Matt and Shawn Hunwick -- will suit up on opposite NHL benches when the Columbus Blue Jackets take on the Colorado Avalanche.
Rich Hunwick, who arrived in Denver ready for a long Easter weekend with the benefit of seeing both of his boys, will be in the stands cheering.
"I only had to use one vacation day," he said in a telephone interview on Thursday, shortly after his arrival in Denver. "It's perfect timing."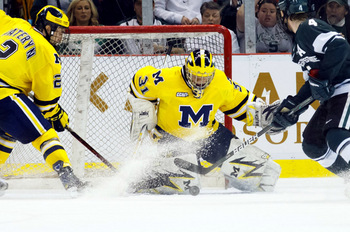 AP Photo
Rich Hunwick might even get to see both of his sons play in the 9 p.m. game, which will be broadcast by Fox Sports-Ohio and Altitude Sports in Colorado.
Allen York, who has started every game since Shawn Hunwick's arrival in Columbus, was injured in the Blue Jackets' early practice on Thursday. Steve Mason, whose injury necessitated the signing of Hunwick, is expected to start if York is not fit to play and Hunwick will serve as his backup, according to the Columbus Dispatch.
Shawn Hunwick signed as a backup goaltender with Columbus last week, just five days after his last collegiate start, and has yet to log a single minute of ice-time for last-place Columbus.
Matt Hunwick, a five-year NHL veteran and former Michigan captain, has dressed in each of the last 19 games for Colorado, his longest streak of the season, with five points (3 goals, 2 assists) and a plus-4 plus/minus rating during that span.
The brothers have never played on opposite teams.
Rich Hunwick, who is staying with Matt and his fiancee for the weekend, had planned on seeing Shawn the afternoon before the game. Then Matt relayed the message to him that Shawn would be suiting up in backup duty.
"So I decided to let him do whatever it is he does," Rich Hunwick said. "You know, his goalie thing."
Contact Pete Cunningham at petercunningham@annarbor.com or by phone at 734-623-2561. Follow him on Twitter @petcunningham.