Posted on
Sat, Mar 24, 2012 : 2:03 p.m.
Shawn Hunwick stands tall one last time for Michigan hockey team and more NCAA tournament notes
By Pete Cunningham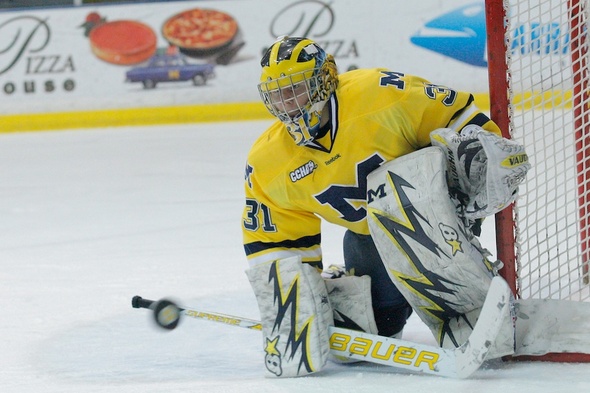 Chris Asadian | AnnArbor.com
GREEN BAY, Wis. — It was the last performance of an unbelievable career. Shawn Hunwick addressed the media following a 3-2 overtime loss to Cornell on Friday night, and answered every question that came his way.
He answered questions about his career, about his last game with the Michigan hockey team and about the final shot that ended it all.
Hunwick had 21 saves, including one on a penalty shot in the second period that kept Michigan in the game and kept the Wolverines in position to come back, but he didn't steal the game like he has so many times in the past.
His final stalwart performance came in a dark room underneath the Resch Center as he stayed composed while addressing the media.
"It's disheartening that we couldn't get this win tonight, but I think the rest of my life, I'll look back at my experience at Michigan and be very proud," Hunwick said, with the perspective and reflection that isn't typical immediately after a career-ending loss.
Hunwick cut short one of his answers when his voice appeared to be cracking — when it appeared emotion might get the best of him — but perception was not reality. He quickly leaned into the microphone and addressed all comers.
How was this not too much for him? How was this not too tough?
It's the same question that's been asked about Hunwick his whole career with the Michigan hockey team. How does he do it?

It was a mystery how a 5-foot-7-inch, 166-pound goalie — lightly recruited by Division III schools out of high school and the North American Hockey League — could make a college hockey team that commonly ropes in the nation's most sought-after recruits — like his brother, Matt Hunwick, now a defenseman with the Colorado Avalanche. Matt got him an introduction, but that can only get you so far.
"I didn't have to convince anyone. He did it with his work ethic the way he played once given the opportunity," Matt said. "He was always a good player. He had to work his way up, and it's not always easy being the third-string guy and doing that."
Opposing teams took liberties with Shawn his whole career, no doubt because of his small stature. Even that didn't crack him, and he even said on many occasions that if he were in their position, he'd probably do the same thing.
Matt knew what others didn't. Picking on Shawn only makes him stronger.
"People try to run him, get him off his game, but I think that keeps him in the game more. I think he enjoys it. He's always had that attitude," Matt said. "We competed in everything we did. Me being older and bigger, he always had to fight a little bit harder, and I think you can see that in the way he plays."
A little luck had to go Shawn's way, too. If John Gibson or Jack Campbell ever came to Michigan instead of de-committing and turning pro, or if Bryan Hogan doesn't suffer two injuries in back-to-back seasons, Hunwick probably wouldn't have been in net Friday night. He might not even have been on the team. Hunwick has said on many occasions and reiterated that he would have graduated and not pursued a fifth year had he not been playing.
It probably wouldn't have been his choice. The Michigan coaching staff actively tried to replace him. By the end, Michigan coach Red Berenson considered him irreplaceable.
"It's a tough pill to swallow because I think we've had some real good efforts from our team this year, particularly with Shawn Hunwick," Berenson said after Friday's loss. "He's had a Cinderella career, and I wish it could have a had a better ending."
When he was first called upon to play, before the playoffs in 2009, Hunwick was scared. He simply didn't want to be the weak link. He leaves as the all-time leader in Michigan goals against average (2.05) and save percentage (.928), fourth in shutouts and seventh in wins.
By the end, it was his team that wanted to help him write the final chapter in a storybook career.
Captain Luke Glendening — one of four seniors along with Hunwick, David Wohlberg and Greg Pateryn who took off the Michigan sweater for the last time Friday — was at a loss for words after the game.
"What can you say to Hunwick? He's been the rock of this team for three years, so words can't describe what you say to him," Glendening said.
With Hunwick's career and Michigan's season now over, questions arise about next year.
Who will replace Hunwick in net? Will sophomore Jon Merrill, junior Chris Brown or any of the other nine already drafted NHL prospects turn pro? What about the three players eligible for this year's draft?
It's tough to look forward so soon, so of course, it was Hunwick who led the way one last time.
"They're a great group of guys," he said. "I'm sure Michigan's going to be back here next year because they're going to bring back a great group of guys and tons of good players."
Hunwick said it in a strong and composed tone, standing tall as the Michigan goalie one last time.
Money isn't everything
Michigan State lost to Union 3-1 on Friday, meaning the state of Michigan's two richest athletic departments were both ousted from the NCAA tournament by teams that don't offer athletic scholarships.
Bulldogs
Ferris State's 2-1 win over Denver on Friday night at the Resch Center was just the second NCAA tournament win in school history, with the only other coming in 2003.
Ferris State goalie Taylor Nelson said he was honored to be in such elite company in program history, but wants to be the first team to go to a Frozen Four.
"We want to win (a regional title) and put ourselves at another level," Nelson said.
To do so, Ferris might send its mascot, Brutus, into the dressing room for the regional final. Brutus was watching the game on the TV in the media room when Simon Denis scored what would prove to be the game-winner in the third period.
"I would like Brutus in (the media room) tomorrow night then," joked Ferris coach Bob Daniels, saying it might be good luck. "If that's the case, then maybe when we need one (in the regional final), maybe we can get him in here."
Unlikely heroes
Denis' game-winner was his first goal of the season, and Rodger Craig's goal in overtime against Michigan was just his second of the season, the first also a game-winner in a 3-2 Cornell victory over Union during the regular season.
"Anything can happen in the overtime; somebody can score their second goal of the year, and that's the way it is," Berenson said. "It's not always your top players that score these overtime goals."
Contact Pete Cunningham at petercunningham@annarbor.com or by phone at 734-623-2561. Follow him on Twitter @petcunningham.