Posted on
Thu, Apr 29, 2010 : 7 a.m.
Emily and Erin Pendleton work, succeed together on Michigan women's track team
By Jeff Arnold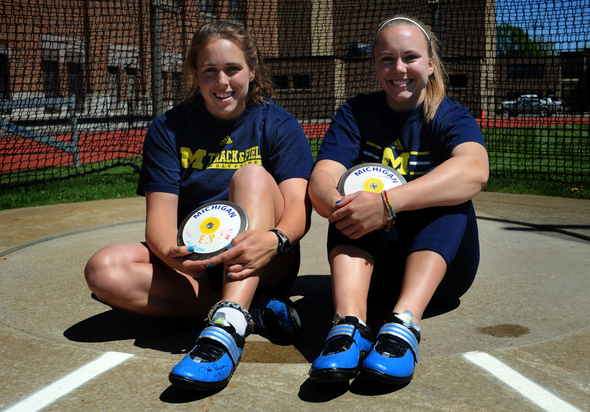 Emily Pendleton has always been the one to establish the competitive standard.
Erin Pendleton has always been the one to not only meet it, but to - in a friendly brand of sibling rivalry - try and exceed Emily's accomplishments. What began at Woodmore High School in Elmore, Ohio, where both Emily and Erin won state track and field championships, continues with the Michigan women's track team.
Then again, Emily Pendleton, now a junior, remembers when she wanted Michigan all to herself.
She came to the Michigan women's track team following a high school career that produced three state discus championships and a pair of Nike national discus titles. She won the Big Ten discus championship in each of her first two seasons with the Wolverines.
Back in Ohio, Erin was following her sister's example, winning state titles in the discus as a junior and senior and capturing indoor state championships in the shot put and weight throw.
When it came to college, Erin had Big Ten offers, including one from Michigan, where she could again join her older sister.
But she wasn't sure she wanted to follow Emily's path to Ann Arbor. And as close as the two sisters are, that decision sat just fine with the older Pendleton.
"I actually told her she wasn't allowed to come here," Emily Pendleton said. "I told her, 'I'm going to U-M, you're not even allowed to look at it - don't even think about it.'"
But within weeks of leaving home, Emily discovered how much she missed her sister. Their family ties had always been strong, thanks in part to track and field.
At Woodmore High School, the sisters competed for their father, Mike, who developed his daughters into championship-caliber throwers. They played on the same high school volleyball team, using a second sport to push one another.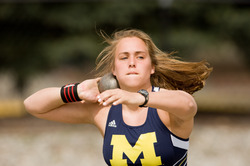 The two-year age difference made it easier not to create direct comparisons, but Erin knew she didn't have much of a choice but to try and keep pace with Emily.
Once Emily graduated, Erin embraced the chance to grow as a person and as an athlete without being in her sister's shadow.
"There was a lot of pressure, but as I got older, I started not caring just because it's about what I do and my successes - not her successes - that will get me far in life," Erin Pendleton said. "We got compared a lot, but it really didn't bother me."
As Emily was settling in at Michigan, Erin considered her choices, drawing interest from Purdue, Penn State and Virginia. But after a visit to Ann Arbor, Erin used Michigan as the standard - all while getting constant updates from Emily through long phone conversations.
Michigan assistant coach Anne Takacs was determined to get Emily to join Michigan's program. Once she got the sisters together, Takacs learned that not only did she have two top-notch throwers, but a pair of teammates who would use each other to get the most out of the other.
"They don't let either one of them take a break," Takacs said. "When one is feeling down, the other one picks her up and when one of them is happy, the other one cheers for her. They push each other harder than I thought they would."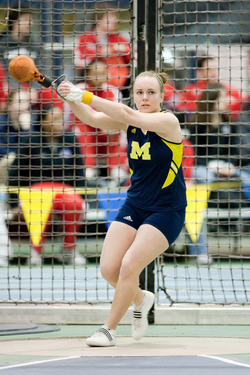 Emily and Erin have each maintained their own level of success
. Emily has won the discus at four events this spring while Erin won the discus at last weekend's Drake Relays after finishing second behind Emily in the discus at the Johnson/Joyner Invitational earlier this month. Emily has the top discus throw of the season at 53.98 meters, the top hammer throw at 53.16 meters and the second-best shot put distance at 14.27 meters. Erin is second in discus (52.86) and hammer (49.57) and fourth in shot (13.43).
Erin's freshman-year success has made Emily's experience more positive. Despite winning a Big Ten discus title in her first season, Emily struggled early on - something she's glad not to see her younger sister having to endure in her first season with the Wolverines.
"I just knew she'd fit in," Emily said.
Over the next couple of weeks, the two sisters will move in together. They're nearly inseparable, which they say has enriched their college experience. They train together and offer each other advice.
There will, however, be adjustments for the siblings as roommates, who still have two younger sisters back in Ohio - both of whom throw. Emily is the one early to bed while Erin is more of the night owl. Emily is neat. Erin isn't quite as tidy. Neither worries about maintaining a close relationship.
Their time on the track has taken care of that.
"We've always been really close, but when it comes to track, we're always trying to be better than the other one," Emily said. "It's a good kind of competition, though. It keeps us on our toes and keeps us going. We're each other's cheerleaders."
Jeff Arnold covers sports for AnnArbor.com and can be reached at (734) 623-2554 or by e-mail at jeffarnold@annarbor.com. Follow him on Twitter @jeffreyparnold.