Posted on
Fri, May 3, 2013 : 2:58 p.m.
Sixteen years before Jason Collins' revelation, UM alum was one of first openly gay NCAA coaches
By Pete Cunningham
On Monday, NBA veteran Jason Collins announced to the world that he is gay in a Sports Illustrated article. Collins is the first active player in the history of the three major American sports to publicly admit as much.
Sixteen years ago, former Michigan softball player Jenny Allard - then in her third year as the head coach of the Harvard softball team - told her team she is gay in an email.
The email wasn't on the cover of Sports Illustrated, and - in the days before Twitter or Facebook - it took some time before Allard's in-house announcement was public knowledge. But she is widely recognized as one of the first openly gay coaches in NCAA Division I athletics.
When Allard learned of Collins' announcement on Monday, she could relate in a unique way.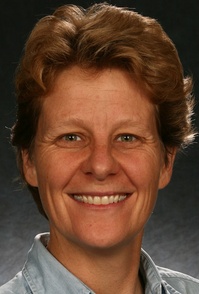 Photo courtesy of Harvard Athletic Communications
Allard graduated from Michigan in 1990 and the former All-American was a
Michigan Hall of Honor inductee in 2008
. She is now in her 19th season with Harvard and is the longest tenured coach in the Ivy League.
Allard said she's been impressed with the public's reaction to Collins' announcement.
"It's a great thing, and I think in some ways that for him is validating," Allard said.
Announcements such as Collins' are more commonplace in sports outside of the big three, and Allard will never be under the intense spotlight Collins already has in the short time since his announcement. But it's still far from commonplace. Allard is still one of the only openly gay coaches in Division I.
Allard has been encouraged by the mostly positive public response Collins has experienced and said her experience was similar.
"I think people are generally happy for you when you come to accept a part of yourself," she said.
"For me it was a real step in my maturity, and I think people realized that as such. ... People got on board and were like, 'good for you for being able to do that,'" Allard said.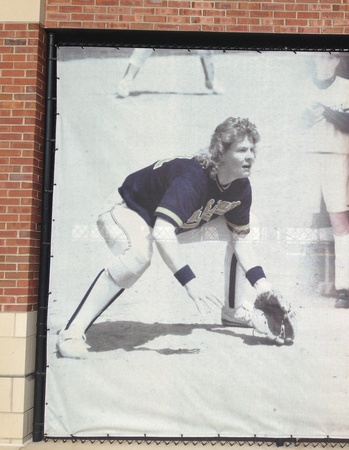 Pete Cunningham | AnnArbor.com
"My reaction when I first heard the story was 'good for him' Good for him to do that. Good for him to be comfortable enough, to be courageous enough to do that," said Allard.
"I think he said it well, that he wanted to kind of start the conversation. It takes a lot of courage to do that, and kind of put yourself out there because it's something that everybody's going to talk about and to be a person that's willing to do that, I think it speaks to his character."
When Allard made her announcement, she was working and living on campus as an academic and residential adviser in addition to her duties with the softball team. She said she didn't want to hide the fact that her then-partner was moving in to her on-campus apartment, so she explained her situation in an email.
"At that time, people knew, but they didn't know, you know? I wanted to eliminate that drama. 'Here's my partner, we're living on campus and that's it. And it became a very normative thing,'" Allard said.
"I didn't want to have people in my life living in the outfield and not let people on my team know... If I'm expecting them to be honest with me about things, then it was very important to me to just let them know who she was and what the situation was.
"The climate at Harvard was very supportive on campus."
Allard said as her sexual orientation became more public and she became speaking on panels, she received mostly support, but said there were negative reactions, as well.
"You definitely had people who were totally supportive, happy for me, and you had people that were like, 'ok it's no big deal' and you had people who passed some judgment," Allard said. "I think he's going to have all of that as well."
Allard said her former teammates and coaches in Ann Arbor were nothing but supportive. It's not surprising after hearing the reaction of Allard's former coach - Michigan softball coach Carol "Hutch" Hutchins' - to Collins' announcement.
"I thought why is it such a big deal? Coaches, players, superstars, they're all people and people have a right to live their life as they choose," Hutchins said. "You don't owe anybody anything else, you just owe living a good life."
Pete Cunningham covers sports for AnnArbor.com. He can be reached at petercunningham@annarbor.com. Follow him on Twitter @petcunningham.