Posted on
Tue, Mar 26, 2013 : 9:25 a.m.
Upset-minded Michigan women's basketball team inspired by softball coach Carol Hutchins
By Pete Cunningham
Courtney Sacco | AnnArbor.com file photo
On Sunday,
Jenny Ryan
helped the Michigan women's basketball team
win its first NCAA Tournament game
since the senior captain was 11 years old.
The win was a long time coming, but didn't take long for Ryan to move on from it and shift her focus to the tall task ahead of the Wolverines on Tuesday night. Michigan will face top-seeded Stanford (9:30 p.m., ESPN2) in the second round of the NCAA Tournament in Palo Alto, Calif.
To motivate her upset-minded team, Ryan called on inspiration from a former college basketball player from - of all schools - archrival Michigan State.
"I remember a while back coach made a speech and our softball coach, Coach Hutch (Carol Hutchins), talks about her whole thing which is the game doesn't know," Ryan said at a press conference following Michigan's 60-52 win over Villanova. "We're going to prepare for Stanford like we would any game and I think we have the confidence in each other to beat any team in this country.
"I think the game doesn't know."
The source of Ryan's inspiration is much less surprising considering Hutchins is a little more well known for her hall of fame softball coaching career at Michigan than her basketball playing days at Michigan State.
"The game doesn't know," is one of Hutchins' favorite sayings. She said she borrowed it from former UCLA coach Sue Enquist - she of 11 national championships - and was thrilled to hear Ryan was paying it forward.
"I'm actually quite honored that (Ryan) would quote me," Hutchins said. "I believe she wants to be a coach one day and she studies up."
Hutchins said she's been following the progress of Ryan and the Wolverines and that Ryan picked the perfect time to use her signature phrase.
"Don't worry about Stanford's history. They're not playing any of that. They don't have to beat Stanford's history, they're just trying to win the game, one possession at a time," Hutchins said. "The game doesn't know if you're ranked or unranked…The game doesn't know, otherwise we'd never play any of them."
If the game did know, it would know that No. 1 seeds are 72-3 in the Round of 32 since the expansion of the women's tournament field to 64 teams in 1994.
It would know that Stanford (32-2) has won 18 straight games with an average margin of victory of 20.6 points.
The game would know Stanford is the only team since March 2011 to beat Brittney Griner and the defending national champion Baylor Bears.
If the game knew, it might not give Michigan (22-10) much of a chance.
The players and Michigan's first-year coach Kim Barnes Arico know what they're up against, but also know they have a tremendous opportunity in front of them.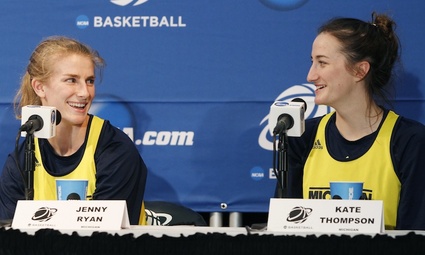 Associated Press
"I think you just gotta put yourself in a position to be there down the stretch because the higher seed starts to feel the pressure and they're the ones that start to get tight," Barnes Arico said last week. "Anything is possible if you get things to go your way, if you hang around for long enough, you never know what could happen."
"Looking at our past and how we've handled really good teams, we've actually done really well, and upset a lot of teams in our careers as a senior class," said Rachel Sheffer. "Anything can happen on any given day."
After falling to Michigan on Sunday, Villanova coach Harry Perretta said he thinks Michigan's style matches up well for an upset.
"I was telling Kim that whoever has a chance to beat Stanford, I think you have to make at least 10 (3-point baskets) in the game to have a chance to win because you're not going to beat them inside because their inside players are way too tough," Perretta said. "You have to try to play them opposite. Michigan has the style that has a chance to win. Any time when you play a team, opposite styles are usually better."
Michigan will turn to its plethora of scorers to try to pull the upset, but will likely need a big game from the outside from senior Kate Thompson to have a chance.
"I've been coaching a long time and this is the best shooter that I've been around," Barnes Arico said at a press conference on Monday. "I told Kate, 'You're the best shooter in America,' and she laughed at me. And I would say, 'No, Kate, I really believe that.'"
Thompson can reach several personal milestones on Tuesday. At 110 3-pointers made, she is two shy of the national lead and a Big Ten single season record. Two more 3s would also make Thompson just the second player in program history to reach 200 and make her the 24th Michigan player to ever score 1,000 career points.
The individual milestones are secondary to Thompson, to say the least.
"At the end of the day, basketball is a team sport. It's all about the team," Thompson said on Monday. "If making 3s is what it's going to take, then I will do my best for the team,"
Even if the outside game is working for Michigan, there's still the issue of defending Chiney Ogwumike in the post. Ogwumike is averaging 22.6 points and 12 rebounds on the year and had 29 points and eight rebounds in Stanford's 72-56 opening round win over Tulsa.
"We know that it's going to be difficult, but like these kids said, the game doesn't know," Barnes Arico said. "We're just excited about the opportunity."
The Associated Press contributed to this article.
Pete Cunningham covers sports for AnnArbor.com. He can be reached at petercunningham@annarbor.com. Follow him on Twitter @petcunningham.