Posted on
Wed, Jan 13, 2010 : 12:31 p.m.
Sophomore Tavelyn James guiding Eastern Michigan's women's basketball turnaround
By Jeff Arnold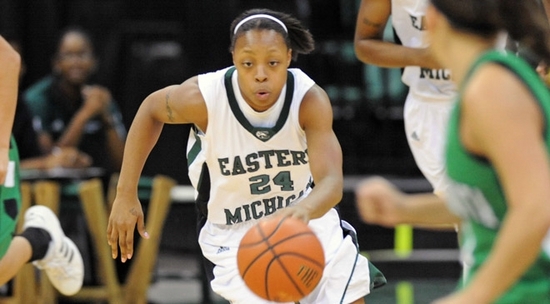 College basketball wasn't supposed to be so tough for Tavelyn James.
At least, that's what James kept telling herself before arriving at Eastern Michigan. The 5-foot-7 guard was used to the game being so easy, leading the Detroit Public School League in scoring as a senior at Detroit Mumford High School.
Two weeks in, she found life wasn't going to be so simple. After coming out of high school system in which James got the ball and her teammates cleared out, James found herself in a Eastern Michigan offense that requires players to run more than 100 sets.
James quickly found herself having to work at a game that had always come so naturally.
"Practice made me not like basketball at all," James said. "I never knew it would be this hard. I was like, 'Wow - we have to do all this' and the season even ain't about to start yet."
Eagles coach AnnMarie Gilbert quickly caught on. She jokingly referred to James as a hypochondriac after the freshman would come up with any excuse to get out of enduring Gilbert's tough workouts.
Over time, the workouts became routine and James, who had drawn plenty of recruiting interest from schools like Michigan, Providence and St. John's began to find her way. When the season began, she didn't start in the first six games, allowing her to create a niche' as one of Eastern Michigan's top reserves.
But it wasn't long before Gilbert discovered her freshman guard was too valuable not to have in the starting lineup. By the end of the season, James had started 20 games, averaging 14.7 points per game, ranking James as the fourth-leading scoring freshman in the country.
Suddenly, James realized her days of flying under the radar were over. But with greater productivity came greater responsibility.
"It was hard because I really didn't know what (Gilbert) wanted me to do as a leader," James said. "In high school, you're just the captain of the team and you make sure everybody's at practice an making sure they're doing what they're supposed to do. But there's more to it when you're in college."
Gilbert knew she had something special in James. Not only could she provide Eastern with a combo-guard that could strike from either the perimeter or off the dribble, but she also provided the basketball IQ Gilbert realized could make the Eagles a contender for a Mid-American Conference West Division championship.
As much as James had done in her freshman season, Gilbert wanted to see more.
"This kid is the compete package," Gilbert said. "She's the best player that nobody in this country knows about. But I always instilled in her that she had to do more. We competed in a lot of games last year, but fell short by 8, 10, 12 points.
"Those were Tavelyn James' points. That kid could score 25 points a night if she wanted to. But we need her to score 25 not just because we want that for her, but because that's the kind of player she is."
Over 14 games this season, James had bumped her scoring average to 20.2 points per game, scoring a career-high 39 points in a 108-24 rout of Rochester. She has tallied 30 or more points three times this season.
More importantly, Eastern Michigan is winning. In James' freshman season, the Eagles finished 8-21 and won only 4 MAC games. Heading into tonight's tilt with preseason West Division favorite Toledo, James has helped guide the turnaround as Eastern has won 12 of its 14 games, providing her the incentive to keep putting up points.
Although that may be a lot to ask from a sophomore, Gilbert sees WNBA potential in James. Playing professionally is also a goal James keeps in mind, but when she came to Eastern, she did so hoping to play for championships while earning a degree in occupational therapy.
After making a splash as a freshman while the Eagles struggled, James is determined to do what she needs to to give Eastern a chance at competing for a MAC West title.
"I was more determined to score more so we can win," James said. "I've always been under-rated so for me to be successful, I need to put more pressure on myself than anybody else. But I knew I could play and that I worked hard and that has paid off."
Jeff Arnold covers sports for AnnArbor.com. He can be reached at jeffarnold@annarbor.com or 734-623-2554. Follow him on Twitter @jeffreyparnold.