Posted on
Fri, Nov 23, 2012 : 5:32 p.m.
Miscues doom Eastern Michigan against No. 24 Northern Illinois; English expects to be back as coach in 2013
By Matt Durr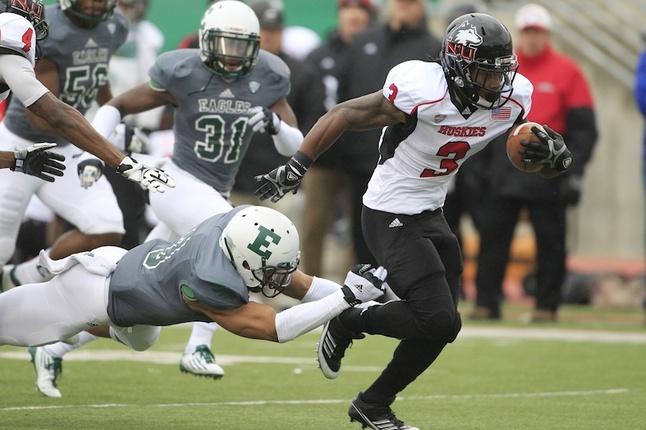 Associated Press
With just 16 seconds left to play in the first quarter, the
Eastern Michigan
football team was tied with the No. 24 ranked
Northern Illinois Huskies
, having just scored on a lengthy touchdown drive.
On the ensuing kickoff NIU's Tommylee Lewis returned the kick 93 yards and scored to give the Huskies the lead again.
It's was that kind of season for EMU, as the Eagles lost their season finale 49-7 Friday afternoon at Rynearson Stadium.
"When you are struggling as a football team, those are the things that happen. We had just answered with a nice drive, we had done a good job, we had done some things defensively and then boom that happens," said head coach Ron English. "I think it's part of when you're struggling as a football team."
Boxscore
Later in the first half, after EMU forced the Huskies to punt, the Eagles were called for too many men on the field, giving NIU a first down. Four plays later, on fourth-and-two, Martel Moore hauled in a short pass from Jordan Lynch before turning it up the sidelines for a 43-yard touchdown, making the score 28-7 at the half.
"We couldn't stop them on third and fourth down enough to stay in the game," English said.
After going toe-to-toe with NIU for the majority of the first quarter, things fell apart for the Eagles following an 11-play, 82-yard drive that was capped by a Tyler Benz 20-yard touchdown pass to Matt Boyd, tying the game at 7-7.
Other than that scoring drive, the Eagles gained only 43 yards of offense in the first half and just 227 yards on the day.
"In my time in the conference, that is the best Northern defense they've had," English said. "I thought we were running it decently early. Everything changes when you don't score points. To me we don't score enough points around here. It's just a mess.
"That to me is the biggest disappointment of the year quite honestly, because we have the ability to score points and we did not score enough points and it's disappointing."
The weather certainly didn't help either squad as midway through the first half, snow covered the field at Rynearson Stadium making it difficult for players keep their footing.
Once the weather turned, NIU went to its powerful running game manufacturing a 13-play drive that ended with 12 consecutive runs. The Huskies moved the ball 80 yards, ending with an Akeem Daniels 20 yard touchdown run. Daniels finished with 112 yards rushing and four touchdowns on 12 carries.
The Huskies (11-1, 8-0 Mid-American Conference) racked up 415 yards of offense on the day, 242 of which came in the running game.
Prior to the game, the team's 20 seniors were honored during a ceremony congratulating them on their careers at Eastern. English said this group has special meaning to him.
"You have guys like Alex Gillett who is a guy who was demoted and still led and still did the right things consistently and still helped the team to victory," English said.
English also complimented the play and leadership of Andy Mulumba and Justin Cudworth as examples of why this class was special to him.
"When you talk about the men themselves, they don't deserve to be embarrassed like this," English said. "What I love about them is that they care about Eastern, they stuck with it and they never quit."
Eastern finished the season 2-10 on the year and 1-7 in MAC play, a year after going 6-6 and 4-4. English indicated that he would be the head coach next season despite compiling a 10-38 record through four seasons at EMU. English has one year remaining on his original contract.
"I feel that I will have the opportunity to come back next year," English said. "I've been associated with turning programs around where you get to be .500 the third year, you come back and you struggle and then you come back.
"When you're building programs there are gaps. When you look at our team this year, over half the guys that played are playing for the first time. I'll be here next year, or at least that's what I've been told. And as you know we've got to win and I don't have a problem with that."
While English has been told that he will be back, he hinted that other changes might be in order.
"I think there are some really concrete decisions that I have to make about the team," he said.
*Matt Durr covers sports for AnnArbor.com.*