Posted on
Thu, Nov 10, 2011 : 3:17 p.m.
Stagg family member uneasy with the Joe Paterno's name on the Paterno-Stagg Big Ten trophy
By AnnArbor.com Staff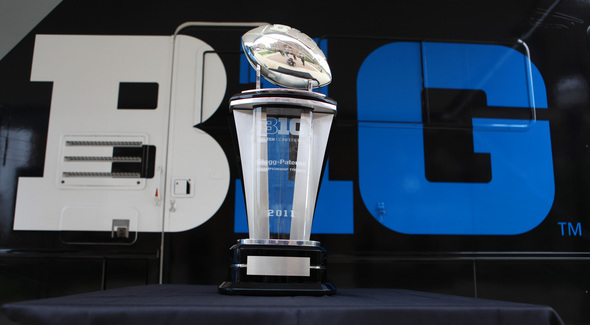 Jeff Sainlar | AnnArbor.com
Big Ten Conference co-founder Amos Alonzo-Stagg died in 1965 at age 102, so there's no telling what he would think of sharing his name with just-fired Penn State coach Joe Paterno on a trophy.
So his great grandson, Robert Stagg of Grand Rapids, has some thoughts about the Stagg-Paterno Championship Trophy that will be awarded for the first time at the Big Ten Championship Game on Dec. 3.
Robert Stagg talked with Dennis Dodd of CBSSports.com earlier this week and said, "We've kind of cheered JoePa along. We're still hoping he's cleared on this. If something else comes to light and he kind of let this go leaving someone else to handle, then we may feel very differently …
"We'll just have to wait and see but if we find that a lot more disturbing evidence comes out I'm sure we will have a lot of discussion with the Big Ten."