Posted on
Sun, Jan 27, 2013 : 6:01 a.m.
Stakes are high, but Ann Arbor friends see same old Harbaughs on Super Bowl sidelines
By Ben Freed
Editor's Note: This is the first of a series of articles about the Harbaughs' time in Ann Arbor. For more about the brothers' on-field performances, check back next week on AnnArbor.com.
When the Baltimore Ravens line up against the San Francisco 49ers on Feb. 3, John and Jim Harbaugh will be on opposite sidelines in what is being labeled the "Har-Bowl" or the "Super-Baugh," depending on whom you ask.
The Super Bowl-bound brothers lived in Ann Arbor during the 1970s while their dad Jack Harbaugh coached under Bo Schembechler at the University of Michigan. The world has changed a lot in the past 40 years, but old friends and teammates say the two haven't changed much at all.
They always had their similarities. Both were athletic and hypercompetitive. Neither minded ripped clothes or grass stains and both had a strong will to win.
"If it was playing Monopoly or tackle football in the back yard, we all went at it hard," family friend John Minick said. Minick's family was close with the Harbaughs, and he played with both brothers on the Junior Packers youth team and at Pioneer High School.
"We enjoyed each other's company because we all elevated each other… we all wanted to be better than each other. Sometimes we didn't all agree on a foul or how someone was tackled, but when you get a bunch of boys together about the same age it's fun, it was exciting."
That same competitive edge has served both coaches well as they worked their way up the coaching ranks. The two now sit at the pinnacle of their sport, staring down a very familiar opponent.
"They were always going at each other, playing one-on-one in basketball, playing P-I-G against each other, and it would be a coin flip who'd come out on top," Minick said.
"John was a little more than a year older, but Jim would never concede. They both wanted to win every event."
They also had their differences. John, now the coach of the Baltimore Ravens and former defensive back at Miami University in Ohio, was always "one of the guys," and friends remember him as very methodical and cerebral. Jim, the coach of the San Francisco 49ers, was the more athletically gifted brother, going on to play football for the University of Michigan and in the National Football League. He was more extroverted than John and had a "cowboy" attitude that often sometimes came across as cocky.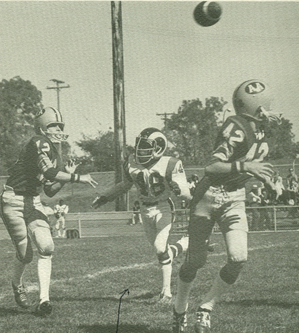 Photo Courtesy John Hendershot
Long-time
Tappan Junior High
(later Tappan Middle) School teacher and coach
Rob Lillie
coached both brothers at Tappan. At that age, the brothers were multi-sport athletes excelling in football, basketball, and baseball.
Lillie said once he and co-coach Don Horning were trying to figure out who their best basketball player was so they asked Jim who he would put on the free throw line with the team down by one and two seconds left on the clock.
"Jim was good, but he wasn't the best player on our team," Lillie said. "So we were trying to see who he thought was better between a couple of our star players."
Lillie and Horning should have known better.
"That's an easy one," Harbaugh said to them at the time. "I'd want it to be me, because I know I'd make 'em both."
That bravado was evident on and off the football field. Jim was the signal caller, the quarterback, and the center of attention. John played some offense, but he specialized on defense as a corner back.
He didn't have the same loud swagger that his brother did, but you didn't want to be a ball carrier with John barreling down on you.
"John would stick his head down and he'd hurt you, I guarantee you that John would stick you," Lloyd Rowry, who played with John at Tappan and with both brothers at Pioneer High School, said.
"It was nothing dirty, but he'd come around the corner and if you were in front of him, he was going to hit you. Hard."
Friends say they can still see the same traits in the brothers as the pace the sidelines in the NFL.
"Jimmy always wanted to throw the ball down the field when we were playing," Rowry said.
"John's a guy that takes it easy, and you can see that. Run, run, run, then pass, play good defense, that's his method. Jimmy will put it on you right from the start. And you can see that in the way the 49ers play, Jim's game is very wide open."
While they might have had different ways of expressing it, the deep football intelligence the coaches will be showing the world in the Super Bowl was clear even when they were playing at Tappan.
"I had kids coming to me and saying they wouldn't be on the same team as Jim because he was cocky and telling them what to do," Lillie said.
"They just didn't understand that he understood athletics at a much higher level than they did. So then when their team would win 'cause of some of the things he'd been telling them to do they'd come around."
Friends said both brothers were very grounded, and neither got into trouble very often.
"Jim and John were and are defined by a very strong family unit," Minick said.
"Jack and Jackie [the Harbaugh's parents] believe in faith and family, academics and athletics. That's how we saw them and that's how they're wired."
With the big game coming up, many with connections to the family are torn over which team to root for, others are happy to just sit back and watch their two friends do what they always did best, compete.
"I've already won the Super Bowl," Minick said.
"If I could wear a jersey that was half of each team I would. I'm going to be rooting for coach Harbaugh. There's no loser in this game as far as I'm concerned. If they could play to a tie, which neither of them would ever want to do, I wish they would do that."
Ben Freed covers business for AnnArbor.com. You can sign up here to receive Business Review updates every week. Reach out to Ben at 734-623-2528 or email him at benfreed@annarbor.com. Follow him on twitter @BFreedinA2