Posted on
Sun, Dec 6, 2009 : 9:26 p.m.
Stanford running back Toby Gerhart gets my Heisman Trophy vote
By Dave Birkett
I cast my vote for the Heisman Trophy this afternoon, and Stanford running back Toby Gerhart was No. 1 on my list.
In what should be one of the closest ballots in recent years, I gave Gerhart the edge over Alabama running back Mark Ingram and Florida quarterback Tim Tebow because he had the best, most consistently productive season.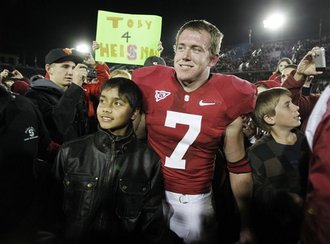 Gerhart led the nation with 311 carries, 1,736 yards rushing and 26 touchdowns, and he helped catapult a Stanford team coming off a losing season to an 8-4 record.
Beyond that, Gerhart shined in the Cardinal's biggest games. He ran for 223 yards and 3 touchdowns in an October win over Oregon, 178 yards and 3 scores in a win at USC, and 205 yards and 3 TDs in a win against Notre Dame. Even in defeat, Gerhart was generally the best player on the field. In a 34-28 loss to Cal, he scored all 4 Stanford touchdowns.
Mark Ingram has a better supporting cast and made the most of his national stage Saturday, something Tebow and Texas quarterback Colt McCoy did not. But Ingram, who finished with 1,542 yards and 15 touchdowns, didn't have quite as good a season as Gerhart (even taking into account early-season games against Florida International and North Texas when Ingram barely played).
Still, Ingram was the clear No. 2 in my mind.
I agonized over a couple worthy choices for third place, but in the end settled on Tebow over McCoy. Tebow is the most unique player in college football and he kept Florida's offense dangerous despite the loss of Percy Harvin.
McCoy had a very good season as well, but he struggled in his 3 biggest games of the year, throwing for just 482 yards and 4 interceptions in wins over Oklahoma, Oklahoma State and Nebraska.
3 others I considered: DT Ndamukong Suh, Nebraska - The best player on the field in Saturday's Big 12 championship game.
WR Mardy Gillard, Cincinnati - Bearcats' most dangerous weapon; great in the return game, too.
QB Kellen Moore, Boise State - Threw for 3,325 yards and 39 TDs with 3 interceptions.
Dave Birkett covers University of Michigan football for AnnArbor.com. He can be reached by phone at 734-623-2552 or by e-mail at davidbirkett@annarbor.com. Follow him on Twitter @davebirkett.