Posted on
Sun, Apr 7, 2013 : 5:30 a.m.
Stretching at the office will pay dividends on the golf course this spring
By Kyle Dobbs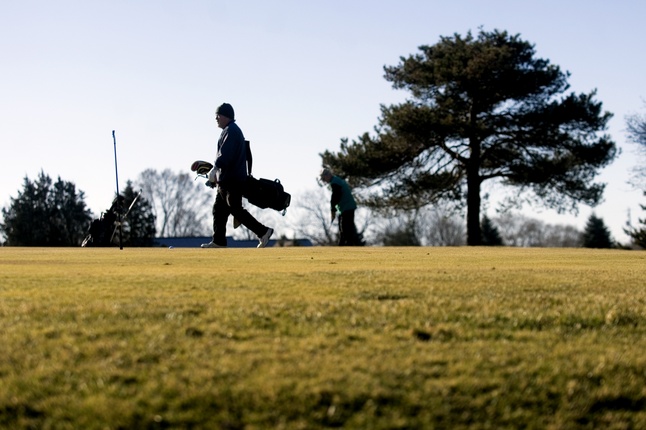 MLive Media Group file photo
Editor's note:
With the long winter finally coming to a close and with people looking to get out to the golf course, we are introducing a weekly golf advice column from contributor Kyle Dobbs. Dobbs is a former professional and University of Michigan golfer. He grew up in Ann Arbor and won the individual Big Ten title for the University of Michigan men's golf team his senior year in 1997. While it's unlikely you'll get to the level of Dobbs, hopefully his expert advice can help you maximize your potential on the course this season.
With the golf season just around the corner, nothing builds excitement more than anticipation of the Masters. For Michigan golfers, what breaks the ice for us, is the first cut of the greens and tee boxes exposing that lush green turf. Last year with such a mild winter, we had the opportunity to get out and play virtually on a regular basis. Ann Arbor this year has been in a golfer's locked down with the late spring.
Now that the frost is finally out of the ground and courses are "officially" opening, it will be a mad race to the first tee. You know the routine, leave work a little early, go straight from the parking lot, hop on the course, and don't even take the time to warm up by hitting a bucket of balls.
Forget about stretching!
Then the aftermath sets in of soar muscles and body aches and pain. The solution to opening day pain is in the preparation.
Before heading to the course, take 5-10 minutes in the office to stretch per day. At home, take a few swings in the living room while watching golf on TV. The key is to getting the golf muscles moving again. After a cold winter like we have had, there is even more truth to the phrase, "an ounce of prevention is worth a pound of cure."
While playing professionally, my goal every day was to simply get loose. I knew if my body was warm and muscles loose, not only would it give me the best opportunity to avoid injury, but maximize my opportunity to swing without stiffness or pain.
Here are a few specific routines that will help shake the winter rust from your swing. Grab the side of the golf cart or your office door handle while facing it with your feet shoulder width apart. While standing with your feet shoulder width apart, slowly drop into a sitting position. Extend your arms past your head and gently squat with your weight falling toward the heels until the hamstrings begin releasing then hold for 30 seconds.
This is my favorite stretch because it incorporates all the major muscle groups - lower back, lats, shoulders, hamstrings & gluts - with one action.
My next favorite exercise is a simple rotation. Grab a golf club and lay it behind you on top of your shoulders. Simply turn to the right with a shoulder's width stance and hold for 30 seconds then repeat on the left side.
Try not to bounce while stretching. Bouncing causes a micro-trauma in the muscle that is healed with scar tissue that reduces flexibility. A bounce stretch is considered a "ballistic" stretch placing strain on the tendons and ligaments when the muscle belly is not warm.
Taking the initiative to plan a few moments of daily conditioning is one of the best investments towards an elongated and healthy golf season. Schedule a lesson with your local golf professional and make sure the ice has melted off your clubs and the frost is gone from your swing. Make this up coming year healthy and enjoyable.
Feedback
Have any questions for Dobbs about his advice or want some more tips? Leave questions in the comments below and he'll gladly help you out.
Kyle Dobbs is a former professional golfer and freelance contributor for AnnArbor.com. He can be reached at khdobbs@gmail.com.