Posted on
Thu, Feb 24, 2011 : 5:59 a.m.
Swedish Michigan hockey captain Carl Hagelin finds a second home with Wolverines
By Jeff Arnold
Martin Vloet | University of Michigan photo services
The vacant fishing boat sits harbored on the shores of Lake Malaren, awaiting its captain's return.
The small watercraft is a means of escape for Carl Hagelin, who often spends leisurely summer afternoons on the water back in his native Sweden.
The lake offers solace for Hagelin, the first Swede to play for the Michigan hockey team. The setting allows him to be himself, just a 22-year-old kid out for an afternoon with his buddies tanning and talking about everything except the game that is such a major part of his life.
Ironically, it takes the 4,135-mile return trip to his hometown of Sodertalje for Hagelin to fully appreciate how much of a home Ann Arbor has become.
Hagelin remembers arriving at Michigan as a freshman four years ago, worried about fitting in. Although he had traveled extensively growing up, adjusting in life the United States was sure to provide challenges. Not only was he far from home, but he would have to learn in a new educational setting, struggling with a language he would have to use on a full-time basis.
Since then, he has become an adopted son for Michigan coaches and a fan favorite among students.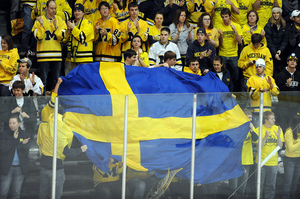 AnnArbor.com file photo
For the better part of the past two seasons, a hand-sewn 12-foot-by-8-foot Swedish flag has become a mainstay at Michigan home games. The flag pays homage not only to Hagelin's roots, but to a player that has, over time, has etched his name into the portals of the Wolverines' program.
"Anytime there's a player that's not normal - when they're not from here, when you're the European - they obviously like you a bit more because you're different," Hagelin said. "But I've been fortunate to have great fans, to see the Swedish flags in the stands. It always feels great to step out on the ice and see that."
Hagelin is finishing his Michigan playing career 11 years after he first visited Ann Arbor. Back then, he was a tag-along to Red Berenson's summer hockey camp, giving his older brother, Bobbie - who would go on to play professional hockey in Denmark - a travel companion.
A late bloomer, Carl had the makings of a fine skater. After Hagelin visited the camp a year or two after his initial visit, Michigan coaches lost track of him.
Then Christer Rockstrom, the New York Rangers European director of player personnel, discovered Hagelin in one of Sweden's lower hockey leagues. He saw potential. It wasn't long before Michigan's coaches got word that the speedy skater with a knack for play-making may be a good fit.
"As he got older, he kind of grew a little bit and really blossomed into a much better player," Michigan associate head coach Mel Pearson said. "The fact that maybe he wasn't in that elite, elite group over in Sweden helped because I don't think he would have ever gotten over here. He would have gotten sucked up by the system over there.
"But coming over here, there wasn't as much pressure. He had all the skill, but we just didn't realize how good he was going to be."
Hagelin's father, Boris, made certain his son understood what kind of opportunity he had. Boris, who attended school at Western Michigan, was impressed with Berenson.
"It was the best thing he could do," Boris Hagelin said. "In Sweden, you cannot play hockey at a high level and study. Here, it's fantastic - you get a good degree and you play hockey at the highest level and so that's been nice."
By the time he enrolled at Michigan, the word was out about Hagelin. The Rangers drafted the Swede in the sixth round of the 2007 NHL Entry level, getting what they believed was a late-round steal.
After contributing to the Wolverines while surrounded with top-notch talent around him as a freshman and sophomore, Hagelin had a breakout season last year as a junior. He established career highs in goals (19), assists (31), points (50), plus-minus (+20), power-play goals (5) and multi-point games (11). Nationally, he ranked 11th in scoring and tied for 12th in assists.
The bigger role Hagelin played with the Wolverines, the more popular he became. Once Michigan began the second half of the season, the large Swedish flag emerged. Michigan student Rob Eckert came up with the idea.
"You're never going to be able to get as close to the players as you do here," Eckert said. "We hold these players up to be professionals and great people, but they're still just like us."
The more his fans embraced him, the more connected Hagelin felt. Prior to Saturday's dramatic 5-4 senior night victory over Western Michigan, Hagelin stood on the blue line as the Swedish national anthem was played.
In the stands nearby, students waved the massive flag while others sang, holding index cards with the words to the Swedish anthem printed on them. With his parents in attendance for Hagelin's final regular-season home game, the reminders of home helped Hagelin and his family realize how big of a part of Michigan hockey the senior forward had become.
In one of his final Yost appearances, Hagelin played a starring role. His goal with 39.1 seconds left in regulation tied the game at 4 before his power-play goal with 2.9 seconds remaining in overtime lifted the Wolverines to their fourth straight win and 11th consecutive at home.
"I didn't expect to go out and do a miracle or anything," Hagelin said. "I just tried to go out and play hard. I hadn't scored in a long time so it was nice to get that goal at the end and help the team out. I love every guy on this team and I would do anything for him."
Following his heroics, Hagelin was chosen the game's No. 1 star, giving his fans something more to cheer for.
"I knew it was going to be emotional," Boris Hagelin said after witnessing Carl's two dramatic goals. "But when Carl went out of the ice (after the game) with the crowd roaring, it was just fantastic."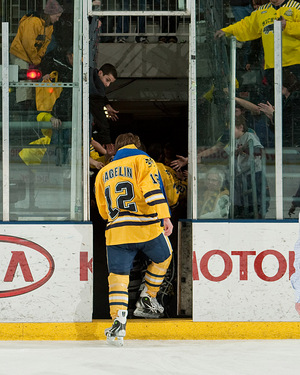 Martin Vloet | University of Michigan photo services
The student body had one final tribute. As the third period began, Eckert moved from one side of the student section to the other, collecting signatures and hand-written messages on the large flag his mother had sewn.
By the time he was finished, Eckert had garnered between 250 and 300 messages, nearly covering the flag that had become such a part of the game night culture at Yost. He then took out a piece of paper, adding one more thank-you note to the collection, before rolling the note up and putting it inside the flag.
Carl: It's been a pleasure watching you all these years. I know we have all very much appreciated it. Good luck where ever you go. We'll always follow you. Always keep your stick on the ice. Rob and The Children of Yost.
As the post-game Senior Night festivities began, Eckert, hoisted the flag over the glass, handing it to the night's hero. Hagelin draped the souvenir around his neck and skated around the perimeter of the rink, waving a maize and blue flag with a block M that seniors are given following their final regular-season home game.
Hagelin, accepted the flag from Berenson, who embraced his senior star, celebrating what has been a storybook journey.
"I just told him, 'Aren't you glad you came to Michigan?'" Berenson said. "And aren't we glad that you came.'
"But he's set a standard here. He's been a terrific kid, student, player, teammate. We'll always remember him."
As the group of nine seniors made their way around the ice, the cheers got louder as they approached the student section. They chanted, "Thank you, seniors," recognizing the accomplishments of a class that will attempt to clinch a regular-season CCHA title this weekend against Northern Michigan.
The Wolverines will return home for the second round of the playoffs.
"Our fans are doing more than just showing up at the rink - they're taking an interest in our players and individuals," Berenson said. "I think we've seen a little bit of that with Carl. Now, they recognize the kind of player he is and his Swedish heritage. But the more you learn about Carl, the more you're going to like about it."
The flag remains in Hagelin's locker and will likely be taken home to Sweden this summer. Hagelin said once the season is over, he will take the time to read each message and peruse the collection of signatures.
For the time being, Hagelin - who leads the Wolverines in goals (15), assists (27) and points (42) - will remain focused on the work left to accomplish. After reaching the Frozen Four as a freshman before falling short the past two seasons, Hagelin figures to factor into Michigan's championship hopes in his final season.
The goal is simple: Adding a national championship to a long list of accomplishments that includes three NCAA appearances, Great Lakes Invitational titles and CCHA tournament championships like the one the Wolverines captured in almost miraculous fashion last season.
As bright of a future as he may have in the NHL, Hagelin will, in many ways, consider Ann Arbor home - a place where his even-keeled personality and skills have made him what he is.
"It will probably when I sit back home in the summer out on my boat when I'm going to think back about this journey," Hagelin said. "But right now, I'm still here, I'm living in the present, and I can't think about what I'm going to do in the summer.
"We still have a lot of games to play and as fun as it is to be here, you want to make sure you make the most of it."
Jeff Arnold covers Michigan hockey for AnnArbor.com and can be reached at (734) 623-2554 or by e-mail at jeffarnold@annarbor.com. Follow him on Twitter @jeffreyparnold.