Posted on
Tue, Oct 25, 2011 : 3:09 p.m.
Stickers help hockey teammates pay tribute to Ian Jenkins in every game
By Matt Durr
Memories of Ian Jenkins are triggered each time the Ann Arbor-based United States National Team Development Program Under-17 team plays.
Jenkins, a 15-year-old from Ypsilanti and of the nation's top young goaltenders, died May 23 as a result of head injuries suffered when he fell out of a pickup truck on May 19.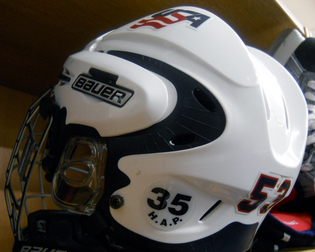 Now the NTDP U-17 team honors Jenkins with a "35 H.A.P." sticker on each helmet. The 35 represents the number Jenkins wore and H.A.P. stands for "Have a purpose," a motto of Jenkins' that has stuck with his teammates.
Trevor Hamilton, Tyler Motte and Evan Allen are members of the NTDP U-17 team and knew Jenkins well.
"He was one of my best friends," Hamilton said. "We support his family and want him in our hearts to respect him."
The members of the NTDP U-17 team will wear the stickers all season as they play all over the country and around the world. The team will travel to Russia in November as part of the U17 Four Nations Cup.
"It's such a privilege to have that on our helmets," Allen said. The right winger had known Jenkins since he was 7 years old. Allen also writes H.A.P. on his sticks.
The idea to put the tribute on the helmets started with Hamilton, who brought up the idea to the team's equipment manager Jake Visser. After clearing it with the United States Hockey League and the people at USA Hockey in Colorado, the players were allowed to sport the numbers on their helmets.
"It means a lot, even the people who didn't know him, had heard of him," Motte said. A left wing, Motte knows his friend is keeping tabs on how they're doing. "He's up there watching."
Having spent so much time with Jenkins, Hamilton, Motte and Allen took it hard when they heard the news of Jenkins' death.
"I was so shocked, I didn't know what to think," Allen said. "Everyone was so supportive, even the kids who didn't know him."
All three players sport wristbands with the same motto and number that are on the stickers as another reminder of Jenkins, and they support the Big "E" Foundation set up in Ian's memory.
The players all described Jenkins as a leader and someone who could be counted on to make the big plays.
"If you scored a goal against Ian, it had to be the goal of a lifetime," Allen said.
"He never complained, he was a leader," Hamilton said, adding that his favorite memory of Ian was winning a national championship and a world championship together in the Bantam majors and minors.
Hamilton is a defenseman and played many times in front of Jenkins.
But now that he no longer has the chance to play with good friend, Hamilton is pleased to have another way to commemorate Jenkins.
"It feels like he is still on the ice with us."
Matt Durr covers sports for AnnArbor.com. He can be reached at mattdurr@annarbor.com or at 734-623-2532.