Posted on
Thu, May 27, 2010 : 10:52 p.m.
Tennessee shuts out Michigan softball team in NCAA Super Regional game
By Michael Rothstein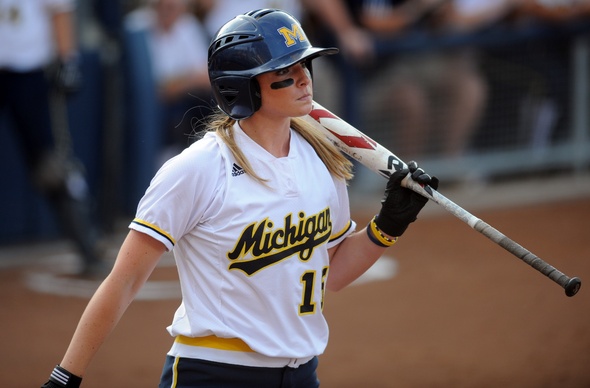 Melanie Maxwell | AnnArbor.com
Pitchers aren't supposed to think about no-hitters. Tennessee freshman Ivy Renfroe couldn't help herself.
She hadn't allowed a hit to Michigan's offense through four innings, so her mind wandered. While she didn't pitch a no-hitter in No. 15 Tennessee's 5-0 win over second-seeded Michigan in the first game of an NCAA Super Regional, she still dominated the Wolverines.
She carried the no-hit bid into the seventh inning, when U-M's Dorian Shaw broke it up with a one-out single. She finished with eight strikeouts. She pushed the Wolverines to within one game of NCAA Tournament elimination.
Michigan hosts Tennessee again Friday at 4:30 p.m.
"It worked out," Renfroe said. "But I always thought about' it's OK if they get a hit in the seventh inning. Don't dwell on that, just keep pitching.'
"Just finish the game."
Shaw broke up the no-hitter with a single to left field in the seventh, but Renfroe recovered to get the final two outs, pushing her streak of scoreless innings to 20 1/3rd dating back to the SEC tournament.
She did what no other pitcher has done this year - completely shut down Michigan. The Wolverines hadn't been shut out since last year's Women's College World Series against Florida. Now, Michigan is one game away from not reaching Oklahoma City at all.
"We did not adjust," Michigan coach Carol Hutchins said. "We did not shorten our swings. Our offense was down and therefore our team got down and that's the last thing you want to have happen.
"We're going to need to be in better battle mode come tomorrow."
Michigan (49-7) hadn't lost since April 28. The Wolverines hadn't lost at home since May 9, 2009 against Michigan State, a streak of 36 games snapped.
On Thursday night, Renfroe had help early.
Tennessee (46-13) broke the game open in the top of the third. Shelby Burchell led off the inning with a single to center field, followed by a sacrifice fielder's choice where Michigan pitcher Jordan Taylor struggled with her decision-making on the throw. Both runners were safe because of her hesitation.
An error by Michigan third baseman Maggie Viefhaus on an Ashley Andrews grounder allowed Burchell to score. Three batters later, Kelly Grieve drove in both and Andrews to give Tennessee a 3-0 lead.
Michigan, meanwhile, had only three baserunners until the seventh inning.
"It was more of us just not being in the same state we had been in in our past few games," Shaw said. "We weren't attacking the pitches she was giving us.
"We were kind of on the defensive. We were letting her get ahead in the count and trying to fight back and that's a really hard position to be in."
While Michigan struggled on the field, it received more bad news off of it.
In the bottom of the fourth inning with two outs, Michigan sophomore left fielder Bree Evans was injured by a foul ball off Shaw's bat that hit Evans squarely in the arm. All of Alumni Field grew quiet as trainers looked at Evans and then took her out of the dugout.
She eventually returned to Michigan's dugout later in the game with a sling on her right arm.
Shaw, whose mouth dropped as she saw the ball strike Evans, ended up striking out looking after missing a home run hitting a ball two feet foul.
"We were all kind of surprised," Shaw said. "I wasn't expecting that to happen.
"…You can't really say much about it. It's a freak accident."
Michael Rothstein covers University of Michigan sports for AnnArbor.com. He can be reached at (734) 623-2558, by e-mail at michaelrothstein@annarbor.com or follow along on Twitter @mikerothstein