Posted on
Sun, Mar 6, 2011 : 5:59 a.m.
Texas-bred sophomore forward Chris Brown feels at home with Michigan hockey team
By Jeff Arnold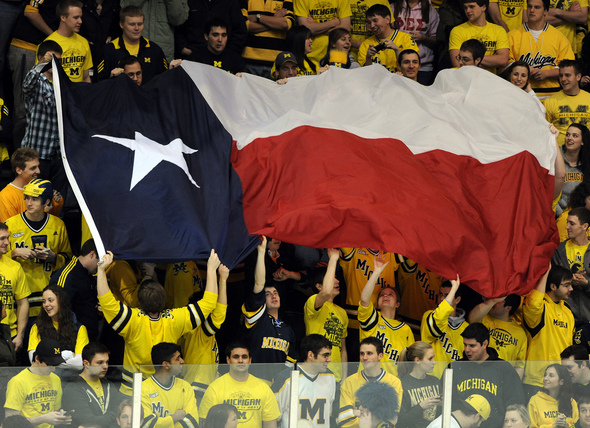 Lon Horwedel | AnnArbor.com
Growing up, Chris Brown heard the song everywhere he went.
It was played during the seventh-inning stretch at Texas Rangers' home games. It was sung whenever he'd attend country music concerts with his friends. There was even a small snow globe inside his parents' Dallas-area home that would play the tune.
For all the times Brown has heard variations of "Deep In the Heart of Texas," he never figured it would become a staple at Michigan hockey games at Yost Ice Arena. But it's a sign that he has a found a home with the Wolverines.
Michigan's student section unveiled a several-yards-wide Texas flag this season. It's among the biggest Brown has seen, rivaling one that flies in front of a Dallas-area car dealership. Although Brown doesn't come from a state that boasts a hockey-rich tradition like some of his other teammates, he has proven that he belongs.
"Everyone who knows me knows I'm from Texas," Brown said. "I'm just so proud of where I grew up and how I got started playing hockey and the organizations I grew up in Dallas playing with and the coaches that coached me through the way.
"It's kind of nice to recognize that it's not just the Michigans and the Minnesotas and the northeast areas like Boston that have hockey players. It's places like Texas and some of the other sunshine states that have hockey players coming up."
Brown spent two years with the USA Hockey National Team Development Program before arriving at Michigan last season. During his two seasons with USA Hockey, the 6-foot-2 forward brought a physical presence to the lineup on a regular basis.
He has continued that with the Wolverines, finishing his freshman year as one of the CCHA's top rookies. As of late, Brown has rediscovered his scoring touch, notching goals in three straight games last month for the first time in his career.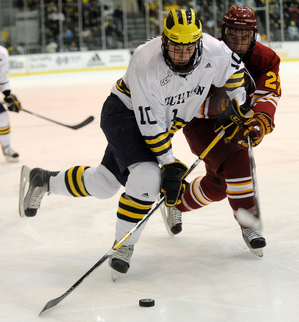 AnnArbor.com file photo
But his recent hot streak came after a stretch when Brown, along with the rest of his Michigan teammates, struggled to score. After winning five straight games, Michigan suffered through its only three-game skid of the season, scoring three goals during the slump.
The skid came just as Brown was recovering from an exhaustive 2 1/2 week schedule with the U.S. U-20 world junior championship team. While the international tournament gave Brown a taste of what hockey at the next level could be like, it also took a toll on his body. Michigan coach Red Berenson worried Brown would need time to recover.
"It was a big adjustment for me to go there and then come back," Brown said. "I wouldn't say I was in a slump, I wouldn't say I was playing poorly, but the puck wasn't going my way."
After his team's offensive drought, Berenson jumbled all four of his lines, hoping to spark an offensive surge. Brown landed on a line with the Wolverines' two top point-producers in Carl Hagelin and Louie Caporusso.. Not only did Michigan find its stride, but so did Brown.
The revamped offense led to six straight wins, the final of which captured the Wolverines' first CCHA regular-season title since 2007-08.
"I think it's good for our team in that we're getting some balanced scoring and we're getting goals from guys that should score," Berenson said. "And Brownie should score and so he's a threat to score, (David Wohlberg) is a threat to score, Carl (Hagelin) obviously is a threat to score."
For Brown, who scored the game-winning goal in last weekend's series opener at Northern Michigan, finding the net has involved a bit of puck luck. Of the eight goals he has tallied this season, many have come off fortunate bounces.
He has taken advantage of having Hagelin and Caporusso around him, which frees Brown to feed off of the chances that come with being paired with so much offensive talent. It's all added up to a late-season surge Brown hopes can now continue into the upcoming playoffs.
"I think the confidence has just hit at the right time and I've had some luck," Brown said. "That's the majority of the game - half the goals you score during the season are lucky, but I think that little bit of luck helps any player."
But don't think that the not-so-subtle links to his roots are lost on him either. He is one of three Michigan players who have flags flown in their honor at Yost, joining Hagelin (Sweden) and Scooter Vaughan (California). He can't help but smile when he hears the Michigan hockey band's version of the familiar song he grew up hearing, solidifying his choice to continue his hockey career with the Wolverines.
"This is the Michigan feeling that every kid dreams of," Brown said. "Not only do you get to put on the jersey, but the fans get into the game and you feel more in touch with the university."
Jeff Arnold covers Michigan hockey for AnnArbor.com and can be reached at (734) 623-2554 or by e-mail at jeffarnold@annarbor.com. Follow him on Twitter @jeffreyparnold.