Posted on
Thu, Nov 12, 2009 : 4:01 p.m.
The five issues and questions surrounding Michigan basketball
By Michael Rothstein
Every team has issues and questions entering the basketball season and Michigan is no different. The Wolverines went to the NCAA tournament for the first time in a decade last year but that doesn't mean they won't have their issues.
Here are five that could make or break Michigan: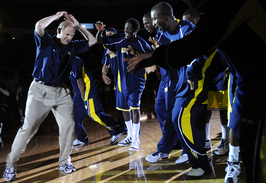 Melanie Maxwell | AnnArbor.com
1) Darius Morris' production at the point: From all indications, Morris has won the starting point guard position for Michigan - or at worst earned major minutes running Michigan. Being the point guard in a John Beilein-based offense means playing with a lot of intelligence and intensity and the same goes in the 1-3-1 defense Beilein employs about 50 percent of the time. Morris' ability to grasp the system on both ends will be critical.
2) Manny Harris' health: The junior guard is Michigan's best player and possibly the Wolverines' best overall player since the days of the Fab 5. He's been bothered by strained hamstrings throughout the preseason and if they linger and limit him, it'll be an issue. Michigan needs a healthy Harris.
3) Size inside: Michigan made it through a lot of last season relying on DeShawn Sims as its main player on the interior. While not much has changed, Sims belongs more on the wing with floating inside as he can do both. If Michigan can get better output from fifth-year senior Zack Gibson and redshirt freshman Ben Cronin, it'll allow Sims to free up a bit. That said, he's a guy who is really good in the middle of the 1-3-1 zone.
4) Dealing with expectations: Michigan is ranked No. 15 in the country in both polls this preseason. At least one prognosticator, Len Elmore, picked the Wolverines for the Final Four. Most believe Michigan is a Sweet 16 team. None of the Wolverines have dealt with that high of expectations since high school. How they deal with it and how Beilein manages it will be critical. So far, they've shown no signs of having an issue, but it is a long season.
5) Depth: Not of Michigan, as Beilein seems confident he'll be able to go 9 deep. It has to do with the depth of the league. As many as 9 teams have legitimate shots at the NCAA tournament and Indiana will be much improved. Some team is going to be disappointed with the result of their regular season and it could be any team outside of Michigan State and Purdue (good) and Iowa (bad). Managing through a difficult schedule will be something this team needs to do for the second straight year.
Michael Rothstein covers University of Michigan basketball for AnnArbor.com. He can be reached at (734) 623-2558, by e-mail at michaelrothstein@annarbor.com or follow along on Twitter @mikerothstein.