Posted on
Thu, Nov 10, 2011 : 11:52 a.m.
The latest on Penn State, Jerry Sandusky and the firing of Joe Paterno
By AnnArbor.com Staff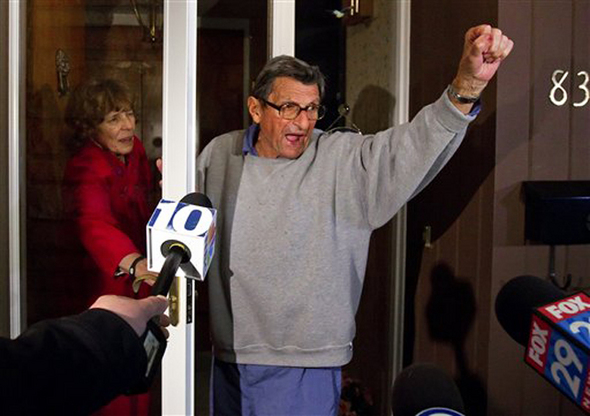 Associated Press
Allegations of child abuse. Allegations of a cover-up. Firings. Student riots.
The many layers of the Penn State scandal that start with former defensive coordinator Jerry Sandusky are covered in full by our partners at PennLive.com, including the announcement today of Tom Bradley taking over as interim head coach. Here's a link to the days of coverage, including the firing of football coach Joe Paterno on Wednesday night.
Sports columnists across the nation are weighing in on how Penn State officials have handled the investigation and its building aftermath.
PennLive.com columnist Tom Flynn writes that Paterno "confused his place in college football and in the university."
More opinions and news:
VIDEO OF CROWDS AT PENN STATE AFTER JOE PATERNO WAS FIRED