Posted on
Tue, Nov 3, 2009 : 2:15 p.m.
The playmaker: Former Michigan guard C.J. Lee helps drive a campaign
By Michael Rothstein
The days and nights were long, sometimes starting before the sun rose and ending with a cross-state car trip home after the sun set. C.J. Lee traversed Michigan, on the interstates and back roads, logging more miles than he ever imagined in a hybrid GMC Yukon.
This was his job, a summer internship turned into a life experience. Riding shotgun in Lee's vehicle, on the phone, checking e-mails and preparing speeches, was Republican candidate for governor Rick Snyder.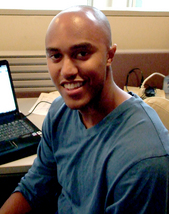 Lee, a former Michigan basketball captain, had needed an internship between his first and second years of graduate school in the Ford School of Public Policy at the University of Michigan. After three meetings with Snyder this past spring, Lee, who described himself as an independent, joined the campaign.
Lee was one of the first people Snyder brought aboard, hired before Snyder announced his candidacy for the 2010 gubernatorial race. Once Snyder was in the race, Lee seemed a natural to travel with the candidate.
"That was a natural starting point because he was one of the very first people on board," Snyder said. "We were just getting started, and just as a starting plan it was like, 'C.J., we'll see how this evolves.'"
As they'd travel, Lee saw first-hand how a candidate handles events, the downtime between campaign stops and became a liaison of sorts for Snyder's communications director, Jake Suski.
He'd keep Suski informed on how events went and the two spoke daily about press coverage. And at the end of most days, there'd be time for Snyder to decompress, Lee at his side ready to discuss whatever Snyder wanted.
Sometimes they'd listen to a baseball game or sports talk on the radio. Other times they'd crank up music, their mutual love of Motown a common lyrical denominator.
While political discussion rarely appeared on their radio dial, there was times where Snyder peppered Lee with questions. As a young, recent college graduate, Lee is the type of person Snyder is trying to reach with his campaign.
Naturally, with Lee being a political neophyte still studying public policy, he wondered why Snyder wanted his opinion.
"He made me feel like my opinion was valuable," Lee said. "I'm a guy fresh out of college, I'm a student-athlete, I'm pretty used to being told what to do and doing so. So that was the truth.
"But with Rick it was a great opportunity because I got to think on my own, voice my opinion and tell him what I thought about the situation."
A shared vision was the reason Lee became involved with Snyder. Before joining the campaign, Lee did his research on Snyder. He spoke with Mike Finney, the president and CEO of Ann Arbor SPARK, who he had interned with the summer before.
Snyder had been the chair of SPARK at the time and saw Lee's work. He was familiar with his leadership abilities from watching him play basketball at Michigan, where Snyder has courtside seats.
After speaking with Finney, Lee ran the idea by his parents and Michigan basketball coach John Beilein, all of whom Lee said considered it a good idea to gain real-world experience on an emerging campaign as he worked on his master's degree.
"It was one of those situations where it should work out, and it was coming to the meeting of the minds in terms of enough common dialogue because, in theory, it should all be there in terms of what I was looking for and his background," Snyder said. "It wasn't a tough fit, putting a round peg in a round hole kind of thing."
Which is how Lee ended up on the road with Snyder, visiting portions of the state Lee had never seen. Born in Saginaw, growing up in Lansing and going to school in Ann Arbor, Lee had never seen the western side of the state. He'd never been to the Upper Peninsula.
To him, in some ways, those places felt like a foreign country.
"My family is not really nature people but there are forests, sand dunes, all kinds of stuff you can do in the state if you like water, you like boats, all this stuff," Lee said. That, generally, was not my experience when I lived here in Michigan.
"… Going over to the west side, seeing Benton Harbor, Muskegon, Grand Rapids. I was amazed seeing Grand Rapids for the first time. I didn't even realize the city was this big, this nice and stuff. "
Throughout the rides, Snyder would ask Lee about different urban neighborhoods they had driven through. He wondered what it would take for someone like Lee - a person Snyder considered a representation of the future of the state - to want to live there.
What would it take? What would a city, besides the obviousness of a job, make it more attractive to him?
Slowly, as the summer wore on and the trips increased in frequency, Lee began to understand more about the candidacy and campaigning. He'd be recognized, too, because at some places he was a more familiar face than the man he worked for. He took pictures. He signed autographs. After an event in Troy, a woman tapped him on the shoulder and said, "I know you. You played for Michigan."
Lee considered the recognition "flattering."
He also became the guy to wait behind a few minutes as Snyder shook hands to chat with people, hear their ideas and help them if they wanted to become involved in Snyder's campaign.
Eventually, though, he had to return to school for his second year of graduate school.
Without basketball, Lee kept a part-time job with the campaign. Instead of being on the road, he now works in Snyder's campaign office Mondays, Wednesdays and Fridays.
"C.J. is helping us put together a lot of research for Rick's vision for the 10 Guiding Principles to reinvent Michigan," Suski said. "He's leveraging a lot of the skills and knowledge he's gaining from school and putting them to real practice here in the campaign."
Lee enjoys the behind-the-scenes work of a campaign after what he experienced this summer. He saw the all-consuming nature of a political campaign and considered it somewhat analogous to a basketball season.
While the 24-year-old said he has no aspirations of one day running for office, he didn't rule it out - taking an answer you'd likely hear from a politician.
"That's something I'd have to think about when that time came in all honesty. I think that it's commendable, people wanting to run for public office cause they really care and are compassionate for people," Lee said. "And I definitely feel like I have those qualities. Do I want to run for anything right now? No.
"But we'll see. You never know."
Right now, Lee is more focused on what he wants to do when he graduates in May.
There might be an opportunity to rejoin Snyder's campaign full time. Through the contacts he made this summer and at Michigan, he's exploring going into business.
There's also the chance he could move into a policy role, be it with Snyder's campaign or somewhere else. Lee blogged on Snyder's Web site about his experiences during his summer of learning and Suski has already thought of the potential of Lee becoming more active in that area once he graduates.
"I'm going to keep my options open," Lee said. "I'm in the place where I'm going through that whole thing that a lot of grad students are going through right now.
"I'm sure I'll sit down with people in the campaign to see if I want to continue when I graduate but right now I'm keeping my options open and I'll see what happens."
Michael Rothstein covers University of Michigan basketball for AnnArbor.com. He can be reached at (734) 623-2558, by e-mail at michaelrothstein@annarbor.com or follow along on Twitter @mikerothstein.