Posted on
Wed, Dec 12, 2012 : 2:45 p.m.
Thirty years later, Bo Schembechler's 'The team' speech motivates U-M volleyball's Final Four run
By Matt Durr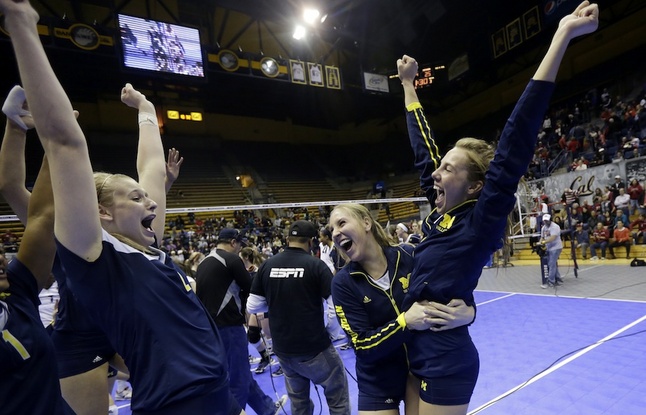 Associated Press
On a Monday afternoon in mid-November, the Michigan volleyball was coming off of a downer of a weekend. Having dropped matches to Northwestern and Illinois on the road, the Wolverines were at 9-9 in Big Ten play and possibly on the outside of the NCAA tournament.
That afternoon, head coach Mark Rosen and his team met to discuss one simple subject: The team.
Rosen played former football coach Bo Schembechler's legendary speech from the 1983 season for his team that Monday afternoon and the team hasn't lost since.
Michigan takes on the Texas Longhorns Thursday evening (7 p.m., ESPN2).
"We really bought into the idea that no one is above the team," said junior Lexi Erwin. "The reason that we've gone this far is that we're so connected as a team. We don't have just one person who is going to carry us."
Rosen said it was an exercise in keeping his club focused on the grand scheme and not on individual problems.
That mindset has helped propel the Wolverines to the NCAA Final Four for the first time in program history. With only two matches separating them from a national championship, Erwin and the rest of the Wolverines are looking to draw on their experiences from playing in the Big Ten to help guide them.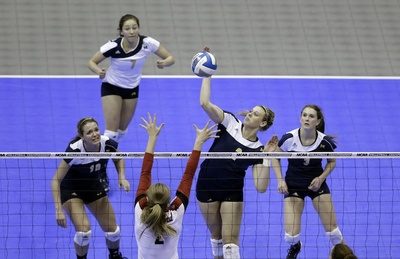 Associated Press
"That's something we've talked about all year and how important it is for us to play for the team and not for themselves," Rosen said. "This (group) has become a much better team because they are focused on playing as a team and for each other."
"What we face every single night, we have to put our best game out there. That in itself is just a great preparation," Erwin said. "In the Big Ten you see these teams day in and day out. It's helped prepare us to have a fearlessness about facing ranked teams."
Erwin was named the regional most valuable player after Michigan defeated No. 2 Stanford 3-1 on Saturday.
Texas entered the tournament as the No. 3 team in the nation. While his team has not played the Longhorns, Rosen said his team can learn a lot from watching tape.
"Texas is a great team, but I think they're a team we matchup against," Rosen said. "There is always that learning curve during the match. But you got to play on your side of the net. Before we can make any adjustment, we have to control our side first."
Even though the team has never made it this far, a couple factors play in Michigan's favor entering Thursday night's game.
The match will be played at the KFC Yum! Center in Louisville, Ky., the same venue the Wolverines played in during the first two rounds of the tournament. It may not seem like much, but according to Rosen being familiar with things like airflow and lighting in a building can give his team a nice advantage.
Rosen also said that while the players may not have the experience of dealing with the hoopla surrounding the Final Four, his prior experiences with championship teams on the D-II level would help prepare the team with what to expect.
"The biggest thing is to treat this like a normal match It shouldn't be treated any differently than the first one we played this year," Rosen said.
Erwin said she and her teammates are trying to follow that advice.
"We're focused on keeping it consistent and finding the similarity of what we've known since Big Ten season started," Erwin said.
As much fun as the team had doing something that no other Michigan team had ever done, Rosen said his team was far from finished.
"We're happy to get there, but we're not satisfied by just getting there," Rosen said. "They've been preparing for the last 10 years of their development for this."
Matt Durr covers sports for AnnArbor.com.