Posted on
Thu, Sep 1, 2011 : 10:02 a.m.
Trio of Michigan field hockey players has been teammates since high school
By Matt Durr
Hannah Dawson, Jess Allen and Bryn Bain know their senior year with the Michigan field hockey team is going to be special and they plan to savor every moment.
The trio has known each other since they were kids and have been teammates since high school.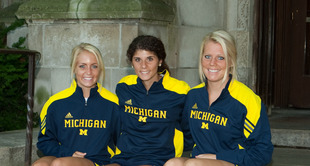 Courtesy of Michigan athletics
"This is our last year playing together forever, and forever is a long time," Dawson said. "In high school, we played on a competitive team, we played on the best team in the country a couple times."
The three attended Eastern Regional High School in Voorhees, N.J., where they were part of arguably the best high school field hockey program in the country. ERHS holds national records for consecutive games won. They were on the field when that streak was broken after 153 games.
"I think we're able to communicate a different kind of mentality to our teammates because of the type of program we went through in high school," Allen said.
Allen and Bain committed to Michigan together after visiting the campus and getting a feel for the atmosphere. Dawson knew exactly what they felt.
"The feeling they had when they visited was the same feeling and reaction that I had," Dawson said.
The transition from high school to college is difficult for everyone, but for these three, having the each other definitely helped.
"Especially being so far away from family, they're kinda like my sisters here," Bain said. "We just support each other in other ways that other people wouldn't know how to support."
On the field, the girls share a different bond.
"We've been playing together for such a long time, I just know what they're going to do," Dawson said. "We're all just very hard workers, and tenacious players."
As the girls focus on being leaders for their senior season, the pressure to win isn't getting to them.
Allen likes the feeling of having high expectations.
"We do feel a sense of pressure to take our team a bit further than other seasons," Allen said. "There is always pressure, but I think a certain amount of it is good. To have pressure on you means that you're trying to get something done."
Michigan field hockey team splits in ACC/Big Ten Challenge

After taking a 5-0, beating against the No. 2 ranked North Carolina Tar Heels on Saturday, the Michigan field hockey team defeated No. 11Wake Forest, 2-1, Sunday to earn a split of their weekend series. The No. 9 ranked Wolverines won their first game in the Challenge since 2002.
Michigan travels to Philadelphia to play Temple on Saturday before facing the No.1 Maryland on Sunday.
Michigan and Eastern golfers miss cut at USGA Amateur

Michigan men's golfer Jack Schultz missed the cut this week at the U.S Amateur Championship. Schultz's rounds of 73-73-146 left him 4-over and four strokes from the cut.
EMU's Derek East posted 77-80-157 to finish 15-over. Former EMU golfer Marty Jeppesen qualified for the final 64, but lost in the first round of match play.
EMU basketball to host Spartans
On Nov. 27, EMU men's basketball will receive a visit from in-state powerhouse Michigan State. The Spartans will be in Ypsilanti as part of the Spartan Invitational, a five-team, four-game, round-robin style event.
Michigan volleyball sweeps weekend
The U-M women's volleyball team won three consecutive games at the Morehead State Eagle Challenge. Sophomore Lexi Erwin led the team in kills over the weekend with 32, while senior Sloane Donhoff had 55 digs over the three games, moving her into fourth all-time in Michigan history.
Michigan played twice on Friday night, and again on Saturday. The weekend also marked the first time during coach Mark Rosen's reign that his team faced the same team in back-to-back games.
Men's soccer looks to rebound from rough start

After a thrilling run into last year's final four, the Michigan men's soccer team is off to an 0-2 start after losses to Bowling Green and Kentucky.
The team hosts the Michigan Invitational this weekend when Butler and Northern Illinois come to Ann Arbor.
EMU volleyball records two wins

EMU's women's volleyball team defeated Butler and Idaho last weekend as part of the Notre Dame Invitational. The Eagles dropped their opening match to the Irish but recovered to win their next two matches.
Women's soccer defends home field

The U-M women's soccer team won both matches of the Michigan Invitational to improve to 3-1. The Wolverines knocked off Duquesne, 6-0, on Friday and DePaul, 3-1, on Sunday.
The team was led by sophomore Nkem Wzurike, who had one goal and three assists in the two games. She has three goals and three assists in four games.
Upcoming home schedule:

Friday: U-M men's soccer - 7:30 p.m. vs. Butler at U-M Soccer Stadium
Saturday: U-M football - 3:30 p.m. vs. Western Michigan at Michigan Stadium. EMU football - 7 p.m. vs. Howard at Rynearson Stadium
Sunday: U-M men's soccer - 2:30 p.m. vs. Northern Illinois at U-M Soccer Stadium