Posted on
Thu, Mar 31, 2011 : 5:50 a.m.
Michigan gymnast Trish Wilson cherishing the end of an injury-filled career
By Josh Coudret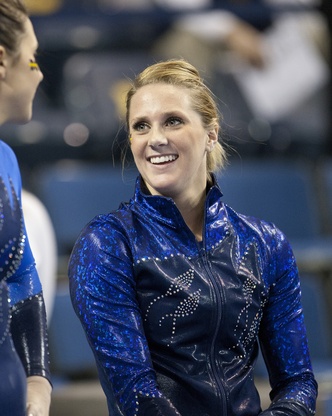 University of Michigan Photo Services
Trish Wilson and her battle-scarred knees have one last performance for gymnastics fans in Ann Arbor.
The University of Michigan senior will compete at home for the last time when the Wolverines' women's gymnastics team hosts an NCAA regional at Crisler Arena on Saturday.
"It will be very bittersweet," Wilson said. "I know it will be a great last time for my team. I'm hoping to give the crowd a good show."
For Wilson, just having her last meet occur at the end of her senior season is a story of determination. It wasn't an easy decision for her to stay with the team this long.
Wilson has torn her anterior cruciate ligament four times and had six knee surgeries since her days at Nequa Valley High School in Naperville, Ill.
The injuries have come early and often since the highly-touted recruit -- a seven-time club national champion -- arrived at Michigan.
She had a promising freshman season cut short by a season-ending injury in March 2008 and missed five more meets during the middle of her sophomore season before battling back to win a Big Ten title in the uneven bars and finishing as runner-up in the vault.
But the most significant injury hit prior to her junior season. Wilson sat out the entire year after suffering another blown ACL during an intrasquad scrimmage and didn't return until the fifth meet of the 2011 campaign.
She's been limited to the uneven bars since returning this season, but she has tied her career-best score and finished first in two meets since February.
NCAA GYMNASTICS REGIONAL
When: 6 p.m. Saturday.

Where: Crisler Arena.

What's at stake: Michigan is seeking its 18th NCAA Championship berth in 19 seasons. The top two teams advance to the NCAA Championships April 15-17 in Cleveland. The top two all-around gymnasts and any event winner not on a qualifying team also advance.

Team favorite: Stanford is 13-4 against Top 25 teams this season, including three wins over defending NCAA champion UCLA. The Cardinal also handed Utah its first home loss in four years and beat Michigan at Crisler Arena on Feb. 13.

All-around favorite: Michigan senior Kylee Botterman, the Big Ten Gymnast of the Year, has won 28 of the 60 individual titles she has vied for this season, including 10 all-around crowns. She won the all-around title and earned a perfect 10.0 on the vault in the tri-meet with Stanford and Nebraska.

Michigan is peaking: Four of Michigan's top five scores this season were recorded in the past four weeks and ten Wolverines have posted season- or career-high scores in the same span.

Tickets: Available by calling 866-296-6849 or online at mgoblue.com/tickets.

In an ironic twist, Wilson's final Ann Arbor appearance will have plenty in common with her inspirational return to the Michigan lineup. On Feb. 13, Wilson competed in her first home meet in two seasons. At Crisler Arena. Against Stanford.
No. 1-seed Stanford is among the teams coming to Crisler for Saturday's regional. Ohio State, Iowa State, Minnesota and Kent State are the others.
Wilson's score of 9.925 on the bars that day matched her career high. When she stuck her landing, her Wolverines teammates swarmed her as Crisler Arena erupted in applause.
Heading into the regional, Wilson says she is more confident than ever.
"I'm very fortunate to be feeling as well as I do," she said. "My knees feel great. I'm very happy to be feeling this good at this point of the season."
Now that she has a month of competition under her belt, Wilson said she is no longer worried about her knee every time she lands.
Though coach Bev Plocki slightly limits the number of dismounts Wilson performs in practice and she only competes in the uneven bars, Wilson says she prepares just like the rest of her teammates.
"I think this season means a lot more to me, questioning whether I would be able to come back," she said. "Once I made the decision, being able to be out there means a lot more."
A senior in the Ross School of Business, Wilson already has a job in waiting for her in Chicago after graduation. Through the pain and recovery, gymnastics has been her escape from school and other stress.
"Gymnastics is actually my getaway. It's so much fun to go to practice and be with my team," she said. "That's where I go to get away from all the stress in my life. It keeps me going. It allows me to have fun. I would not look back for a second.
"Once I made the decision to stay with the team this year, there were no regrets."
Josh Coudret covers sports for AnnArbor.com. Contact him at joshcoudret@annarbor.com.