Posted on
Fri, Oct 26, 2012 : 5:30 a.m.
Tyler Benz and Garrett Hoskins transform Eastern Michigan's passing attack
By Matt Durr
When Eastern Michigan sophomore quarterback Tyler Benz was pegged the starter for the first time in his college career against Michigan State last month, it didn't take long for him to start targeting senior tight end Garrett Hoskins when things got rough.
Benz completed just 13 passes that afternoon, but eight of them were to Hoskins, who had his best game as a receiver in his four years as an Eagle, finishing the game with a career-best reception total to go along with 102 yards.
It was the beginning of a beautiful friendship.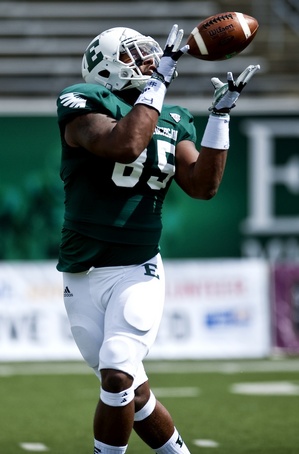 Joseph Tobianski | AnnArbor.com
Since that day, the duo has continued to improve and added an unlikely element to the Eagle offense.
Two weeks ago against Toledo, Hoskins caught seven passes for 103 yards and last week against Army, Hoskins set a career high for receiving yards with 158 yards on seven receptions.
"It there is a key situation, I know where he is going to be and he knows where I'm going to put the ball," Benz said about his relationship with Hoskins. "We can work the defense like that and pick up the yardage we need. The chemistry is good."
In the Army game, Benz threw for 369 yards and five touchdowns, four in the first half. The five touchdowns are tied for the second most in a single game in program history. The performance earned him MAC West offensive player of the week honors.
Benz admitted even he was surprised by the five touchdown performance.
"Especially cause as an offense we like to run the ball a lot so having five touchdowns in our offense is a pretty big deal," Benz said.
After Saturday's win against Army, Benz laughed when admitting that Hoskins has become his security blanket on the field, adding that he hopes he can continue that growth with the other receivers.
"I feel like as the weeks have gone, our chemistry has gotten a lot better. I've always had fairly good chemistry with Garrett, but throwing to the receivers, I feel a lot better now," Benz said.
In the last two games, Benz is a combined 37-of-58 passing for 670 yards, seven touchdowns and two interceptions. Six different players have caught those seven touchdowns.
As Benz continues to improve, Hoskins is happy to see the ball come his way more. But he also said that catching passes isn't his only concern.
"It always feels good to get the ball, especially if you're tight end or a receiver. When I first got here I didn't want to run block or nothing, but as I was here with the coaches for four years, blocking is me now," Hoskins said. "I'd rather block than get the ball because I know if I block and we get big runs, I know the play action will open up and we'll get a big play out of that."
That development into more than just a receiver has helped make Hoskins a possible NFL draft pick and according to EMU head coach Ron English, that possibility is within reach.
"He's fantastic, he just has to keep going and finish the year. I think Hoskins is going to have a chance to make money playing football," English said. "But he's got to prove he's tough enough to do that and that's going to come in the next five games."
The Eagles (1-6, 0-3) and their revamped passing attack travel to Bowling Green (5-3, 3-1) this Saturday for a 3:30 p.m. kickoff at Doyt Perry Stadium.