Posted on
Sat, Oct 20, 2012 : 4:42 p.m.
Tyler Benz leads Eastern Michigan football to first victory in 48-38 win over Army
By Matt Durr
Updated 5:45 p.m.
It took nearly 600 yards of offense and five touchdown passes from sophomore quarterback Tyler Benz, but the Eastern Michigan football team won its first game of the season Saturday, defeating the Army Black Knights 48-38 at Rynearson Stadium.
"It's huge for the development of this team. What I want is for this team to know that if they keep working hard and continue to improve, that we'll have success," said head coach Ron English.
Benz completed 19-of-31 passes for 369 yards to go along with his five touchdowns. He also threw one interception. Each of his touchdown passes were to different receivers, but it was tight end Garrett Hoskins that stood out for the Eagles.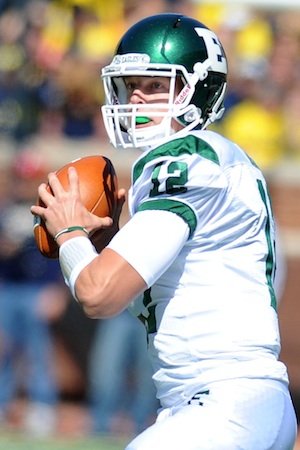 Angela J. Cesere | AnnArbor.com
Hoskins had seven receptions for a career-best 158 yards and a touchdown.
"Our plan was to throw the little drive, short routes and out run our opponent," Hoskins said. "Coach said if we hit these drive routes we're gonna have a good game and I just did what coach said."
Sophomore running back Bronson Hill continued to impress gaining 252 yards of total offense which included a 41-yard touchdown catch and a 42-yard touchdown rush.
The Eagles (1-6) opened the game with a three-play, 68 yard drive that was capped by a Benz touchdown pass to Javonti Greene. After Army (1-6) went three-and-out, Army punter Chris Boldt mishandled the snap and the Eagles tackled him at the 13-yard line.
Five plays later, Benz found Hoskins and the Eagles led 14-0 just five-and-a-half minutes into the game.
"The one thing we wanted to do was get out and get ahead by possessions and we did that. We just stayed ahead by two possessions for most of the game and I think that made a big difference," English said.
But Army entered the game with the nation's best rushing offense and wouldn't go down quietly. After kicking a field goal on its second drive of the game, the Black Knights scored on back-to-back drives.
Malcolm Brown scored first for the Knights on a 55 yard rush to the right side. Quarterback Trent Steelman followed that with a 73-yard touchdown run to make it a 21-17 game early in the second quarter. He added another 75 yard touchdown in the third quarter.
Steelman finished the game with 212 yards rushing on 16 carries and two touchdowns. Army ran for 412 yards as a team on the day.
"We did some good things," English said about his defense. "It's just a shame because Army really should have got half the points. The defense did enough to keep us ahead and as we struggle with the growing pains with this defense that's a positive.
"The important thing today is that they helped us win the game."
The Eagles have now scored 85 points in the last six quarters of football after putting up 37 points in the second half last week against Toledo. Eastern scored just 77 points in its first five games.
"As an offense it's pretty fun," Benz said. "If you do what you're supposed to do and execute, you'll put up a lot of points and it'll be a fun offense to be in."
Now that the first win is out of the way, English said he wants his team to continue to improve. He added that despite the rough start, he is happy with how his team stuck together.
"The guys have not quit and they never did quit. One of the things I was proudest of this team is that the players stayed together. When the defense was playing better and the offense was not playing well, the defensive guys didn't point fingers.
"Now that the offense is playing better, their not pointing fingers. These are young men and that's a lesson that they need to learn and I'm proud that they're learning it."
Matt Durr covers sports for AnnArbor.com.