Now is the time for Michigan football fans to unite, university alumni association president says
Posted on Wed, Jan 5, 2011 : 5:50 p.m.
Now that the dust is settling from Wednesday's announcement that Michigan football coach Rich Rodriguez is out, it's time for fans to unite, said Steve Grafton, president and CEO of the University of Michigan Alumni Association.
And it's essential that they embrace the next coach, Grafton said.
"Dave (Brandon, U-M athletic director) likes to say we need to make sure all the parts of the family are together, and I think that's exactly right," he said. "Especially having alumni come together around a coach, and a lot of that will depend on the kinds of things said about that person and what they say when they accept the position here at Michigan."
Melanie Maxwell I AnnArbor.com
Grafton said alumni are expecting a return to the Michigan ways of the Bo Schembechler, Gary Moeller and Lloyd Carr era — not just winning, but representing the university positively on and off the field.
He said he believes fan support for the program will remain high no matter who ends up as the next coach. He said it's rare that a few seasons will impact alumni interest, with the exception of 1997 when Michigan split a national championship with the University of Nebraska.
"Michigan was being talked about all the time and it became a source of pride, and people wanted to be connected to the university," Grafton said. "Getting back on the winning track (now) will make it easier and better for everybody."
That sentiment was expressed by other fans on Wednesday. While some were disappointed at Rodriguez's exit and others were happy, none were surprised.
Matthew Rockwell, a Michigan fan from Saline, is hoping for a return to the tradition forged before Rodriguez arrived. He said he anticipates positive changes for the program.
"Now they can find somebody that will … bring Michigan back to what they need," he said. "I think we're going to have someone like the Lions' coach step up … to say 'I want this job' and it's going to work better than ever."
Many fans expressed sympathy for Rodriguez after the protracted process the university went through to fire him.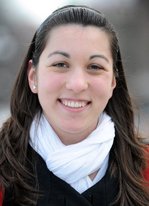 Melanie Maxwell I AnnArbor.com
Diana Rusz, a psychology and international studies junior at Michigan, said she doesn't follow football but feels bad for Rodriguez. She said when a professor informed the students in one of her classes of the decision to fire Rodriguez, a couple people started clapping.
"People were very happy and they clapped, and I felt kind of weird about that reaction," she said. "It just made me feel kind of sad for him. At the end of the day, (Rodriguez) is losing a job."
John Dunn of Sylvan Township said he wonders what would have happened if Rodriguez was given a few more years to coach at U-M.
"I think Rich Rod can coach football, but the talent levels weren't what he thought when he got here," he said. "The defense is what cost him his job. I feel bad for Rich Rod. If he'd been here five or six years, he might have been able to compete in the Big Ten."
Grafton said he doesn't believe the choice of a new coach or the decision to fire Rodriguez will have a significant impact on donating to the university and its football program. He said scandals are what affects donations more than anything else.
Grafton said a number of alumni feel some of the shine and luster has come off the football program in recent years, and it'll be important to get the sterling reputation of Michigan football back.
"It's a hallmark of Michigan football, and those are the kinds of things that make alumni proud and want to be connected," he said.
Reporters Lisa Allmendinger and Heather Lockwood contributed to this story.