Posted on
Sat, Aug 18, 2012 : 5:30 a.m.
Three Michigan soccer players selected for U-20 World Cup, will miss start of season
By Matt Durr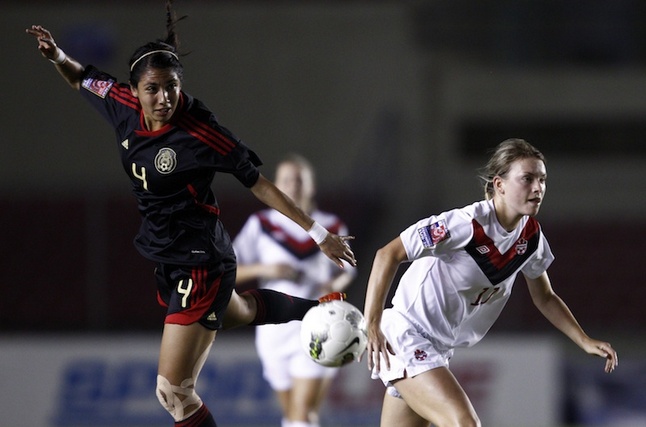 Associated Press
University of Michigan women's soccer
coach
Greg Ryan
thinks his team can contend for a Big Ten Championship. In fact, he said this year's squad is more talented than any he's coached since coming to Ann Arbor five years ago.
There is a downside to getting all that talent, however. Ryan isn't the only one who wants to utilize it. Three Wolverine players have been selected to compete for their countries during the 2012 FIFA Under-20 Women's World Cup held from Aug. 19-Sept. 8 in Japan.
Juniors Nkem Ezurike and Shelina Zadorsky will compete for Canada while sophomore Christina Murillo will play for Mexico.
It could be a huge opportunity for Ezurike and Zadorsky as Canada's national team is experiencing unprecedented success and attention after playing an epic extra-time match with the United States in the Olympic semifinals and eventually winning a bronze medal.
"If you take three of the top players off of any team and it's going to have a profound impact," Ryan said. "But I think there is enough talent here to hold the fort. They understand that we have to do well while those three are away."
All three players were part of the starting 11 for Wolverines last season. Losing Ezurike will severely impact the Wolverines offensive attack as she scored 11 of the team's 26 goals last season.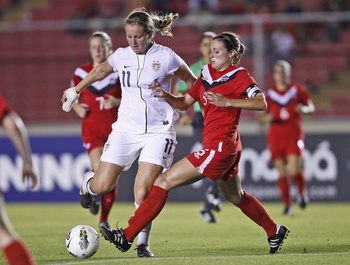 Associated Press
"This is a team where everyone is going to have to chip in with the scoring and when Nkem gets back, it will just get that much better," Ryan said.
As the players prepared to leave for the World Cup, they had mixed feelings about leaving Ann Arbor.
"It's a little weird. This is the first preseason where we're going to be away from the team," Ezurike said. "It's exciting to have the opportunity to go and we hope that coming back from that we get to bring something else to the team."
Zadorsky was trying to look at the positives of being away from her teammates for so long.
"It really will better us as players," she said. "Getting minutes against the top players in the world is helping mold me into a better all around player."
Senior midfielder Clare Stachel knows it will be difficult without three of their best players, but the goals will remain the same for the team.
"For me I am going to settle for nothing less than a Big Ten Championship," Stachel said. "You have to step on the field everyday ready to play. At one point last year we were second in the Big Ten and then from there it was all downhill because we settled for that."
Ezurike, Zadorsky and Murillo's absence shouldn't change those goals regardless of how the team fares in the eight games the trio could miss. Michigan doesn't kick off its Big Ten season until Sept. 15 against Indiana.
"It's going to be different without them, both on and off the field," Stachel said. "I'll be excited when they come back and it will be a bonus when they come back, but I'm pretty confident that we will still be able to pull off these wins."
Thankfully for Michigan, senior goalkeeper Haley Kopmeyer will be in net as the season begins. Currently Kopmeyer has one of the highest save percentages in school history and has been a rock for the Wolverines over the past four years.
"Being right in front of her, it's always such a confidence booster," said Zadorsky who plays defense. "Having her communication, direction, and her leadership is so important and it helps us play better as a whole."
The Wolverines open the regular season Friday at 7 p.m. against Fordham at the U-M Soccer Stadium.
Matt Durr covers sports for AnnArbor.com.