Posted on
Wed, Dec 28, 2011 : 5:58 a.m.
4 things to watch in the Penn State at Michigan basketball game
By Nick Baumgardner
Twenty-five seasons, 170 games worth of NCAA sanctions, five coaches and one national championship.
Yeah, a lot has happened since the Michigan basketball team last won a regular-season Big Ten championship.
The 18th-ranked Wolverines (10-2) will begin their quest Thursday toward the school's first regular-season league title since 1985-86 when Penn State (8-5) visits Crisler Center (7:30 p.m., Big Ten Network) for the 2011-12 Big Ten opener.
Michigan hasn't won a Big Ten opener since the 2006-07 season, and it is 1-5 in its previous six league debuts.
Here are four things to watch Thursday:
1. Shadow Frazier

It's almost to a point where opposing teams may consider simply face-guarding Penn State point guard Tim Frazier and dare someone else to make them pay.
The speedy 6-foot-1, 160-pound Frazier is a very, very capable point guard — arguably one of the top-end ball-handlers in the Big Ten.
He's Penn State's leading scorer (17.2 points per game) and rebounder (5.8 rebounds per game. And his 7.2 assists per game lead the Big Ten.
He's very, very good. But, unfortunately for Penn State, he's very, very alone.
A year ago, Penn State was paced by dynamic guard Talor Battle, who scored better than 20 points per game. Battle, though, was aided by forward Jeff Brooks — another capable scorer and rebounder.
Frazier has not received a Robin to his Batman this season.
Dogging him with an array of looks defensively and forcing him to chase Trey Burke all night could throw him off his game.
To put things in perspective, Frazier scores 26.8 percent of Penn State's points.
So the scout is pretty simple: Slow him down, and win the basketball game.
2. See what McLimans has to offer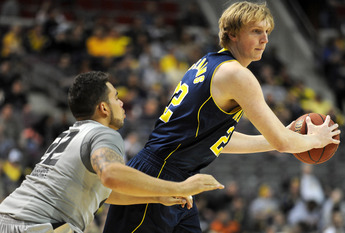 Angela J. Cesere | AnnArbor.com
If
Jon Horford
returns to health, this point is moot.
But if he's still hurt, and he appears to be so for the foreseeable future, it may behoove Michigan to start getting a serious idea as to what exactly Blake McLimans can offer inside.
At 6-foot-10, 240 pounds, McLimans is one of Michigan's biggest players. That's in numbers only, though, as he's not exactly known to be an interior banger.
But with Horford on the bench in street clothes, Michigan has to find another viable interior option.
Jordan Morgan and Evan Smotrycz are unquestionably the team's top two options inside. And senior guard Zack Novak can be an answer from time to time to add depth, but McLimans (if capable) simply makes more sense.
You're playing a Big Ten team, you need inside depth — why not give McLimans a shot at extended minutes?
If he can't handle it, then you seek another option.
But if he can, your interior depth might not be as thin as originally thought.
3. Limit second chances

Penn State is the worst-shooting team (39.3 percent) and lowest-scoring team (64 points per game) in the Big Ten.
It is, however, the league's best offensive rebounding club at 14.1 per game.
The Nittany Lions have struggled to hit shots all season long, so limiting extra possessions would put a serious dent in an already struggling offense.
This isn't exactly a slam dunk for Michigan, though. Against Bradley on Thursday, the Wolverines' refusal to establish themselves on the defensive glass allowed the Braves to rip down nine offensive boards before the break, leaving the game tied at halftime.
Penn State's not great, but it is a Big Ten team. If Michigan allows the Nittany Lions to hold a tip-drill near the basket, it'll be an interesting evening.
4. Play like a Top 20 team

The last time Michigan entered Big Ten play as a ranked team was 2008-09.
The Wolverines promptly lost their league opener, and they eventually fell from the rankings before scrapping their way into the NCAA tournament.
Michigan has spent each week of the 2011-12 season in the national rankings, and now it's time to show people why.
The Wolverines are playing at home against one of the conference's lower-level squads. This is a game where a true top 20 basketball team dominates.
On paper, Penn State shouldn't be able to hang here. This is a game Michigan should win, and win with relative comfort.
If the Wolverines want to be considered a serious Big Ten title contender, they won't screw around Thursday.
Instead, they'll dominate.
Nick Baumgardner covers Michigan basketball for AnnArbor.com. He can be reached at 734-623-2514, by email at nickbaumgardner@annarbor.com and followed on Twitter @nickbaumgardner.
Want to stay connected to Wolverine basketball in your Facebook newsfeed? "Like" AnnArbor.com's Michigan Basketball News & Views.