Posted on
Thu, Jan 5, 2012 : 5:59 a.m.
4 things to watch for in the Michigan at Indiana basketball game
By Nick Baumgardner
The Michigan basketball team's first true road test in more than a month has arrived.
And this one should be tougher than the last.
The 16th-ranked Wolverines (12-2, 2-0) will put their seven-game winning streak on the line tonight (9 p.m., ESPN2) when they face their first Big Ten road test of the season at No. 12 Indiana (13-1, 1-1) inside Assembly Hall.
Michigan's last road effort was a 12-point loss at Virginia in November.
What will tonight have in store?
Here are four things to watch:
Stars need to be stars

This is a road game in an extremely difficult environment against a more-than-capable basketball team.
Michigan can't, and won't, be able to pull off a victory tonight if it gets an off-night from Tim Hardaway Jr., or if Trey Burke suddenly remembers he's a freshman.
Two things have been relatively certain this season for Michigan: senior captain Zack Novak is going to play hard and Burke won't be intimidated by whatever stage he's stepping onto.
It's a pretty safe bet Novak will come to play, as he'd likely need to be missing a limb not to. But Burke can't be impacted by his surroundings or any type of defensive attack Indiana throws his way.
Burke had no issue on Maui for the Maui Invitational, and in Michigan's road loss at Virginia earlier this season, he seemed fine, finishing with 11 points, four rebounds and four assists. He did turn the ball over three times, though.
As for Hardaway? Well, he needs to just erase the memory of Michigan's last road game.
The Virginia loss was Hardaway's worst effort of the season, as early foul trouble limited him to five points in 25 minutes.
If those numbers are replicated tonight, Michigan will be heading home with a loss.
Don't let Zeller get clean touches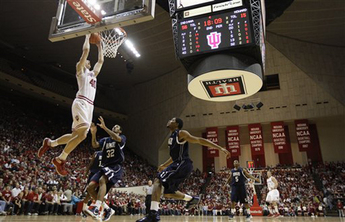 Associated Press
I know, (way) easier said than done.
Michigan State appeared to be the only team that's really thrown Indiana freshman Cody Zeller for a loop this season, banging him around with both Adreian Payne and Derrick Nix (two guys that run 6-9, 270 and 6-10, 240, respectively).
With Jon Horford hurt, Michigan will once again be short-handed inside, and Jordan Morgan will have to find a way to avoid foul trouble.
Evan Smotrycz is also going to have to put his improved post-defense to the test, and Blake McLimans could need to be ready to use his five fouls.
Zeller's the real deal. He's averaging better than 14 points per game, he makes his free throws (74.3 percent), he runs the floor and the entire IU offense seems to flow through him.
The Hoosiers are shooting better than 44.7 percent from the 3-point range as a team, and though Zeller's attempted zero long-range shots, his ability to draw in defenders and create open space is a major reason why.
Make shots

Michigan coach John Beilein said it best Wednesday.
"Sometimes, our best defense has to be our offense," he said.
Michigan has shown the ability to light people up from outside if allowed to become comfortable, but it's also gone through its share of dry spells.
The Wolverines are on the road, and Indiana is going to make some shots. Jordan Hulls, Christian Watford and Matt Roth are all shooting at least 50 percent from deep this season.
But there's no reason to think Michigan can't answer them.
Smotrycz is shooting 54.5 percent from 3-point range, Novak is shooting 38 percent and Burke is at 36.5 percent. Stu Douglass went 3-for-4 from deep against Minnesota on Sunday, and Matt Vogrich has gone 5-for-10 from deep after starting the year 1-for-14.
Indiana has capable shooters, but so does Michigan.
Remain calm, no matter what

If winning on the road were easy, everyone would do it.
But, it's not.
And few people do.
The crowd will be electric (as it generally is), the stage will be large (an ESPN2 audience) and there won't be much maize and blue in the stands.
Indiana will likely go on its share of runs, and Michigan will likely hit its share of dry spells. However, the Wolverines can't go into a shell and fight up-stream.
Leaders like Novak and Douglass have to set an emotional example, Burke has to maintain his trademark poise and Hardaway can't get too negative on himself if a few shots rattle out.
One game doesn't make a season, and one loss here won't ruin Michigan. It's January, there's an eternity left.
However, if you want to be a top 15 or top 10 basketball team, you find a way to steal these games on the road.
And playing under control is the first step toward realizing that goal.
Nick Baumgardner covers Michigan basketball for AnnArbor.com. He can be reached at 734-623-2514, by email at nickbaumgardner@annarbor.com and followed on Twitter @nickbaumgardner.
Want to stay connected to Wolverine basketball in your Facebook newsfeed? "Like" AnnArbor.com's Michigan Basketball News & Views.