Posted on
Wed, Jan 11, 2012 : 9:03 a.m.
4 things to watch for in the Northwestern at No. 13 Michigan basketball game
By Nick Baumgardner
With the caliber of play throughout the Big Ten this season, it's clear there aren't many built-in breathers during conference play.
And while the No. 13 Michigan basketball team's (13-3, 3-1) 6:30 p.m. home game today against Northwestern (11-4, 1-2) (Big Ten Network) shouldn't be seen as simple, it should be seen as crucial.
After Wednesday, the Wolverines -- who, with a win, can get off to their best Big Ten start of the John Beilein era -- enter the most difficult portion of their 2011-12 schedule.
Following the date with the Wildcats, Michigan's next seven is as follows: at Iowa, vs. Michigan State, at Arkansas, at Purdue, at Ohio State, vs Indiana and at Michigan State.
So, yeah. Michigan needs this one.
Here are four things to watch for tonight: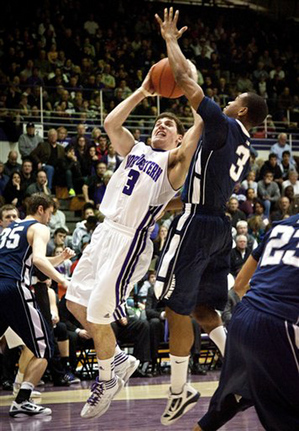 Associated Press
Make Sobolewski beat you
Northwestern has the best one-two scoring punch in the Big Ten in John Shurna and Drew Crawford.
Together, the duo averages 36 points per game. They're both more than capable of taking over, and earlier in the week, Michigan coach John Beilein said he fully expects both to eventually find their way into NBA camps — if not NBA rosters.
They're capable of being terrific, and in order for Northwestern to win this season, they both have to be.
That's a lot of pressure.
In a 33-point loss at Ohio State, the Buckeyes were able to limit Northwestern's power duo to a combined 9-for-30 shooting performance. In a one-point loss at Illinois, Shurna got his (20 points), but Crawford struggled (8 points).
In both instances, Northwestern's third scoring option, freshman point guard Dave Sobolewski, couldn't get it done.
Sobolewski — the league's assist/turnover ratio leader — took just four shots against Ohio State, and went 0-for-5 from the floor against Illinois.
The young floor leader is good, but the departed Michael "Juice" Thompson, he is not.
Active bigs — Hardaway included

Northwestern is the worst rebounding team in the Big Ten, and it's not close.
The Wildcats have a minus-4.7 rebounding margin, the only team in the league with a negative number. As a team, Northwestern pulls down 31.5 rebounds per game, and a league-worst 8.7 offensive boards per game.
Jon Horford's not playing, but it shouldn't matter.
Jordan Morgan and Evan Smotrycz have zero excuses in the paint against Northwestern, and Tim Hardaway Jr. has an opportunity to pick up where he left off against Wisconsin.
Hardaway attacked the defensive glass and followed his shot Sunday, posting his first double-double of the season.
And, not to sound like a broken record, when Hardaway's at his best, he's slashing toward the basket.
Michigan isn't a great rebounding team, but Northwestern is a bad one.
Realize the deficiency and dominate the category.
Don't fall in love with the 3

Northwestern makes more 3-pointers per game (9) than anyone else in the conference.
Shurna (42.3 percent) and Crawford (43.3 percent) are outstanding outside shooters, while Sobolewski (34.9 percent), Reggie Hearn (35.9 percent) and Alex Marcotullio (40 percent) can all knock it down when open.
Northwestern has a slew of capable long-range, and so does Michigan. But that doesn't mean this needs to be a 3-point contest.
In Michigan's 14-point loss at Northwestern last season, the Wildcats shot 41.7 percent from 3-point range — 10-for-24.
Michigan put up more than 20 3-point attempts, too. But it was nowhere near as successful, shooting 28.6 percent (6-for-21).
When the Wildcats visited Crisler, Michigan pounded the ball inside, got a career-high 27 points from Morgan, won the points in the paint battle 40-24 and earned a nine-point win.
If you're Michigan, you take the 3-pointers when they're open, but you don't allow yourself to get into a shot-for-shot contest with the Wildcats.
Run. Run. (Take a breath). And run again.

Facts are facts.
Michigan is more athletic than Northwestern, and it needs to take advantage.
Thompson is gone. And though Sobolewski is have a fine rookie year, he's not the waterbug Thompson was, leaving the Wildcats without the firepower to chase the likes of Trey Burke and Hardaway.
If there's a chance to get out and push, Michigan needs to take it.
Part of Morgan's success against Northwestern last season was his willingness to fill the lane on the break, resulting in easy baskets near the hoop.
Hardaway and Burke have been able to find success in transition against just about anyone this season, and Northwestern should be no different.
Run, and then, run some more.
Nick Baumgardner covers Michigan basketball for AnnArbor.com. He can be reached at 734-623-2514, by email at nickbaumgardner@annarbor.com and followed on Twitter @nickbaumgardner.
Want to stay connected to Wolverine basketball in your Facebook newsfeed? "Like" AnnArbor.com's Michigan Basketball News & Views.