Posted on
Tue, Nov 29, 2011 : 5:59 a.m.
4 keys to tonight's Michigan basketball game at Virginia
By Nick Baumgardner
The Michigan basketball team's Maui adventure is over.
And though the 14th-ranked Wolverines (5-1) left Hawaii feeling rather good about themselves, they'll have little time to savor their performance. Michigan visits Virginia tonight (7 p.m., ESPN2) to take part in the Big Ten/ACC Challenge.
Here are four keys to tonight's game: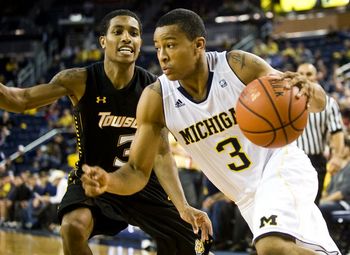 Joseph Tobianski | AnnArbor.com
Value possessions
This is going to count as a key for both teams, and consider this your warning: Tuesday's game could be very, very low scoring.
Virginia plays a defensive style that Michigan coach John Beilein compared to Wisconsin's, and it should. Cavaliers coach Tony Bennett, the son of former Badger coach Dick Bennett, was on the bench with both his father and current Wisconsin boss Bo Ryan.
Beilein estimates his team will have 50 possessions against Virginia, down from the 70-plus possessions it had at the Maui Invitational.
With possessions at a premium, turnovers become crucial. Freshman point guard Trey Burke has handed out 25 assists compared to just 15 turnovers, but this is his first true road test. His poise in a non-friendly environment will be key.

Get Douglass going

Beiein didn't shy away from discussing the current funk Stu Douglass is in, saying "no one is happy" with the five turnovers he committed against UCLA on Wednesday.
Turnovers aren't normally an issue for Douglass, but shooting inconsistencies have been prevalent since the second game of the season. The senior guard is shooting just 39 percent form the field (16-for-41) and 29 percent from 3-point range (8-for-28).
Douglass' effective field goal percentage is just 49 percent. That's not good.
Burke has been great to this point in the season -- but he's had virtually no adversity to deal with. No foul trouble. No bump or bruise. No equipment failure. No contact lens issue. Nothing.
If he has to come out of the game for any reason, Douglass has to be able to lead the offense with confidence and consistency. He said earlier this season he's not interested in breaking down every little issue with his shot or his game, explaining how he basically intends to work his way out of the slump.
Few players work harder than Douglass, but sooner than later, that work has to pay off.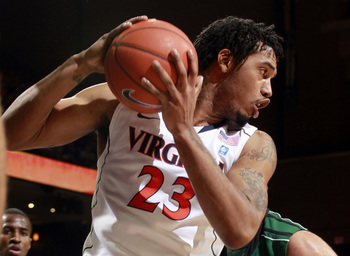 AP Photo
Limiting Mike Scott
Virginia senior forward Mike Scott is a double-double machine. Through six games this season, he's averaging 14.8 points and 10 rebounds per contest.
Last season, Scott became the first Virginia player since Ralph Sampson to post five consecutive double-doubles.
He is shooting 53 percent from the floor and averaging nearly three offensive rebounds per game.
If Michigan showed one weakness in a win over UCLA last week in the Maui Invitational, it was handling the Bruins' bulk on the offensive glass.
UCLA big men Josh Smith, Reeves Nelson and Travis Wear combined to pull down seven offensive boards, almost always resulting in a putback.
In order for this to be limited, Jordan Morgan is going to have to avoid foul trouble and Jon Horford will have to duplicate his solid Maui bench play.

Start fast

Starting fast is always a key on the road, as it's far easier to fend off the home team than it is to dig yourself out of a hole.
In addition, Virginia is a rather methodical. Like Michigan, it will try to keep the score in the 60s. It has some players that can score, but for the most part, Virginia isn't all that explosive offensively.
Also, whenever Tim Hardaway Jr. gets himself involved on the scoresheet early, he seems to have a better end-result. Not just in the points scored category, either, but with all facets of his floor game.
Nick Baumgardner covers Michigan basketball for AnnArbor.com. He can be reached at 734-623-2514, by email at nickbaumgardner@annarbor.com and followed on Twitter @nickbaumgardner.