Posted on
Tue, Dec 13, 2011 : 5:59 a.m.
4 things to watch: Michigan basketball starts soft non-conference stretch run against Arkansas-Pine Bluff
By Nick Baumgardner
If you're into judging a book by its cover, then your take on the Michigan basketball team's next two weeks should be pretty clear.
It's cupcake time, with an extra side of frosting.
Michigan's final stretch of non-conference tilts before the start of Big Ten play begins with a home matchup against Arkansas-Pine Bluff on Tuesday (7 p.m., ESPNU).
From there the Wolverines will take on Alabama A&M (noon, Saturday) and Bradley (6:30 p.m., Dec. 22).
The Golden Lions -- who have yet to play a home game this season -- aren't the sexiest team on Michigan's schedule this season, but they're an opponent nonetheless.
Here are four things to watch for during Tuesday's game:
Rest Burke

Michigan freshman point guard Trey Burke is playing nearly 33 minutes per game, more than any other freshman in the Big Ten to this point.
He's handling it quite well, so far, averaging 12.2 points and 4.5 assists per game.
But when does he hit the freshman wall?
Burke might be good enough to power through any type of first-year lull and prove this point to be moot, but if he isn't, then the stress of playing 30-plus minutes during a Big Ten season as an 18-year-old will start to make an impact.
Beilein has said he wants to steal minutes for his freshman phenom whenever he can.
Well, Arkansas Pine-Bluff (1-5) isn't very good. Here's your chance, coach.
Get a lead, and let Burke take a rest.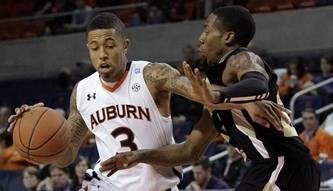 AP Photo
Get in front of Savalace Townsend
To say this guy does it all for the Golden Lions would be an understatement.
Townsend, a 6-foot-1 senior guard, plays 37.3 minutes per game, has taken 28 percent of the team's shots, scored 35 percent of its points, leads the squad in assists and is the group's top steal man.
On the year, Townsend is averaging 18.2 points and leads the country with 3.3 steals per contest.
You slow him down, and you cripple the rest of the team. No one else averages more than 8.3 points.

Control the paint

This should be an opportunity for Jordan Morgan and Jon Horford to really pad some stats inside.
Because, frankly, there are small teams and then there's Arkansas-Pine Bluff.
The Golden Lions start a pair of 6-foot-8 forwards in Daniel Broughton and Lavoris Weathers, but neither has much bulk to his frame. Broughton comes in at 230 pounds while Weathers weighs 220.
The duo hasn't produced much on the floor, either, combining to shoot 39 percent from the field. As a team, UAPB has grabbed just 31 rebounds per game.
Horford is fighting through a foot injury, but still, he's 6-foot-10, 250 pounds, two inches taller and 20 pounds heavier than UAPB's biggest inside threat. The same goes for Morgan, who comes in at 6-foot-8, 250 pounds.
Horford and Morgan have both shown spurts of solid play this season, but Tuesday (if Horford's healthy enough), there should be no excuse for anything but consistent minutes from both.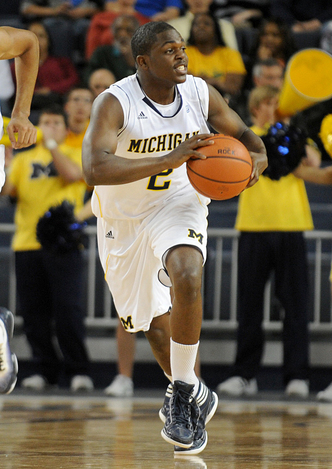 Angela J. Cesere | AnnArbor
Minutes for Brundidge
Coach John Beilein said earlier this week that he isn't really a fan of experimenting with lineups during games, and would rather tinker things up during practice.
But if Michigan can get any type of early lead Tuesday, finding extended minutes for freshman guard Carlton Brundidge could be beneficial moving forward. Burke has been phenomenal at the point, but he still has no proven backup.
No one.
Ann Arbor product Eso Akunne has come in to spell Burke at times this season due to foul trouble or for a periodic breather, and he's made a few big shots in the process. But a top-notch ball handler, he is not.
Brundidge isn't a natural point guard, but he was effective with the ball in his hands during his prep career. And he's not redshirting, either. He's played in four games this season -- which leads me to believe Beilein wants to get him on the floor if he can earn the minutes.
Michigan has to have another capable ball handler entering Big Ten play.
And if Brundidge can't earn a spot toward the back end of the rotation against Arkansas-Pine Bluff, Alabama A&M and Bradley, then I highly doubt we'll see him much at all this season.
Nick Baumgardner covers Michigan basketball for AnnArbor.com. He can be reached at 734-623-2514, by email at nickbaumgardner@annarbor.com and followed on Twitter @nickbaumgardner.
Want to stay connected to Wolverine basketball in your Facebook newsfeed? "Like" AnnArbor.com's Michigan Basketball News & Views.