Posted on
Fri, Mar 16, 2012 : 10:35 a.m.
4 things to watch: Michigan basketball team vs. Ohio at NCAA Tournament
By Nick Baumgardner
NASHVILLE, Tenn. -- The 2011-12 campaign has already been one to remember for the Michigan basketball program.
But will it end on a high note, with several more games yet to come. Or, will it last just 40 more minutes?
No. 4 seed Michigan (24-9) will open up Midwest Regional play Friday (7:20 p.m., TNT) against No. 13 Ohio (27-7) at Bridgestone Arena in Nashville, Tenn.
The Wolverines haven't lost an opening-round NCAA Tournament game in their last three appearances. Will that trend continue?
Here are four things to watch: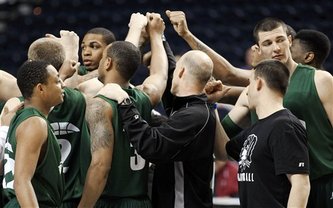 AP Photo
Don't cough it up
To say Ohio thrives on turnovers is the same as saying humans need air to live.
The Bobcats are the second-best turnover defense in America, forcing 17.7 turns per game and scoring nearly 19 points per game on them -- roughly 27 percent of the club's points all season.
The Bobcats are aggressive on shooters, and are active with their hands.
In the Ohio locker room Thursday, Bobcat point guard D.J. Cooper told me the team just needs to play "Ohio basketball" and everything would be fine. I asked him to elaborate on what exactly "Ohio basketball" meant to him.
He said simply, "we defend, and then we run."
Michigan hasn't had much of an issue coughing the ball up this season, turning it over just 10.9 times per game. But, against a very active Ohio State defense last Saturday, the Wolverines coughed the ball up 18 times.
Ohio and Ohio State are not the same team, but even so, the Wolverines can't be sloppy.
Trey Burke has to put his eight turnover performance against the Buckeyes behind him, and Michigan can't give the Bobcats extra possessions.
Because, if historical math means anything, an Ohio forced turnover basically equals a point.

Don't let a role player beat you

The headline matchup here in Nashville is Trey Burke against D.J. Cooper.
Both point guards are 5-foot-11, both are good at breaking down the defense off the dribble, both can shoot and both are fearless.
Burke and Cooper are the main engine-starters for their respective units, but Burke has one major advantage: He has an elite wing next to him in Tim Hardaway Jr., and two proven Big Ten guards in Zack Novak and Stu Douglass.
Cooper could go bonkers, but it might not matter if Michigan can neutralize the rest of Ohio's lineup.
The Bobcats don't really have a 1-2 punch that's overly impressive. Cooper averages better than 14 points per game, while junior guard Walter Offutt puts up 11.7 points per game.
If Cooper goes for 20, and Offutt struggles, Ohio may be dead in the water.
In the Bobcats' seven losses this season, Offutt's averaging nine points per game.
The rest of the roster goes as Cooper goes. If he's breaking down defenders and creating space, other shots can be had. But against a defense as disciplined as Michigan's, the only two players with the ability to create their own look appear to be Cooper and Offutt.
Cooper may get his, but Michigan can't let Offutt -- or any other role player -- do the same.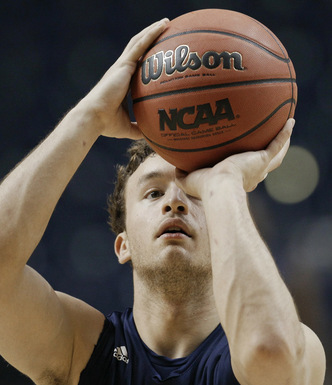 AP Photo
Novak, you're up
At times this season, Michigan's four-guard lineup has created matchup fits for opponents.
Other times, it hasn't been as effective.
The Wolverines will likely roll out with Burke, Hardaway, Douglass, Novak and Jordan Morgan once again. Against a team like Ohio, which routinely has two bigs on the floor at once, Novak becomes a key component.
If the senior guard, who moonlights as Michigan's power forward in this set, can hit from mid-range and be dangerous from 3-point range, the Bobcats will be in trouble.
Ohio power forwards Jon Smith (6-foot-7, 190) and Ivo Baltic (6-foot-8, 215) aren't the type of players who want to chase around a small four man all night long. If Novak can draw them out and make them honest, then Jordan Morgan should be able to push with center Reggie Keely and the Wolverines will have the Bobcats on the run.
Evan Smotrycz obviously also plays a role in this logic, as his presence as a shooting five-man would also give Ohio issues.
But, then again, if Smotrycz is hitting, he gives everyone issues.

Reminds folks what conference you play in

Plenty of talk surrounding this game had to deal with how many national pundits chose Ohio as a popular upset pick over Michigan.
And during Thursday's media session, the Bobcats in no way seemed the slightest bit nervous about playing the Wolverines. Nor should they be. They've been here before.
But at the same time, Ohio plays in the Mid-American Conference and Michigan plays in the Big Ten.
There is no comparison between the two.
Michigan is the higher seed, it's favored (slightly) to win the game, and it needs to exert its will early and remind the confident Bobcats why it was ranked inside the top 25 all season long.
Cooper is a fantastic point guard, but Burke's an All-American.
Offutt's a hard-nosed guard, but Hardaway has NBA potential.
And no one in the Bobcat locker room can post the type of high-level experience Novak and Douglass have put together.
On paper, the matchup is interesting, and Ohio is more than capable of pulling the upset.
But make no mistake, Michigan is the better basketball team.
And if the Wolverines act like it, they'll be playing again Sunday.
Nick Baumgardner covers Michigan basketball for AnnArbor.com. He can be reached at 734-623-2514, by email at nickbaumgardner@annarbor.com and followed on Twitter @nickbaumgardner.
Want to stay connected to Wolverine basketball in your Facebook newsfeed? "Like" AnnArbor.com's Michigan Basketball News & Views.