Posted on
Tue, Feb 21, 2012 : 5:59 a.m.
4 things to watch in the No. 11 Michigan at Northwestern basketball game
By Nick Baumgardner
So, who exactly has more to lose here?
For Northwestern, a loss could bring the Wildcats one step closer to missing yet another NCAA Tournament.
For the 11th-ranked Michigan basketball team, failure to get a road win will severely damage any hope the Wolverines have at competing for their first Big Ten championship in 26 years.
The Wolverines won the first matchup, but it was close — 66-64 in overtime at Crisler Center on Jan. 11.
Who will want it more Tuesday (8 p.m., BTN)?
Here are four things to watch: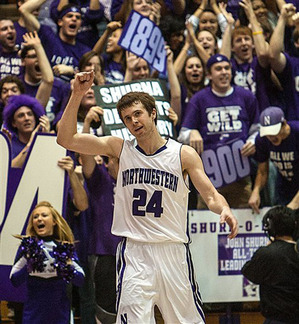 Associated Press
1. Shurna at the 5
Northwestern surprised Michigan in the previous meeting when it opened the game with John Shurna, the Big Ten's leading scorer, playing at center.
Shurna is basically a more advanced, more polished version of Evan Smotrycz — an extremely capable shooter with the ability to put the ball on the floor and beat teams in the post.
The 6-foot-9, 220-pounder is averaging 20.2 points and 5.6 rebounds per game. The first time around, while playing the five, Shurna had 21 points on 9-of-15 shooting, playing the entire 45 minutes.
He got off to a good start, too, scoring 12 points before the half.
If Northwestern keeps Shurna at the five, Michigan forward Jordan Morgan is going to have to keep his discipline about him. Morgan was terrific against Jared Sullinger, but Shurna's a completely different challenge.
He does everything Michigan wants Smotrycz to do to opposing big men, just at a much more productive level right now.
2. No third scorer

For the most part, Shurna and junior wing Drew Crawford almost always get their points.
Shurna leads the Big Ten in scoring, while Crawford (16.6 points per game) sits in fourth.
But Northwestern hits its full potential when that duo turns into a trio.
When the Wildcats knocked off Michigan State earlier this year, Davide Curletti blew up for 17 points. In a road win at Illinois, Reggie Hearn dropped 20 points on 7-of-8 shooting. And just last week, when Northwestern beat Minnesota by 11, freshman point guard Dave Sobolewski had 22.
In Michigan's overtime victory against Northwestern, Shurna and Crawford combined for 41 points. The other five players that saw time that night? Just 23 points.
Shurna and Crawford are elite scorers, but the rest of the club relies on defensive lapses to score points. Sobolewski is a terrific freshman facilitator, but he's not a shot creator.
This is where Michigan can't sleep. If Shurna and Crawford are taking 60 to 70 percent of the shots, that's fine. Honestly, that's ideal.
Two's company, and three's a crowd. Don't get caught in a crowd.
3. Novak breakout?

As much as Michigan needs to avoid letting a third Northwestern scorer go, the Wolverines could really use a boost from someone outside of Trey Burke and Tim Hardaway Jr. on Tuesday.
Burke and Hardaway combined for 38 points and both played the entire 45 minutes during the overtime win in Ann Arbor last month. But Michigan didn't get much else from the rest of its roster.
One player who found a way to play above his scoring average when Hardaway struggled this season was senior captain Zack Novak.
Novak has done a lot of things at Michigan, but excelling against Northwestern has never been one of them.
In seven career games against the Wildcats, Novak is averaging 6.6 points and shooting only 31 percent.
Novak's game has matured over the years, especially his mid-range jumper and ability to create his own shot.
Against a team like Northwestern, Novak should have no issue finding space for himself. And if he does, he might finally have a day to remember against the Wildcats.
4. Match it

Michigan said all the right things Monday with regard to this not being a trap game, and how the Wolverines have just as much to play for as the Wildcats.
That's all well and good, but following through with it is something completely different.
Michigan does have a lot to lose Tuesday, but in the end, Northwestern's season may be on the line.
Backed into a corner, down to its last strike, nowhere else to turn -- take your pick.
Northwestern plays well at home as is, just ask Michigan State. But this situation features added incentive.
A Wildcat win keeps them in the NCAA tournament picture, a loss may leave Northwestern watching March Madness from home again. Like it has every season it's played.
Remember how Michigan looked at home against Ohio State on Saturday?
Expect the Wildcats to look about the same Tuesday.
Can Michigan find a way to fight through what the Buckeyes couldn't? Nick Baumgardner covers Michigan basketball for AnnArbor.com. He can be reached at 734-623-2514, by email at nickbaumgardner@annarbor.com and followed on Twitter @nickbaumgardner.
Want to stay connected to Wolverine basketball in your Facebook newsfeed? "Like" AnnArbor.com's Michigan Basketball News & Views.