Posted on
Thu, Dec 8, 2011 : 2:39 p.m.
4 things to watch: Oakland is a good test for Michigan basketball team, particularly on the glass
By Nick Baumgardner
The Michigan basketball team doesn't play a true road game for another 29 days, and won't face a BCS-level opponent for another 22.
The 20th-ranked Wolverines will, however, get the next best thing in both categories Saturday when they take on Oakland (4 p.m., FSD) at The Palace of Auburn Hills.
The Golden Grizzlies have won 52 games over the past two seasons, qualified for back-to-back NCAA Tournaments and already recorded an upset win over Tennessee this season.
On top of that, the distance between Auburn Hills and Oakland's Rochester campus is a mere 3.2 miles -- quite a bit closer than the 54.8 miles the Wolverines will travel on Saturday.
It's not exactly a road game, it's not exactly a big-name opponent. But on both counts, it might as well be.
Here are Michigan's four keys to victory: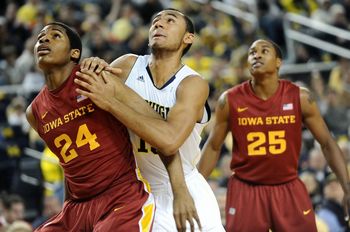 Melanie Maxwell | AnnArbor.com
Block out everyone
Oakland's most staggering stat so far this season is on the offensive glass, where the Golden Grizzlies are averaging 14.5 offensive rebounds per game.
Corey Petros is a 6-foot-10 freshman who will be the third-straight double-double averaging forward Michigan has faced. He grabs 4.4 offensive boards per game, while 6-foot-5 junior forward Drew Valentine pulls down 3.3.
Outside of those two, guards Travis Bader, Reggie Hamilton and former Wolverine Laval Lucas-Perry are all formidable rebounders in their own right (3.5, 3.6 and 4 boards per game, respectively).
Over the past two games, both Virginia's Mike Scott and Iowa State's Royce White did damage against Michigan in the paint.
The Wolverines' big men, and guards, are going to have to find bodies to block out on the defensive end, or the Golden Grizzlies will do more than just hang around Saturday -- they'll pull ahead.

Stay in front of Hamilton
If anyone isn't already aware, Oakland senior guard Reggie Hamilton can score.
And he can do so in just about every way imaginable.
Hamilton is averaging 19.8 points per game so far this season for the Grizzlies. Nearly seven of those points per game have come at the foul line, where Hamilton is shooting at a 90-percent clip (54-for-60).
Against Tennessee earlier this year, Hamilton went 15-for-15 from the stripe in a 35-point performance.
He's not hitting at an overly red-hot rate from deep so far this season (just 30 percent), but he's more than capable of burning people from long range -- Michigan should know, he knocked down six triples against the Wolverines a year ago.

Limit possessions
This is almost always a key for Michigan, but especially so against Oakland.
The Grizzlies are averaging 10 more possessions per game than Michigan, and they don't exactly value them at a high rate.
Oakland shoots just 42.9 percent from the floor, 29.7 percent from 3-point range and turns the ball over 12.5 times per game.
The Golden Grizzlies want to play the game in the 70s, and by mixing in zones and limiting transition points (taking care of the ball), Michigan can slow that pace down.
It's pretty simple: Oakland wants the game to be played in the 80s, Michigan wants it in the 60s.
Michigan got its way a year ago, as the Wolverines forced Oakland into a 30 percent shooting night (19 percent from deep) and 15 turnovers in a 69-51 win.
Jeff Sainlar | AnnArbor.com
Keep Smotrycz in the game
Evan Smotrycz has shown flashes of having a breakout performance in each of his past two outings. He had eight points and seven rebounds against Iowa State, and tallied 10 points and five boards against Virginia.
There was one recurring problem, though.
He fouled out both times.
Smotrycz has shown glimpses of everything the coaching staff raved about entering the season. He's stronger around the rim, he's been able to rebound more efficiently and he's still a threat to knock down an open 3-pointer.
However, he's constantly found himself in foul trouble night in and night out. Smotrycz has racked up a team-high 29 fouls in eight games, 3.7 whistles per contest.
He's got the potential to be a very legitimate third option offensively behind Tim Hardaway Jr. and Trey Burke, but his foul trouble has limited him to just 22 minutes per game.
He has to keep sound position defensively and, in turn, keep himself on the floor.
Nick Baumgardner covers Michigan basketball for AnnArbor.com. He can be reached at 734-623-2514, by email at nickbaumgardner@annarbor.com and followed on Twitter @nickbaumgardner.