Posted on
Thu, Nov 10, 2011 : 5:55 a.m.
5 keys to the season for the Michigan basketball team
By Nick Baumgardner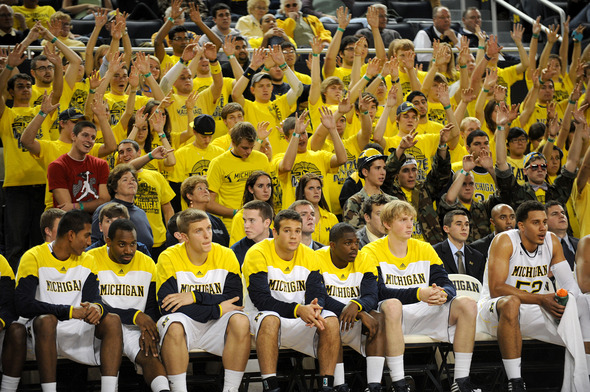 Angela J. Cesere | AnnArbor.com
Five keys for the Michigan basketball team this season. The Wolverines open the regular season Friday with a 7 p.m. home game against Ferris State.
1. Replacing Darius

Darius Morris wasn't just Michigan's best point guard last season, he was, basically, the Wolverines' only point guard. Morris set a single-season school record last year with 235 assists. Had he not opted for the NBA Draft, Michigan may have been flirting with a top 10 ranking. Now, the burden of filling his shoes falls on freshman Trey Burke and senior Stu Douglass. Burke is the team' s lone true point guard, but he's untested. The faster he grows up, the quicker Michigan realizes its potential.

2. Hitting the glass

Zack Novak was Michigan's leading rebounder last season. All 6-foot-4 of him. Novak can be commended for his toughness, but if he's the best rebounder again, Michigan is in trouble. Sophomore forward Jordan Morgan had a breakout season a year ago. The big key here, though, is sophomore Evan Smotrycz. At 6-9, Smotrycz grabbed just 2.3 rebounds per game a year ago, but he added 36 pounds of muscle in the off-season. The Wolverines also may be able to count more on 6-9 sophomore Jon Horford, who added 30 pounds over the summer, and will play at 250 pounds.

3. Surviving Maui

Michigan will take part in arguably the most competitive Maui Invitational ever assembled this month. The Wolverines will open the tournament against No. 11 Memphis, and will then face either Tennessee or No. 6 Duke in the second round. The field also features No. 13 Kansas and No. 17 UCLA. It'll be a big test and an early opportunity, but should the Wolverines struggle, it'll be important for them not to sink too low.

4. Help for Hardaway

Tim Hardaway Jr. enters his sophomore year as Michigan's unquestioned first option offensively. The team's second option, though, isn't so concrete. Novak and Douglass both have the ability to score, but neither has been considered a high-level point producer during their respective careers. If Smotrycz can use his added muscle to establish more of an inside game to go along with his outside scoring touch, he may be Michigan's best answer. Teams will be gunning for Hardaway this season. He can carry a heavy load, but he's still just a sophomore, and he needs help.

5. Handling the hype

The last time a Michigan basketball team had expectations this high, it bottomed out rather quickly. The Wolverines entered the 2009-10 season with a national ranking and an expectation to not only return to the NCAA tournament, but to compete in the Big Ten. Neither expectation was fulfilled as Michigan struggled all season, finishing with a 15-17 record. Michigan has a chance to qualify for back-to-back NCAA tournaments for the first time in 16 seasons. And for the first time, in a long time, that's not just a hope in Ann Arbor. It's an expectation.
Nick Baumgardner covers Michigan basketball for AnnArbor.com. He can be reached at 734-623-2514, by email at nickbaumgardner@annarbor.com and followed on Twitter @nickbaumgardner.