Posted on
Thu, Mar 15, 2012 : 10:20 a.m.
3 questions surrounding the Michigan basketball team as the NCAA Tournament approaches
By Nick Baumgardner
NASHVILLE, Tenn. -- Ready or not, here it comes.
The Michigan basketball team's foray into the NCAA Tournament begins Thursday afternoon when the fourth-seeded Wolverines take the podium for media sessions and hold court for an open practice at Bridgestone Arena in Nashville, Tenn.
From there, Michigan (24-9) will open Midwest Regional play on Friday against 13th-seeded Ohio (7:20 p.m., TNT).
With the tournament now just around the corner, here are three Wolverine-related questions to ponder.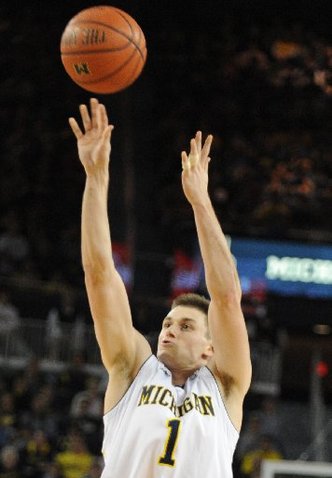 Angela J. Cesere | AnnArbor.com
Are Novak and Douglass ready to shoot?
No one will ever question Zack Novak and Stu Douglass' ability to lead, to defend and to do the various little things throughout the course of a game.
But lately, the senior guards haven't exactly been dead-eyes from deep.
Novak was 1-for-7 during a late-season win over Illinois, and struggled to find any rhythm before hitting a pair of key 3-pointers late in the team's Big Ten Tournament quarterfinal win over Minnesota.
Douglass, meanwhile, was also relatively vacant during the Minnesota win -- until overtime -- and really struggled during the first half of the Ohio State loss.
Michigan's main two top guns, Trey Burke and Tim Hardaway Jr., are the most important two offensive players the Wolverines have.
But, in a tournament setting, senior guards like Novak and Douglass can be the difference between an early exit and a deep run.
These guys have been here before, and they've both gone through their ups and downs as shooters. Neither player is too worried about it, though.
"I still feel confident and everything," Novak said. "In the NCAA Tournament, the ball goes in the basket, so I'm looking forward to that."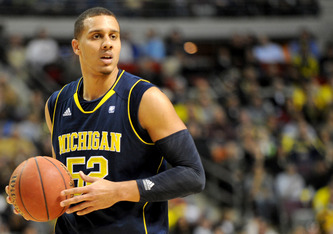 Angela J. Cesere | AnnArbor.com
What can Evan Smotrycz and Jordan Morgan provide?
With Jordan Morgan, things have become pretty simple.
The 6-foot-8 forward doesn't have to be amazing for Michigan to win, but he can't be invisible either.
Against Minnesota in Indianapolis, he did his job. He scored seven points, finished around the basket and grabbed four rebounds. Against Ohio State, though, he did not. Morgan struggled to stop Jared Sullinger, couldn't find anything inside and went 1-for-5 from the field.
Considering the type of shots Morgan takes, 1-for-5 may as well have been 1-for-50. It wasn't a good day.
"Consistency is a big issue," Morgan said. "I can get more rebounds, I can finish better, there are lots of little things I can do better to help the team."
Smotrycz, on the other hand, is perhaps the biggest wild card of all.
When he plays like he did during a 17-point showing against Penn State in the regular-season finale, Michigan is one of the most difficult teams to guard in the tournament.
But when he vanishes, struggles to find energy and has issues with getting his shot off, the Wolverines are forced to rely far too heavily on Burke and Hardaway for offense.
Smotrycz can be a nightmare for teams with size, or, he can be a liability.
For the next three weeks, the Wolverines need the 6-foot-9 forward to be at his best.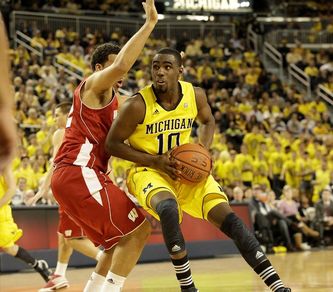 Chris Asadian | AnnArbor.com
Are Burke and Hardaway ready to carry, if need be?
Against Minnesota in Indianapolis, the answer to this question was easy.
Burke and Hardaway combined for 50 points, and together, completely carried Michigan to an overtime victory.
Against Ohio State the next night, though, the tandem was 4-for-22 from the floor on a night when everyone else on the roster seemed to be just as rough.
A lot of players can have bad days and Michigan can still win. Novak can get in foul trouble, and the Wolverines can overcome it. Douglass can miss open 3's, and Michigan can survive.
Smotrycz and Morgan can both have off nights, and the team has the capability to move forward.
But Burke and Hardaway can't. For Michigan to win in this setting, their two best players have to be running at 100 percent efficiency throughout.
Hardaway's slumps this season have been well documented, and when the lights got bright, he had a tendency to fade away. That can't happen now.
Burke, meanwhile, never seemed to be fazed by any stage the Wolverines played on. He surprised a lot of people early, surprised even more with his consistency midway through the season and then looked like the best point guard in America last Friday in Indianapolis.
But he does have weaknesses. When teams with length are able to take the ball screen away, he becomes dribble-heavy, and can settle for a forced shot rather than moving the ball around through the offensive set.
Teams have 33 games of tape on Burke now, he's not sneaking up on anyone.
It's March, and it's winning time.
And now, more than ever, the Wolverines need their best to be at their best.
Nick Baumgardner covers Michigan basketball for AnnArbor.com. He can be reached at 734-623-2514, by email at nickbaumgardner@annarbor.com and followed on Twitter @nickbaumgardner.
Want to stay connected to Wolverine basketball in your Facebook newsfeed? "Like" AnnArbor.com's Michigan Basketball News & Views.