Posted on
Thu, Jan 26, 2012 : 3:12 p.m.
A few off-the-wall Big Ten midseason awards, and one major haircut plea
By Nick Baumgardner
I could've looked up box scores, gone through game film and analyzed tempo-free and traditional statistics for this.
But that would have been too easy.
The Big Ten season is at its halfway point, and some midseason awards need to be handed out.
But you're not finding any Player of the Year favorites here this week. We'll save that for March.
Here are a few nods of (almost) equal importance.
Guy everyone hates, but secretly loves
Zack Novak, Michigan guard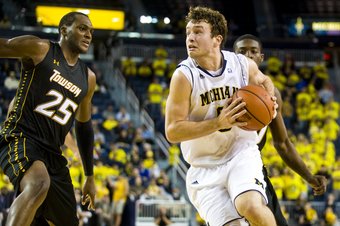 Joseph Tobianski | AnnArbor.com
Maybe it's because he plays so hard, maybe it's because he draws so many charges and maybe it's because he's seemingly been playing college basketball at Michigan since 1979.
Who knows.
One thing is certain, though, Michigan senior captain Zack Novak is booed in pretty much every arena he enters.
But it all seems to be sort of a jealous hate, because virtually every coach who opposes Novak discusses how crucial he is to his team's success.
And, they explain how, if they had the chance, they'd love to put Novak in their own respective uniform.
Guy everyone fears, and wants no part of
Jared Sullinger, Ohio State forward

There is no player in the Big Ten, and perhaps the country, who can control a basketball game like Jared Sullinger.
If you fail to front him, you're done.
If he turns his shoulder, you're done.
If you double him and he sees over the defense, you're done.
And if you defend him perfectly, cut everything off and make him shoot an extended jumper?
Well, odds are, you're still done.
When Sullinger is at his best, he's an automatic 20 points and 10 rebounds, at least. There's no other force like him in the conference, and whenever he feels like it, a game turns into his own personal highlight clip.
Guy no one can stop talking about
Trey Burke, Michigan guard

Michigan basketball coach John Beilein fields a variety of questions from the hometown media following each game.
But the first question from an opposing media member almost always seems to start with the name Trey and end with Burke.
The freshman phenom burst onto the scene in November on Maui, and hasn't showed any slowing down for the Wolverines.
How big of a deal has he become?
Well, he had his very own 20-minute teleconference with reporters on Wednesday.
Who else does that?
Guy with the best Twitter account
Draymond Green, Michigan State forward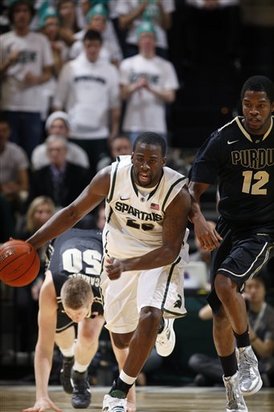 Associated Press
This award could have gone to Sullinger, who is quite entertaining on his own, but he went into a
social media blackout earlier in January
and hasn't returned.
Sorry, Jared, you're disqualified.
As for Draymond Green, well he's equally entertaining.
First and foremost, Green knows how to use Twitter better than most college athletes. He's a hashtag expert, he re-tweets, he interacts and he posts a ton of photos.
And, he welcomes any and all haters. If he plays poorly, or if Michigan State loses a game, you can be sure your feed will be full of messages from angry Spartan fans (or anti-fans) that Green has re-tweeted.
He says the hate fuels him.
He's averaging a double-double this season, so apparently there's been a lot of hate going around.
Give him a follow @Money23Green -- quite entertaining.
Guy with the best hair
Mike Bruesewitz, Wisconsin forward

Ok, so, this has to come with a disclaimer.
Bruesewitz actually shaved off his trademark flowing red locks last spring for charity's sake, which is more than admirable.
He now rocks a rather plain shaved head, but still, we all know the potential.
I'm giving him the hair nod for one simple reason. I want the red mop to make a return.
Bring it back, Mike.
Bring it back.
Guy with the hardest name to say
Oto Osenieks, Minnesota forward

There's actually an accent mark that goes above the first "s" in Osenieks, but it was incredibly difficult to execute while typing.
So not only does Oto posses the hardest name to say, but also the hardest name to type.
That's a pretty respectable double-dip there.
By now, you've no doubt repeatedly attempted to pronounce the Latvian-born forward's last name.
So, let's see if you guessed properly.
It's pronounced: Ocean-icks.
The honorable mention for this category was also a Minnesota player, point guard Maverick Ahanmisi.
The last name sounds about like it's spelled (a-hawn-ME-see), but his first name's Maverick.
And that's just really cool.

***
Sky high: No. 20 Michigan (16-5, 6-2)
The Wolverines exorcised their road demons this week with a win over Purdue, snapping a four-game, winless road slide this season.
More importantly, Michigan became the first Big Ten team to net six wins, and will enter Columbus on Sunday at least tied for first in the conference.
Contender? Pretender?
We're about to find out.
Rock bottom: Northwestern (12-7, 2-5)
The Wildcats looked like they were serious about contending for an NCAA Tournament bid earlier this month with an upset victory over Michigan State. But things have changed.
I guess that's what you get for storming the court, in January, during a conference game, Wildcat fans.
Northwestern has dropped two straight games by at least 20 points, and it has now lost four of five.
The Wildcats have one signature win, but will likely need another — and plenty more quality victories to bolster a suddenly dipping postseason resume.
Quotable

"Where's the Limited Herald-Times?" — Wisconsin coach Bo Ryan earlier this week after being asked a question by a reporter from the Bloomington (Ind.) Herald-Times during the Big Ten coaches' teleconference. The reporter politely corrected Ryan, and all was well. But even on conference calls, Bo Ryan continues to be the most entertaining coach in the Big Ten.
Nick Baumgardner covers Michigan basketball for AnnArbor.com. He can be reached at 734-623-2514, by email at nickbaumgardner@annarbor.com and followed on Twitter @nickbaumgardner.
Want to stay connected to Wolverine basketball in your Facebook newsfeed? "Like" AnnArbor.com's Michigan Basketball News & Views.