Posted on
Sat, Feb 4, 2012 : 5:59 a.m.
A program turning point? Zack Novak reflects on his signature moment in East Lansing
By Nick Baumgardner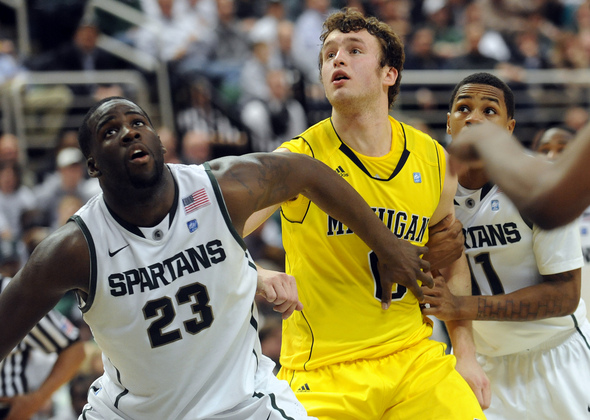 Melanie Maxwell | AnnArbor.com
In sports, defining moments can come in all different tones, moods and decibel levels.
For Zack Novak, his ultimate lasting image as a Michigan basketball captain may be encapsulated in five teeth-grinding seconds.
Fists clenched, face flushed and hair thrashing about, Novak's sideline eruption at the Breslin Center last season seemed to define, all in one moment, the Wolverines' frustration and eventual redemption against in-state rival Michigan State.
"My favorite is when everyone is trying to guess what I was saying," Novak said recently with a grin. "I've seen articles where they (wrote) he was saying 'we need to focus,' or 'everyone give your best.'
"That's not what I was saying. I don't think anyone can print what I was saying. And we'll leave it at that."
To this day, no one outside of that Michigan huddle can be sure what Novak's message was.
But in the end, it doesn't really matter.
He got his point across.
"He was pretty adamant," Michigan coach John Beilein recalled Friday. "He wants to win very much and he's so passionate, and sometimes he needs to make sure he can use that passion effectively."
Since that night, Michigan's first win in East Lansing since 1997, the Wolverine basketball program hasn't been the same.
Following Novak's rage-fueled plea, and subsequent 19-point effort, Michigan has won an NCAA Tournament game, beat the Spartans for a third straight time and gone 14-6 during Big Ten regular season games.
It may be easy or cliche to point to Novak's moment and the Wolverines' win in East Lansing last season as a turning point in Beilein's Michigan basketball resurrection project, but it's also prudent.
The Wolverines entered their road date with MSU last season 1-6 in Big Ten play with the memory of a painful sub-.500 2009-10 campaign still fresh in their minds.
Then, as quick as Novak's face turned red, everything changed.
"I think down the road it may (be seen as a lasting moment)," Beilein said of last season's win at MSU. "It began a real belief in this team chemistry thing that's always been so important to our coaching staffs.
"Was it a turning point? I don't know."
Michigan finished the regular season with eight wins in its final 11 games, and came within a buzzer-beater of a Sweet Sixteen trip.
Now, Beilein's club finds itself with a Top 25 ranking for a 13th consecutive week, a top 15 RPI and a serious shot at contending for the program's first Big Ten title since 1986.
Additionally, a win Sunday in East Lansing will give Michigan its first four-game winning streak over the Spartans since 1998.
Plenty has happened since Novak's explosion to lead to the Wolverines' recent good fortune, but one has to wonder, would the club be here without such a passionate moment and eventual signature victory?
"He was taking on his teammates, and it's very hard for a captain to do that," Tim Hardaway Jr. said of Novak's moment. "Listening to him, seeing him that emotional, we took on that challenge and came out of there with a victory.
"After seeing that outburst, it really gave me a clear mind of what this is really all about."
As for Novak, he's always far less sentimental.
To him, the sideline blowup seems to be just another blip on the radar, something he felt the need to do at the time.
A lasting moment or a turning point? Perhaps. But Novak's a senior, and seniors tend to save their best for last.
Novak could be entering the final chapter of his personal Michigan-Michigan State story Sunday. And, rant or no rant, he's eagerly awaiting the challenge.
"It's go time," Novak said. "I think we'll be ready."
Nick Baumgardner covers Michigan basketball for AnnArbor.com. He can be reached at 734-623-2514, by email at nickbaumgardner@annarbor.com and followed on Twitter @nickbaumgardner.
Want to stay connected to Wolverine basketball in your Facebook newsfeed? "Like" AnnArbor.com's Michigan Basketball News & Views.