Posted on
Thu, Jan 19, 2012 : 11:09 a.m.
Once a matchup nightmare, production has dwindled from Michigan's 'worn down' Evan Smotrycz
By Nick Baumgardner
During the non-conference portion of this season's Michigan basketball schedule, Evan Smotrycz appeared close to turning the corner from a skinny shooter with size, to a legit Big Ten post presence.
But now, after a dip in production, he just seems tired.
Michigan coach John Beilein removed Smotrycz from the starting lineup Tuesday against Michigan State in favor of senior guard Stu Douglass.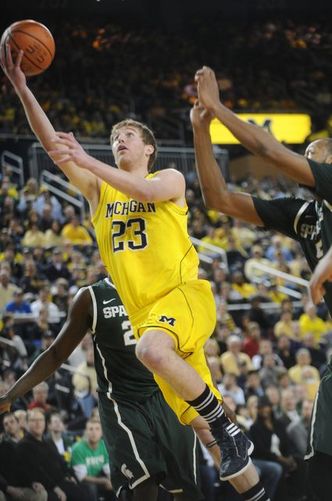 Melanie Maxwell | AnnArbor.com
It was the first time this season the 6-foot-9 sophomore had come off the bench after starting the Wolverines' previous 18 games.
"I just want to get him in there playing with some energy," Beilein said. "I think he's really worn down right now.
"So we brought him off the bench."
With Smotrycz coming off the bench, Michigan went with a small starting lineup for the first time this season -- featuring Trey Burke at the point, Douglass at the two, Tim Hardaway Jr. at the three, Zack Novak at the four and Jordan Morgan at the five.
This isn't anything new, though, as Beilein started Douglass 12 times a year ago, relying heavily on the senior guard during Michigan's late push toward an NCAA Tournament bid.
This season, though, it appeared the Wolverines wouldn't have to go small to get by, as Smotrycz put up impressive numbers early on.
After posting 10 points and 10 rebounds against Penn State on Dec. 29, his third straight double-double, Smotrycz went into the new year averaging 11.5 points and 6.9 rebounds.
Praised for his improved rebounding numbers, Smotrycz was creating matchup nightmares for opponents with his outside shot -- as he was shooting 57.1 percent from 3-point range.
Since then, Smotrycz's production has dwindled.
Over Michigan's past six games, he has averaged 3.8 points and 4.2 rebounds and made 3 of his last 19 3-point attempts (15.8 percent).
Against Michigan State, the sophomore put up five points in 10 minutes, scoring on two solid drives to the basket. But he missed both of his 3-point field goals, still finished 2-for-6 from the floor and only had one rebound.
Smotrycz's limited action didn't hurt the Wolverines against Michigan State, as Novak did an admirable job of holding MSU senior forward Draymond Green to just seven points, and the team as a whole competed enough inside to hold Michigan State's points in the paint edge to just 30-28.
Michigan could see an additional bump in its frontcourt production soon. The coaching staff has hopes of bringing injured forward Jon Horford back to live practice as early as today.
Still, a full-strength Smotrycz clearly makes the team more potent. It's a fact Beilein is aware of, and something he hopes to see again soon.
"He's a much better four man than he was last year at this time, he'll give Zack a rest if we continue to go small," said Beilein, whose team will have had a full three days between games before playing at Arkansas on Saturday (2 p.m., CBS). "If not, he can play the five because he knows more positions (now).
"He didn't even know the five position last year at this time, so he can be very versatile right now."
Nick Baumgardner covers Michigan basketball for AnnArbor.com. He can be reached at 734-623-2514, by email at nickbaumgardner@annarbor.com and followed on Twitter @nickbaumgardner.
Want to stay connected to Wolverine basketball in your Facebook newsfeed? "Like" AnnArbor.com's Michigan Basketball News & Views.