Posted on
Mon, Jan 2, 2012 : 8:36 p.m.
Count John Beilein among fans all in for Michigan football team's Sugar Bowl date
By Nick Baumgardner
The first Michigan football game of John Beilein's tenure as a member of the school's athletic department wasn't a positive experience.
It was more of a disaster, a nightmare, or perhaps even a horror.
But Beilein's fanhood never teetered, and on Tuesday, he's ready to reap the rewards of that loyalty.
"I've been a big fan of this football team since the day I came here, and keep in mind, that first game was Appalachian State," the Michigan basketball coach said Monday night on his weekly radio show. "That was the first one I ever saw, and I still love this team.
"And to watch this team this year just keep getting better and better and better every week was great. ... This will be special (if) we win the Sugar Bowl."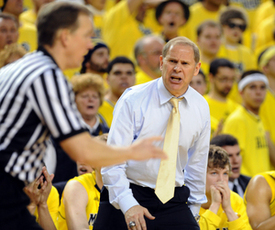 Beilein said he's missed just one Michigan football game in his five-year tenure with the school, this season's home game against Nebraska, and that was only because he was on his way to Hawaii for the 2011 Maui Invitational.
He listed Michigan's win over Florida in the 2008 Capital One Bowl (Lloyd Carr's last game), the 2009 home win over Notre Dame and the 2011 home win over Ohio State as a few of his favorites.
"I attend every home football game (I can), and I don't plan on ever (missing one)," Beilein said. "Whenever people want me to speak at clinics or those type of things, (sometimes) I'll have to say, 'No, we've got a home football game.'
"I love college football — I love it, I love it, I love it. Especially Michigan football, it's wonderful to be a part of it."
The Wolverine basketball team will return to the practice floor Tuesday after taking Monday off, but Beilein said the group will be wrapped in time to catch the Sugar Bowl kickoff between Michigan and Virginia Tech.
"We've got practice from 4:30 to 6:30, then training table, then 8:30 p.m. until whenever, it's about the Sugar Bowl," Beilein said.
Odds and ends
Beilein called Michigan's road test at Indiana on Thursday will be a "huge challenge." It'll be Michigan's first true road test since a loss at Virginia on Nov. 29. "They're 13-1, there's 17,000 (people there) every game," Beilein said. "They're just on you. It's a great environment and a great opportunity to get an opportunity against a special team. They've got all these juniors, great seniors and a terrific freshman. They've really got it going right now." ... Beilein didn't offer much of a new update on injured sophomore forward Jon Horford, saying, "I doubt he'll be playing against Indiana." Horford, who has a stress fracture in his right foot, has missed five straight games.
Nick Baumgardner covers Michigan basketball for AnnArbor.com. He can be reached at 734-623-2514, by email at nickbaumgardner@annarbor.com and followed on Twitter @nickbaumgardner.
Want to stay connected to Wolverine basketball in your Facebook newsfeed? "Like" AnnArbor.com's Michigan Basketball News & Views.