Posted on
Tue, Oct 11, 2011 : 9:25 p.m.
All eyes on Burke: Freshman point guard not feeling pressure to fill Darius Morris' shoes
By Nick Baumgardner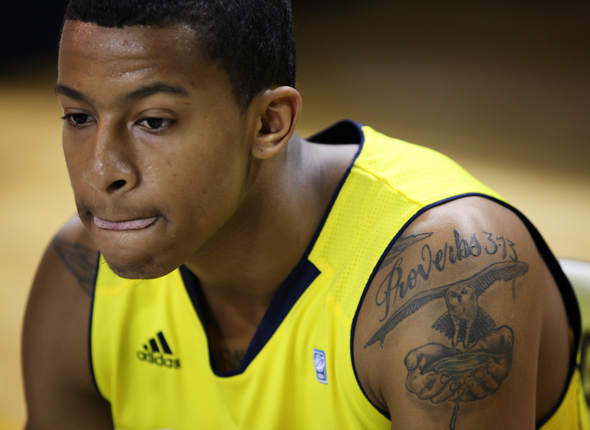 Jeff Sainlar I AnnArbor.com
Within minutes of his first media availability as a
Michigan basketball
player, freshman point guard
Trey Burke
found himself surrounded.
Roughly 15 reporters armed with recorders, notebooks and video cameras swarmed Burke with questions about his game, his mindset and how much pressure he's feeling.
If Tuesday was his first test under pressure, the first-year point guard from Columbus, Ohio, appeared to pass.
"It's more excitement than pressure," Burke remarked during Michigan's basketball media day. "I know that if I get the chance to play, I can get the job done."
With former point guard Darius Morris now a member of the Los Angeles Lakers, Michigan's only serious hole entering the 2011-12 season sits in arguably its most important position.
Burke and fellow freshman Carlton Brundidge (a Southfield High School product), along with senior Stu Douglass, were the three players coach John Beilein tabbed as potential answers to Michigan's point guard search.
But there are question marks with each player.
Douglass has played the position before and says he has no problem doing it again, but admits the spot doesn't necessarily fit his skill set.
"There's no denying it," Douglass said. "People don't see me as a concrete point guard, I'm not your prototypical Big Ten point guard."
As for Brundidge, outside of his obvious inexperience at the college level, he spent most of his prep career as a score-first player. Beilein admitted as much, saying Tuesday that Brundidge has a "history of being more of a combo guard his whole life."
Burke, Ohio's Mr. Basketball last season, seems to be the team's lone true point guard. He averaged 23.6 points, 6.8 assists and 3.1 rebounds as a senior at Northland High School in Columbus.
Impressive stats, no doubt. But Northland High School is a long way from the Big Ten.
"The pace of the game is different for me, that's one big change I'll have to adjust to," Burke said. "I knew that once (Morris) left, there was a big opportunity for me to come in here and get minutes as a freshman.
"I just want to help the team win big games. I'm excited."
Beilein said he's not sure what to make of the point guard position just yet, as he's only had nine hours of practice time with Burke and Brundidge so far.
He's not leaning toward anyone, and not ruling anyone out.
And as far as a timetable goes, he says there really isn't one.
"We certainly have a key replacement coming back at the point guard position," he said." "That's something we'll work very hard at all year long, not just the first four weeks."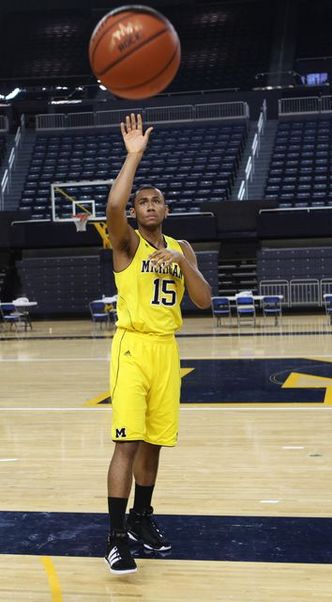 Jeff Sainlar I AnnArbor.com
Horford this year's Morgan?
A season ago, sophomore forward
Jordan Morgan
went from a redshirt to Michigan's leading rebounder and top post threat.
Asked if anyone on this year's squad could make a similar jump, Beilein pointed to another front-court player as a candidate.
"I think (sophomore forward) Jon Horford has made really positive strides," Beilein said. "He's been on a mission since the end of last year with his body and his development. There still a long way to go for Jon, but he's a guy that loves to practice basketball."
Listed at 6-foot-9, 220-pounds last season, Horford (the younger brother of NBA forward Al Horford) now carries 250 pounds, a fact that has the coaching staff hopeful for a much improved second season.
"He came in and had the courage to meet with our staff and expressed a desire to find more ways to play," Michigan assistant coach Bacari Alexander said. "As a result, he invested in the spring and summer session taking classes and almost living with the strength and conditioning coach.
"As a result, you see a young man go from 220 pounds to 250 pounds of solid, functional muscle."

Maui a big test
Beilein said that putting together this season's non-conference schedule was more difficult than it's been in his previous four years at Michigan.
However, with Michigan participating in the 2011 Maui Invitational, the Wolverines have the potential for one of the more difficult non-league slates in the Big Ten.
Michigan will open the tournament against Memphis, and then play either Tennessee or Duke. The field also includes traditional powers Kansas, Georgetown and UCLA.
Though a tall task, Beilein cautioned that a poor performance during the stacked event won't exactly be the end of the world.
"If you perform poorly out there, it doesn't mean your season is going to be a disaster, because of how difficult it is," Beilein said. "If you do perform well out there, you certainly put some things on your resume that will be very helpful when it comes time in March."

PDC move-in delayed
Beilein said the team's move into its new Player Development Center has been delayed due to humidity and moisture issues with the new playing surface.
"They tell me two weeks to put it down and two weeks to cure," Beilein said of a timetable.
He did say, though, that the staff may move into its new offices soon.

Odds and ends
Beilein said Morgan has spent the majority of his summer working on "leverage points," and becoming a better player from the 15-foot range. … Despite the Crisler Arena construction forcing off-season workouts all across campus, Beilein said all players reported to camp in excellent shape. "You had to be very motivated to go visit (strength and conditioning coach) Jon Sanderson, voluntarily," he said. "And, based on their bodies, they volunteered very well." ... Though he expects Tim Hardaway Jr. to play a bigger role this season, Beilein said he hopes the squad will have enough depth to limit Hardaway's minutes as the season wears on. "I hope we'll have enough depth that we know he won't have to play 36 to 38 minutes (per game)," Beilein said. "Same thing with Zack Novak. Hopefully we'll have enough depth so they're not out there fatigued during tough games."
Nick Baumgardner covers Michigan basketball for AnnArbor.com. He can be reached at 734-623-2514, by email at nickbaumgardner@annarbor.com and followed on Twitter @nickbaumgardner.