Posted on
Sun, Feb 5, 2012 : 5:46 p.m.
Michigan State's Draymond Green 'looked better than he usually does' in win over Michigan
By Nick Baumgardner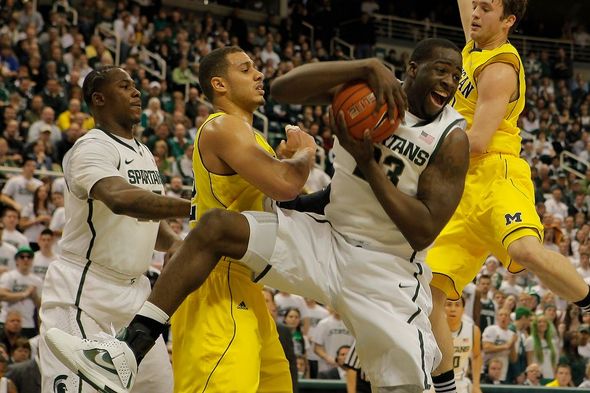 Chris Asadian | AnnArbor.com
EAST LANSING -- If Draymond Green was ailing, he certainly did a fine job of masking it.
Surrounded by questions of whether he'd be healthy enough to play due to a knee injury, the Michigan State senior captain gave one emphatic answer after another Sunday.
And all afternoon long, the Michigan basketball team paid for it.
"I couldn't even tell he was hurt," Michigan freshman point guard Trey Burke said. "He looked better than he usually does."
In the past six meetings with the Spartans, the Wolverines had done an admirable job of limiting the 6-foot-7, 230-pound Green's overall impact.
But not Sunday.
Green dropped in a team-high 14 points and grabbed a whopping 16 rebounds, equaling the total number Michigan had as a team, in a 64-54 Spartans victory.
It was a far more impressive stat-line than the 6.2 points and five rebounds he had been averaging in six previous meetings against Michigan.
"He looked good," Michigan senior guard Stu Douglass said. "He shot a lot of those face-up jumpers and looked good.
"He has a huge desire, and a lot of rebounding is just 'want.' He was hungry for boards and hungry for extra possessions."
Green's impact wasn't felt just on the glass, though. His complete performance offensively was just as impressive.
The MSU senior went 7-for-11 from the floor and also handed out four assists. Twice in the second half, Michigan was able to cut MSU's lead to eight. Both times, Green answered with a bucket.
Every time the Wolverines surged, Green was there to thwart them.
"We didn't know if he could play on Wednesday or Thursday but he bounced back Friday," Michigan State coach Tom Izzo said. "The performance he had with his scoring, his rebounding and his passing. ... If he isn't one of the most valuable guys in this league, I don't know who is.
"He just did it all."
The performance came just five days after Green suffered a knee sprain in a road loss at Illinois, leaving many wondering how effective he'd be against rival Michigan.
All week long, the Wolverines said they expected Green to play and be at his best despite the injury.
They were right.
"I'm happy for him, because for a lot of young men, their career ends when they go down like he did the other day," Michigan coach John Beilein said. "He's a really good player and has great spirit about him and he had a really good game.
"He's always been a tough matchup for us, but he really played his best today."
After the Wolverines knocked off MSU for a third-straight time earlier this season in Ann Arbor, Green promised a Michigan State win.
In the end, he more than came through.
"You can't say something and not back up your words," Green said afterward. "I'd be less of a man to guarantee something, promise something and not come out here and do what I can to back up my word."
Nick Baumgardner covers Michigan basketball for AnnArbor.com. He can be reached at 734-623-2514, by email at nickbaumgardner@annarbor.com and followed on Twitter @nickbaumgardner.
Want to stay connected to Wolverine basketball in your Facebook newsfeed? "Like" AnnArbor.com's Michigan Basketball News & Views.