Posted on
Thu, Feb 9, 2012 : 4:46 p.m.
Answers to 4 Big Ten hoops questions as the season hits the stretch drive
By Nick Baumgardner
We're less than a month from the Big Ten Tournament, and roughly five weeks from the NCAA Tournament.
I know, I'm excited, too.
But there's plenty of basketball to be played, plenty of position-jockeying to be had, RPIs to boost and a league championship to declare.
So, as we head down the stretch drive, here's my take on four burning Big Ten questions.
1. Will Ohio State lose again?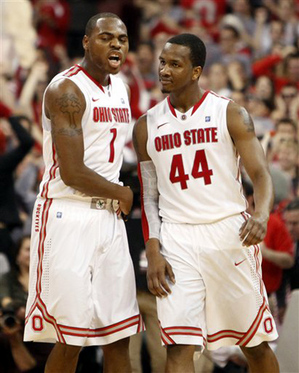 Associated Press
The easy, and realistic, answer is yes.
Ohio State is the best team in the Big Ten, but the Buckeyes seem to have an issue bringing an absolute 100 percent effort night in and night out.
OSU lost on the road at Indiana and Illinois, and Purdue nearly stole one in Columbus earlier this week. I'd expect Ohio State to fall on the road at least one more time — maybe twice.
Remember, the Buckeyes have to visit both Michigan (Feb. 18) and Michigan State (March 4).
I think they lose at least one of those, but in the end, I still say they win the league.
2. How many NCAA Tournament bids will the league get?

I'm going to be "that guy" and say the Big Ten gets nine teams into the tournament.
Yeah, nine. That's right, 75 percent of the league.
As of now, the league's locks are Ohio State, Michigan State, Michigan, Wisconsin, Indiana and Illinois. Purdue and Minnesota are both right there, and will still get a few RPI booster chances.
So, that leaves Northwestern.
As of Thursday, the Wildcats had 14 victories and an RPI of 37. If the Wildcats can somehow get to, say, 19 wins, I think they'd be impossible to turn away given the schedule.
The RPIs in this league are just too high to ignore, as the Big Ten still had a sizable overall league RPI advantage on the rest of America as of Thursday, per CollegeRPI.
At worst, this league gets eight. But I'll go on a limb and call for nine.
What the Big Ten does with those bids, though, will be the true answer as to how good the league really is.
3. Who's the MVP?

Most folks seem content to just roll with Jared Sullinger, as he's the best player on the best team in the conference.
But his supporting cast is also better than anyone else's. Sullinger is averaging 17.4 points and nine rebounds per game, and he would be a fine choice for player of the year.
But, Michigan State's Draymond Green is putting up a double-double (15.2 ppg, 10.2 rpg). And, in reality, if he's not on the floor for Michigan State this season, the Spartans are likely a wreck.
Green also ranks among the Big Ten's top 10 in assists (3.6), steals (35) and blocked shots (23). And, again, without him, the Spartans are nowhere near a second-place team at this point.
When he struggles, Michigan State generally loses. I don't know if you can say that about Sullinger.
Right now, for my money, no one in the Big Ten is more valuable to his team than Green is to Michigan State.
4. Who's a Big Ten Tournament dark horse?

In order to get hot and upset people in a tournament situation, a team needs two must-haves.
Shooters and guards.
And, though some are struggling, no one boasts more proven guards and shooters than Michigan.
The Wolverines have a Freshman of the Year candidate running the show in Trey Burke, two senior leaders in Zack Novak and Stu Douglass, and one sleeping All-League caliber wing in Tim Hardaway Jr.
Add in the possibility of an Evan Smotrycz or Matt Vogrich to heat up at the right moment, and Michigan could be a pretty tough team to bounce in a one-game situation.
Also, for my money, there aren't too many coaches better at turning around a short game-plan than John Beilein. And, conversely, there's not many coaches that are harder to scheme against on short rest than Beilein.
Michigan can throw so many different defensive looks, and Beilein's always careful about not showing too much throughout the course of one 40-minute setting.
If the Wolverines get hot entering March, look out.
Sky High: No. 3 Ohio State (21-3, 9-2)

The Buckeyes are in control of their own destiny at this point, and they have the inside track to a third consecutive Big Ten championship.
There's tough tests to be had (two games vs. Michigan State, one at Michigan), but no one boasts the same three-headed monster as the Buckeyes do with Jared Sullinger, Deshaun Thomas and William Buford.
Even when they're completely off, they're incredibly tough to beat.
Rock bottom: Nebraska (11-12, 3-9)

Penn State is in last place, but the general consensus is that PSU fans really like Patrick Chambers, and have belief he'll be able to get things turned around.
Nebraska, on the other hand, is a mess.
During the Cornhuskers' blowout home loss to Michigan on Wednesday, Nebraska fans booed relentlessly down on embattled coach Doc Sadler.
On the court, the team appeared on the verge of just quitting.
Sadler insisted afterward that the team was playing as hard as it could, which actually might make things worse when you consider their performance.
He's got some time to turn it around, but if he doesn't, it could be an interesting off-season in Lincoln.
Standout Stats

1
Big Ten player that averages a double-double this season, Michigan State's Draymond Green (15.2 ppg, 10.2 rpg)
7
Consecutive wins following a loss by Michigan this season. The Wolverines, according to the Big Ten Network, lead the country with a 7-0 mark after defeats.
9
Big Ten teams with an RPI of 64 or better, according to CollegeRPI.
49
Years since Nebraska lost more than seven games at home. The Cornhuskers are 8-7 in Lincoln this season.
Quotable

"It's very disappointing, frustrating, disappointing, whatever you want to call it. But it's life. ... Come out to watch us practice if you want to ask me questions about frustration or quit. Come watch us practice, see how many times they're on the floor and see how much enthusiasm they've got. They're giving me everything they've got, and I'm proud of them."
-- Doc Sadler, Nebraska coach
Nick Baumgardner covers Michigan basketball for AnnArbor.com. He can be reached at 734-623-2514, by email at nickbaumgardner@annarbor.com and followed on Twitter @nickbaumgardner.
Want to stay connected to Wolverine basketball in your Facebook newsfeed? "Like" AnnArbor.com's Michigan Basketball News & Views.