Posted on
Fri, Oct 28, 2011 : 3:57 p.m.
Around the B1G: Can Purdue basketball star Robbie Hummel return to form?
By Nick Baumgardner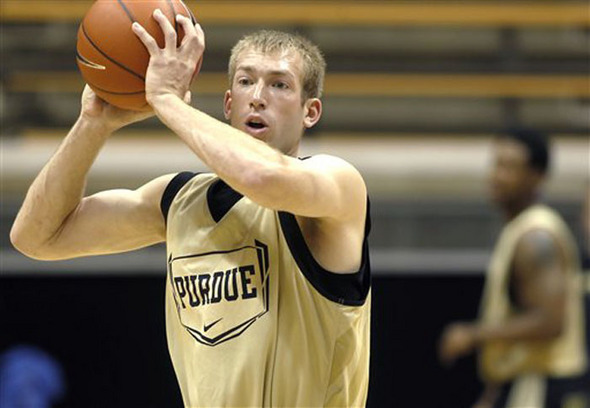 Associated Press
Is Robbie Hummel 100 percent?
That's a rather difficult question.
The Purdue senior All-American forward will return to the basketball court this season following a roughly 20-month absence due to consecutive season-ending knee injuries.
"I think my knee is 100 percent," Hummel said Thursday at the Big Ten's basketball media day in Rosemont, Ill. "But I don't think I'm back to being 100 percent athletically yet."
Percentages aside, a more appropriate question might be whether or not Hummel can once again be the star he was before injury robbed him of nearly two seasons.
His answer there is far more concrete.
"I don't doubt that at all," he said firmly.
Hummel's story has been well documented.
A star junior forward at Purdue in 2009-10, he tore the anterior cruciate ligament in his right knee during a late-February contest at Minnesota. His season was lost, and Purdue's chances of a Final Four run were as well.
Sadly, things only got worse from there, as Hummel tore the same ligament in a preseason practice a year ago, losing another season.
He's back, but with less supporting characters. E'twaun Moore and JaJuan Johnson are gone, and Purdue needs the Hummel of old now more than ever.
How soon will the Boilermakers get him?
"A lot of times when you have guys that have had success and they're out for a while, it gets a little mythical," Purdue coach Matt Painter said. "Like they had a cape when they played before. ... (But) you could stand him out there, with crutches, and he could still help your team win.
"We expect him to have the best season of his career."
The 6-foot-8, 220-pound Hummel averaged 15.7 points, 6.9 rebounds, 2.1 assists, 1.1 steals and 1 block per game in 27 starts two years ago.
He said he spent more time strengthening his legs during his second rehab, and worked extensively with famed basketball trainer Tim Grover in Chicago.
Hummel insists he's over any fear of injuring the knee at this point, and says he's ready to make up for lost time this season.
Painter and Purdue hope so, too.
"I think I've improved every year, I've made improvements in my game every year," Hummel said. "I'm looking forward to doing that again."
Can anyone stop Sullinger?
Ohio State sophomore forward Jared Sullinger was basically unstoppable inside a season ago, averaging 17.2 points and 10.2 rebounds per game as a freshman.
Much to OSU coach Thad Matta's delight, and the rest of the league's horror, Sullinger spurned the NBA and decided to make another run at an NCAA title.
The 6-foot-9, 280-pound man-child is back. And, apparently, the Big Ten still has no idea what to do with him.
"He's got the ability to score, he can go to the free throw line, he has the ability to pass and he acts like a center, he's not embarrassed to be a post guy," Michigan State coach Tom Izzo said. "He can make so many other players better.
"He ranks right up there (with the best I've coached against)."
Painter went one step further, saying he "had no game plan" when Purdue managed to knock off the Buckeyes at home this season.
In large part because of Sullinger.
"I don't know how to stop Jared Sullinger," he said. "Once he gets it in the sweet spot and gets you on his back side? Pray.
"That's all I could say. Good solid prayer."
Izzo gives Draymond Green some lofty praise
Most Big Ten basketball fans realize the importance of Michigan State senior forward Draymond Green to his team.
Or do they?
"Maybe the most important thing for us this year, if we look back, is his leadership ability," Izzo said. "He is kind of in the same sentence with a Magic Johnson or a Mateen Cleaves or a Travis Walton as far as his leadership ability.
"He's got a little nastiness to him, he can be a jerk when he wants to be. ... He thinks about things, he understands and he's got as good an understanding about the game of basketball as anyone I've had."
Indiana learning how to play with Cody Zeller
Indiana coach Tom Crean said he's had to remind his team of a few things early in preseason practice.
Freshman forward Cody Zeller is really good, and he has to get the basketball.
"No matter what you think you have been as a player here at Indiana, you're not somebody that's made it easier for everybody else," Crean said. "Cody makes it easier for everybody else."
Crean said he's had to remind his team to take advantage of the 6-foot-11, 230-pounder's presence inside. Not just from a point production standpoint either.
"You can go at him and give him the ball and something can happen or you can play through him," Crean said. "And that's what our team has got to do right now. He's got the intelligence, the athleticism and the willingness to do so."
What's up, Doc?
Nebraska basketball made its first official Big Ten appearance Thursday when coach Doc Sadler took the podium at media day.
Sadler expressed how excited his program is to be involved in the league, and spent a good deal of time discussing how impressed he is with the Big Ten's television exposure as well as the rest of the league's overall facilities and commitment to basketball.
What do the rest of the coaches think of Sadler?
"I don't know anything (about Nebraska) other than I love Doc," Michigan coach John Beilein said.
Beilein also joked that it was refreshing to hear a different voice in the room when meeting with the other league coaches.
Literally. As Sadler, an Arkansas native, speaks with a distinct southern twang.
Odds and ends
Minnesota coach Tubby Smith said senior forward, and preseason All-Big Ten performer, Trevor Mbakwe benefited greatly from a summer experience with Team USA at the World University Games. Smith said the main thing he's worked on is being more consistent. "We talked about being a more complete player, his free throw shooting and trying to be more consistent," Smith said. "It was really valuable (for him)." ... Northwestern coach Bill Carmody made it roughly five minutes Thursday before being asked the annual "will you finally make the NCAA Tournament for the first time ever this season" question. "I was hoping to get through this press conference without that," Carmody joked. "But I guess five questions in is OK. ... I like our team and I think we have a really good shot. They feel (like) this (year) is it. We think, as a team, that we have a good shot." ... First-year Penn State coach Patrick Chambers was adamant that the Nittany Lions basketball program will turn a corner under his watch, saying it's only a matter of time. "Penn State has a lot to offer, we have all the amenities that you need to be a great player, people just need to see it," he said. "We can't be afraid to get into some back street brawls (in recruiting). We can't be afraid to go up against Villanova, Georgetown, Pitt, West Virginia, Michigan State, wherever. ... We're going to get that one guy, it's going to happen. We just have to get them there."