Posted on
Mon, Mar 21, 2011 : 11:53 a.m.
As a better-than-expected season ends, Michigan basketball team has bright hopes for the future
By Michael Rothstein
CHARLOTTE — As visitors piled into the Michigan basketball team's locker room Sunday afternoon for the last time this season, Jordan Morgan had to be held up and then pushed forward.

His eyes puffy and red, his face forlorn, emotions drained from him. His season ended, this surprising season before which few people gave the Wolverines a shot to do anything, concluded on a final thrilling shot bouncing away on the rim.
Throughout the NCAA tournament, coach John Beilein told players to savor moments, because they can't predict if they'll return. So maybe that was part of Morgan's emotion Sunday, combined with a 73-71 loss to top-seeded Duke, which ended in thrilling, unexpected fashion.
Then again, much of what Michigan accomplished this year was unexpected.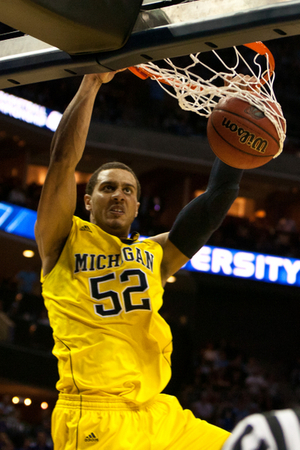 Jake Drake | Icon Sports Media
"We've always fought," Morgan said softly through sniffles as he sat in a back locker. "We've had so many games where it is the story of our season. We were down, but we were down in our season and we fought back to get to where we're at.
"Then we were down again and we fought back. Just never have given up."
Maybe that was the most difficult thing for Michigan's players to realize. Even as the close-call losses piled up against Kansas (67-60 in overtime), Ohio State three times, Wisconsin (53-52 on a banked buzzer-beater 3-pointer) and Syracuse (53-50), Michigan kept returning.
Every time they looked like their season might fold — six straight losses in the Big Ten schedule, dropping last-second games to Illinois on the road and Wisconsin at home — they came back.
"It gives you a lot of faith and belief in what teamwork can do," Beilein said. "What great young men can do if they are all on the same page, what you can do as a coaching staff if we all work off each other's strengths."
Michigan did that all season. The Wolverines don't possess any complete players like Nolan Smith from Duke. But they'd use Darius Morris' handles and vision to find open shooters in Zack Novak and Stu Douglass. They'd let Tim Hardaway Jr. show his athleticism and expand his game and watched Morgan run the floor and become one of the better screeners in the Big Ten using the pick-and-roll.
Michigan, which could return every player from this year's 21-14 team, can grow from this point. This is what the Wolverines grasp onto now after a season full of unexpected surprises.
Even in its loss to Duke, in the emotional aftermath of a season ending on a last-second loss, there are bright spots. There is a future.
"Bright, very bright," Douglass said. "We have to take this in stride and learn from it right away.
"It's going to hurt. It might hurt the whole summer until we play another basketball game but we have to use that to make us hungry instead of sitting around feeling sorry for ourselves."
There is nothing to feel sorry about. Michigan overachieved outside expectations this year. It swept Michigan State for the first time since 1997. It reached the Round of 32 of the NCAA tournament for the second time in three seasons and will likely be picked toward the top of every Big Ten preseason ranking next season. If Michigan makes the NCAA tournament next season, it won't be a surprise. It'd be expected.
But the sting will remain because seasons end, careers end, that fast.
"We were expecting to have practice (today)," sophomore guard Josh Bartelstein said. "I don't know what we're supposed to do after class.
"It just, it can't hit you yet."
Michael Rothstein covers University of Michigan basketball for AnnArbor.com. He can be reached at (734) 623-2558, by e-mail at michaelrothstein@annarbor.com or follow along on Twitter @mikerothstein